Man Puts Pristine Copy Of Action Comics No. 1 On eBay, Seeks Millions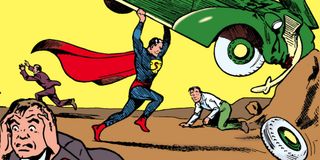 In today's blockbuster culture, superhero movies earn hundreds of millions of dollars without batting an eye. Even superhero sequels that are considered "failures" because they underperform still post global totals in the $700-million range. (I'm looking at you, The Amazing Spider-Man 2.) So we can assume that the source material should climb in value, as well, right? Yes, but even I'm shocked at how much this particular comic is about to sell for.
While Zack Snyder hammers away at his Batman v. Superman: Dawn of Justice, Seattle resident Darren Adams plans to auction off a pristine copy of Action Comics No. 1, the issue that introduced the world to the Man of Steel back in 1938. Fox 13 has the story, saying that Adams – owner of Pristine Comics – stumbled on a near-perfect copy of this extremely rare comic book a few years back, and now wants to sell it on eBay for millions.
"I've been in business 28 years and you chase a lot of leads hoping to find something like this," Adams told the news station. "This is the needle in the haystack, because most books are not preserved with such quality."
Watch the newscast below:
As you can hear in the report, there are only 38 copies of this Action Comics issue left in the world, and Darren Adams has the only one that rates a 9 out of 10 in quality. He refers to it as a "Mona Lisa" of comic books, which isn't an exaggeration. Adams turned down an offer of $3 million for the book already. Now he's putting it up for grabs on eBay.
But not just anyone can apply for the auction. Visit the page set up for the Action Comics auction and you realize that you actually have to be pre-qualified to even bid. No PayPal available here! "Who will be the next to own the most valuable comic of all time?" the site asks. Hyperbole? Actually, it's fact.
The auction currently is underway. It's scheduled to last for 10 days. To give you an idea of how this book could price, Nicolas Cage once owned a copy of Action Comics No. 1 that was slightly less pristine than the one in Adams' hands. It sold back in 2011 for $2.16 million, according to CBR. Who has the money to spend on this memorabilia? We'll know soon enough.
Movie junkie. Infatuated with comic-book films. ReelBlend cohost. Resident dad. Extroverted introvert. Wants to see the Snyder Cut. Managing Director at CinemaBlend.