Miss World Removing Swimsuit Portion Of Contest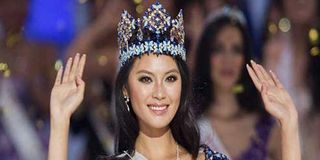 Beauty pageants offer plenty of sections for women to be judged on. There's often a talent portion, as well as the usual Q&A and evening gown bits. Then, there's the real reason everyone tunes in for beauty pageants aired on television: the swimsuit competition. During this portion, female viewers frequently get envious and/or poke fun at protruding belly buttons and slightly large thighs, while men often ogle like they've never seen a lady in a swimsuit before, which we all know they have. However, this year's Miss World pageant will be noticeably absent the scantily-clad portion of the contest, as executives behind the big event have decided bikinis are not appropriate given the location.
This year's Miss World contestant is set to air in September and will be shot on the tourist island of Bali, which apparently supports a large Muslim population. According to the Daily Mail, the country's top Islamic organization, Indonesian Ulema Council, has even called for the pageant to be cancelled, and out of respect for the organization's wishes, bikinis have been cancelled this year.
However, the "beach" portion of the competition will still occur. Instead of bikinis, the women in the competition will don more modest beachwear, including sarongs and other pieces of clothing that won't hug so tightly to women's shapes. While tourists often wear skimpy beachwear in Bali, the pageant heads say they don't want to offend any of the communities they work with to put on the pageant, nor do they want to make things difficult for any of the 137 contestants involved.
I'm assuming the pageant chose to air from Bali before those involved realized there might be a controversy, but I'm still a little surprised the pageant has caved. I'm guessing the bikini beach rounds generally bring in a significant portion of the ratings for the program, but in the scheme of things, it's only one year and things should be back to normal after that.
Amazing Race & Top Chef superfan with a pinch of Disney fairy dust thrown in. If you've created a rom-com I've probably watched it.
Your Daily Blend of Entertainment News
Thank you for signing up to CinemaBlend. You will receive a verification email shortly.
There was a problem. Please refresh the page and try again.