And the Most Godless City in America Is …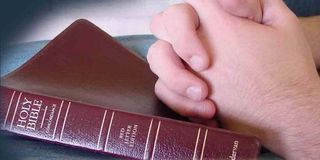 Are you an atheist looking for a change in scenery? You might want to consider Providence, R.I., which has just been named the most godless city in America, according to a recent study by the American Bible Society (via TIME). The data was collected via phone and online interviews, where respondents answered questions regarding their bible-reading habits.
Now, if you already live in Rhode Island, don't worry: you have plenty of other godless cities to choose from, including New Bedford, Mass., Schenectady, N.Y., and Boston––once again proving that the Northeast is filled with sinners, a fact that did not go unnoticed by the Bible Society. "Not surprisingly, many cities in the East Coast continued to rank as the least Bible-minded in 2013." Perhaps they should've been watching more of the History Channel's Bible miniseries?
On the flip side, the most religious cities in the study were concentrated along the Bible Belt. Coming in at number one was Chattanooga, Tenn., with Birmingham, Ala., Roanoke, Va., Springfield, Mo, and Shreveport, La. rounding out the top five.
Surprisingly, the City of Angels, better known as Los Angeles, was only 73rd on the list. Though, perhaps it has something to do with the fact that Jules from Pulp Fiction is no longer wandering around town spouting Ezekiel 25:17, opting instead to walk the earth like Cain in "Kung Fu." Come back, Jules! Los Angeles needs your spirituality!
You can take a look at the full list (in infographic form) below.
Your Daily Blend of Entertainment News
Thank you for signing up to CinemaBlend. You will receive a verification email shortly.
There was a problem. Please refresh the page and try again.