Naked Photos Of Blake Lively Surface On The Internet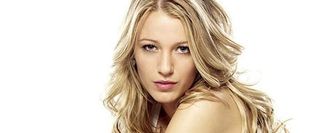 Blake Lively is a gorgeous actress and everybody wants a piece of her. Even hackers. Most recently someone hacked into the Green Lantern star's iPhone and leaked nude photos of her on the internet. Unlike nude photos of other star's who don't mind showing off their privates **cough** Pamela Anderson **cough**, Lively is a beautiful actress that doesn't have that hint of sluttyness, yet.
With any news story as awesome as this, there is always someone to put a damper on the fun. That person is Lively's representative, who released a statement yesterday trying to take away the validity of these photos. The representative explains: "The photos of Blake Lively which have just surfaced on various websites are 100 percent FAKE. Blake has never taken nude photos of herself," and in the process cock blocking all of us internet nerds. Yet there is still hope. Apparently after hearing the rep dismiss the whole thing, the hacker who got the photo's, released 12 more of the naked goddess, and subsequently created a metaphorical high five throughout the internet.
I really don't understand what all the fuss is about. The girl is beautiful, and things like this happen all the time to celebrities. If Lively didn't want any naked photo's of her to leak, then maybe she should have not taken naked pictures of herself in the first place. I can assure you when Pamela Anderson and Tommy Lee were consummating on tape, their last though was: "Oh, I hope this doesn't get leaked on the internet." Point and match.
Your Daily Blend of Entertainment News
Thank you for signing up to CinemaBlend. You will receive a verification email shortly.
There was a problem. Please refresh the page and try again.