Nigella Lawson And Charles Saatchi Granted Divorce In 70 Seconds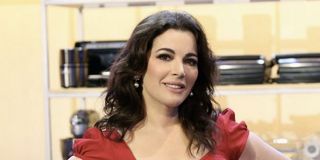 The saga that has been Charles Saatchi and Nigella Lawson's relationship over the last several weeks has now come to an end. The two have put Kim Kardashian and Kris Humphries to shame with their divorce proceedings, getting a judge to grant them a decree nisi divorce O.K. in a swift 70 seconds. The news comes just a day after word broke that the couple were hoping to go through a quick divorce.
The divorce follows a June incident in which the couple was having lunch outside when things got a little heated. Photographers were nearby, and caught the 70-year-old grasping 53-year-old Lawson around the neck, seeming to choke her. Saatchi later called the choking "playful," but after the incident Nigella moved her belongings and her child out of the $18 million home the couple share. Additionally, while Saatchi was indignant about the photo, Lawson stayed remarkably quiet, at least where the press is involved.
Contrary to what Saatchi may have told the world, it was Lawson who actually filed for divorce. While a good chunk of famous couples cite irreconcilable differences when opting to divorce, Lawson asked to be legally apart from her husband, thanks to "unreasonable behavior" that had apparently been continuing, leading us to believe the choking incident wasn't the first time the man showed a burst of anger. So, when Saatchi announced his intention to divorce his wife earlier this month after stating the photograph taken could have really been of "Nigella grasping my neck to hold my attention," it seems he was really just show boating after all to try and save face.
Yesterday, the Daily Mail noted that Lawson signed on high-profile lawyer Fiona Shackleton to deal with the couple's shared finances. The lawyer prepared a full list of assets and both parties got down to working out a private agreement so that no claims would be made while in court. Reportedly, Saatchi's big goal was that his large and expensive art collection not be broken up.
The hearing was at 10:30 this morning and while all the paperwork was settled and the judge was able to grant the divorce very quickly, it will be some weeks before the divorce is actually finalized. According to the Guardian, all the couple has to do now is wait for a decree absolute, which officially ends the marriage over the long run. Those usually take about six weeks to be issued. Regardless, the couple won't really have to deal with one another during those last few weeks and are free to part and move on. Hopefully, Lawson will be able to move forward in a much happier environment while Saatchi will learn to control his temper, or at least his tongue. I'm not holding my breath, though.
Reportedly, Lawson is headed to sunny Los Angeles to help judge the second season of the reality cooking competition show, The Taste.
Reality TV fan with a pinch of Disney fairy dust thrown in. Theme park junkie. If you've created a rom-com I've probably watched it.
Your Daily Blend of Entertainment News
Thank you for signing up to CinemaBlend. You will receive a verification email shortly.
There was a problem. Please refresh the page and try again.