Perfect Strangers Actor Bronson Pinchot Restores Houses Now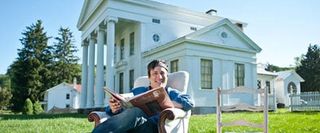 Some celebrities are perfectly content to be in the limelight, while others find equally enticing career opportunities elsewhere. For some reason, rehabbing houses seems to be a particularly common pursuit. Vanilla Ice has done it and now Perfect Strangers' Bronson Pinchot has done it, too.
Pinchot joined Good Morning America this week to discuss what he's been up to for more than a decade. The 52-year old actor spoke to Lara Spencer about how he happened to be browsing the Internet 12 years ago and encountered the house of his dreams.
Now, Pinchot is an official renovator of properties in and near Hartford, Connecticut. According to ABC News, the man is so into working with his hands, he even bought the town's working post office and gave it a whole new look. Even though he is completely self-taught, he considers himself kind of an expert at this point, with good reason. With twelve years under his belt, and five houses currently under his ownership, he's kind of the restoration man around town. Plus, he gets the best of both worlds—restoring things he loves and occasionally taking guest spots on TV shows such as Chuck and Hawaii Five-O.
Your Daily Blend of Entertainment News