Pierce Brosnan's Daughter Charlotte Dies Of Ovarian Cancer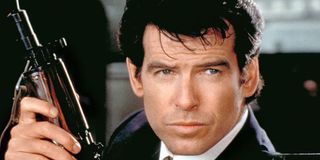 Detecting and preventing cancer is an ongoing, sometimes seemingly unwinnable battle. For everything we learn about risk factors and causes and methods of prevention, there are cases that defy what little logic we have. And then there is cancer that, by sheer factor of genetics, is seemingly unavoidable. Today the actor Pierce Brosnan confirmed via a statement that his daughter, Charlotte, has passed away from ovarian cancer at age 41. According to People the same disease took her mother, Brosnan's first wife Cassandra Harris, in 1991, and Harris's own mother died of ovarian cancer as well.
Charlotte, who left behind a husband and two children, passed away on June 28. Here's part of Brosnan's statement to People:
Earlier this year Angelina Jolie made major headlines when she revealed that she had undergone a double mastectomy to reduce her risk for both breast and ovarian cancer, after genetic testing revealed that she had an 87% risk of the former and a 50% risk of the latter. Jolie's mother Marcheline Bertrand, died of ovarian cancer in 2007 at the age of 56. According to Cancer.gov breast cancer is far more common than ovarian cancer, with more than 200,000 diagnoses in the United States per year, but ovarian is far more deadly; the American Cancer Society estimates that 22,240 will be diagnosed with ovarian cancer in 2013, and that 14,230 will die of the disease.
As researchers do more work mapping the human genome, they have been able to identify more markers on our genes that indicate a risk for cancer-- but, dismayingly, ovarian cancer remains one of the last understood. In this Nature report from March (opens in new tab), the Collaborative Oncological Gene-Environment Study announced they had discovered 74 new genetic risk factors for cancers, but were still only able to account for 4% of the familial risk of ovarian cancer. A woman whose mother had ovarian cancer, like Charlotte Brosnan, remains highly at risk for the disease, but we still don't know what in our genes can explain it.
Though Charlotte Brosnan was not a celebrity, her father's public presence means hers is just one of many high-profile recent cancer diagnoses that prove no amount of fame or wealth can stop the disease. Michael Douglas recently survived a serious bout with lung cancer, Roger Ebert famously fought thyroid cancer before succumbing earlier this year, and Divinyls lead singer Chrissy Amphlett died of breast cancer in late April. We have made immense progress in fighting cancer over the last decades, but we clearly have so far to go. Our condolences go to Brosnan and his family in their time of grieving.
Staff Writer at CinemaBlend
Your Daily Blend of Entertainment News
Thank you for signing up to CinemaBlend. You will receive a verification email shortly.
There was a problem. Please refresh the page and try again.