Playboy Model Holly Madison Is Prepping To Have A Baby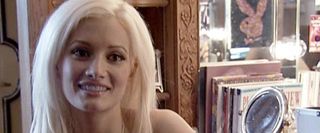 Holly Madison has never been mum about wanting to be a mom at some point in her life. The 32-year-old most notably wanted to be married to and have children with Playboy mogul Hugh Hefner, a fact that was splashed all over the news during her tenure on The Girls Next Door. That chapter in the model's life didn't end as happily ever after as she expected, nonetheless Madison has moved on. Now, it seems it is time for baby talk, again.
For the past four years, Madison has been working onstage doing a Las Vegas striptease show called Peepshow. However, the hopeful mother-to-be's last show is set for December 30, and now People is reporting the popular Playboy model has decided not to renew her contract just in case she becomes pregnant in the next few months.
The news is a little surprising, since Madison's boyfriend of a little over a year, Insomniac CEO Pasquale Rotella,has been dealing with some legal troubles; however, Madison says she is happy with her relationship and is ready to take it to the next level, which is, in this case, kids.
Despite the penchant Madison has for taking her clothes off, she's always come across as one of the smartest and most sensible women that have ever surrounded Hefner. Now, she's in the prime of her life and certainly in the financial situation to be able to raise a baby well and Pop Blend wishes her nothing but the best.
Your Daily Blend of Entertainment News
Thank you for signing up to CinemaBlend. You will receive a verification email shortly.
There was a problem. Please refresh the page and try again.