Rowling Celebrates Potter Finish With Graffiti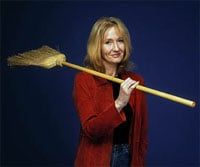 HARRY POTTER author J.K. ROWLING finished writing the final book in the fantasy franchise three weeks ago - and marked the occasion by leaving graffiti in a Scottish hotel. Eagle-eyed guests at the five-star Balmoral Hotel spotted a line from the best-selling author scrawled in black pen on the back of a marble bust in a room Rowling occupied.
She wrote, "J.K. Rowling finished writing Harry Potter And The Deathly Hallows in this room (652) on 11th Jan 2007." Rowling yesterday revealed the book, the seventh in the series, will be released on 21 July (07).
Copyright 2007 WENN
Your Daily Blend of Entertainment News
Thank you for signing up to CinemaBlend. You will receive a verification email shortly.
There was a problem. Please refresh the page and try again.