Seat-Back Screens Are Being Phased Out Of Airplanes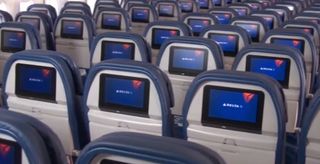 Once upon a time, those modern touch-screen seat-back TV screens seemed like a pretty great and high-tech bit of luxury for coach flying, but these days, most people board a plane with at least one device that offers them their own personalized viewing screen, which leaves the touch screen in front of them untouched. So it's not entirely surprising to hear that these screens are being phased out of many new long-range jets.
As CNN's report notes, the seat-back screens appear to be going the way of the airplane telephone. The screens are said to be heavy and costly, and for some planes, they're being phased out.
Instead of seat-back screens, some airlines are offering in flight entertainment through a special server that's loaded with "hundreds of movies and TV shows that passengers can stream directly through their gadgets." And that's presumably for a fee, as some airlines do offer in-flight wifi for a fee. From what CNN reports, it sounds like Delta plans to offer both seat-back screens and the option for people to log in to the in flight entertainment through their own devices. Per Variety, passengers on Delta flights can screen content through the Fly Delta app on their portable devices. And it sounds like they offer a number of complimentary viewing options, in addition to movies and TV shows that can be viewed for a fee.
Those who've traveled in recent years may have had the option to select their own viewing entertainment from the touch-screen on the back of the seat in front of them. What's available on the screens tends to vary, but it can range from movies and TV shows to music and video games. There's also my personal favorite, the flight tracker, which shows you how far you are from your destination, and other flight information.
The down-side to phasing out the seat-back screens, as expressed by one passenger featured in CNN's report, is that personal devices need to be charged, especially if they're using wifi. Assuming your seat-back screen actually works, you're not responsible for keeping it powered up, which isn't the case for your iPad, cell phone, Kindle or whatever else you've brought with you. This isn't a problem for passengers on planes that include outlets to plug in their stuff, but on planes that don't include charging stations, you're out of luck if your battery dies. With that said, if long-range jets are phasing out the seat-back screens because people are using their own devices, it stands to reason that they'd want to include electrical outlets for charging, right? Hopefully. For those who take long trips, finding an available outlet is like striking gold. It'd be nice if more planes had them so they weren't so in-demand at the airport.
Your Daily Blend of Entertainment News
Thank you for signing up to CinemaBlend. You will receive a verification email shortly.
There was a problem. Please refresh the page and try again.