Star Wars Story Told In The Coruscant Tapestry, Available To Buy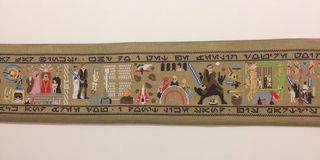 We're all eagerly anticipating Star Wars: Episode VII. Every bit of news from J.J. Abrams' lips is leaped upon and analyzed by the most die hard geeks out there. But sometimes, we just want to wallow in the glory of being the ultimate Star Wars fan. A 30 foot long tapestry depicting the story of Star Wars has been created, and it's for sale. The item is hand stitched cotton, that has 7 stitches per inch. So a ton of work went into it.
That hard work and detail translates to a staggering $20,000 price tag. Only if no one will buy it at that price can you say the value of the item is incongruous with the pricing, but the dollar amount does grab your attention. It is a beautiful piece of work, based upon the famous Bayeaux Tapestry that depicted the Norman conquest of England that ended with the Battle of Hastings. "The Coruscant Tapestry" depicts the events of the films, yes including the prequels, to tell the story of Star Wars in ancient form.
Text along the tapestry is in Aurebesh, giving the item that authentic feel of being an old recounting of history. Tapestries were often used to decorate the homes of noblemen who wanted to show off their prized hunts or battles. They were also used to depict stories from religious texts, with the Bible being a popular choice. "The Coruscant Tapestry" keeps with that theme nicely, and you could imagine such a piece adorning the walls of Leia's home.
The question then becomes how much of a fan are you? Is this piece of art, handmade and 30 feet long, worth the exorbitant price tag? It might be, it's awe inspiring enough. But it'd be cheaper to get your Star Wars fix when season 6 of The Clone Wars streams on Netflix or by continuing to wait for the next chapter in the saga to begin. Either way, here's a taste of new Clone Wars.
Staff Writer at CinemaBlend.
Your Daily Blend of Entertainment News
Thank you for signing up to CinemaBlend. You will receive a verification email shortly.
There was a problem. Please refresh the page and try again.