A Thomas The Tank Engine Theme Park Is Opening, Sounds Like A Blast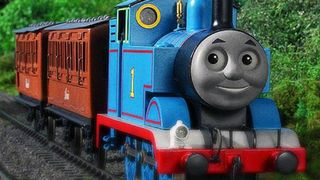 For decades, Thomas the Tank Engine has brought joy to children all over the world. Already a common sight on TV, books and toys, it looks as though children will soon have a far more hands on experience with him.
Tomorrow – Saturday August 15 – will mark the opening of Thomas Land: an amusement park inspired by the adventures of Thomas the Tank Engine. Located on the Edaville USA Railroad in Carver, Massachusetts, the park aims to appeal to the imaginative spirit of those who both will and did grow up with the iconic train. Aside from just the titular Tank Engine, Thomas Land features numerous familiar locations such as Tidmouth Sheds, and 11 rides inspired by classic Thomas the Tank Engine characters like Cranky the Crane and Harold the Helicopter.
The Thomas Land business model has already proven not only successful but also universal; parks have already opened in The United Kingdom and Japan, and annually attract crowds numbering in the millions. Although not the first, the Massachusetts Park is by far the largest, taking up 11.5 acres. Despite the size and scale, the park itself has taken only around a year to construct.
Work, work, work til the sun goes down! We're burning the midnight oil with our friends at Garner Holt Productions to...
Posted by Thomas & Friends on Tuesday, August 11, 2015
It's a testament to the lasting iconography of Thomas the Tank Engine; people across all cultures can identify his face as easily as they would Batman's logo or Indiana Jones' theme song. Not limited to young audiences, he has been featured in television shows such as Robot Chicken, and even made a memorable appearance in the recent marvel hit Ant-Man.
Amusement parks have become big business for major children's properties, from LEGOLAND to the Warner Bros. characters that inhabit Six Flags, and obviously the Disney parks – Thomas Land joins a long line of iconic brands that capitalize on the idea of imagination and immersion.
Originally from Connecticut, Conner grew up in San Diego and graduated from Chapman University in 2014. He now lives in Los Angeles working in and around the entertainment industry and can mostly be found binging horror movies and chugging coffee.
Your Daily Blend of Entertainment News
Thank you for signing up to CinemaBlend. You will receive a verification email shortly.
There was a problem. Please refresh the page and try again.