Horror films have different effects on different people. Personally, I'm a challenging cinephile to shock, but I still have an infinite respect for material that can clearly be recognized as frightening and well made. That in mind, director Andres Muschietti's IT made me feel something that I haven't felt in a long time watching a genre feature. As I watched Bill Skarsgard's wholly disturbing clown, Pennywise, simultaneously terrorize on-screen children and the audience around me, I filled with a juxtaposing, wonderful joy. It's exciting to see a movie that not only can elicit such an impressive visceral reaction, but also create a rich, cinematic world that somehow manages to be both terrifying and inviting.
IT is the second adaptation of Stephen King's beloved 1986 novel -- the first being a two-part miniseries that first aired in 1990 -- but this new version, scripted by Chase Palmer, Cary Fukunaga, and Gary Dauberman, is a decidedly different telling. While King's book features a split narrative, following a central ensemble as children and adults, Muschietti's vision focuses exclusively on the former, tracking a group of youths as they slowly discover the dark and disturbing truth that has haunted their hometown of Derry, Maine for centuries. Capitalizing on the youthful energy and the perfect dynamic shared between the members of "The Losers Club," the film successfully and surprisingly functions as a warm, nostalgic throwback, also ever-escalating tension and fear as the dangerous adventure continues.
Opening in the fall of 1988 (a change from the 1950s-set source material), the story begins with the horrific fate of Georgie Denbrough (Jackson Robert Scott) -- a young boy whose playtime with a paper boat during a rainstorm ends tragically following a meeting with Pennywise, a sinister, balloon-offering clown he encounters in a storm drain. It's an event that occurs around the time of multiple other mysterious disappearances, and months later, at the end of the school year, Georgie's older brother Bill (Jaeden Lieberher) remains obsessed with finding out exactly what happened.
An outcast at school because of his terrible stutter, Bill continues his investigation with his equally unpopular pals -- the loud-mouth Richie (Finn Wolfhard); the small, sickly Eddie (Jack Dylan Grazer); and the obsessive-compulsive Stan (Wyatt Oleff) -- and their search for answers ultimately unites them with three new friends: the home-schooled Mike (Chosen Jacobs); the chubby, studious Ben (Jeremy Ray Taylor); and the poor, abused Beverly (Sophia Lillis). As the summer continues, all seven find themselves terrorized by Pennywise, who puts each of them face-to-face with their greatest fears, but as their individual wills are tested, it's their strength as a group that ultimately gives them the power to fight back.
The narrative flow of the film isn't perfectly balanced, with some characters' arcs getting more significant time than others (Mike notably shows up early in the film and then doesn't reappear until around the midpoint), but it remains nonetheless impressive how the story builds around its leads. While part of the structure is certainly built around having each member of The Losers Club have their own personal experiences as victims of IT's unique brand of terror inducement (some taken straight from the novel; others fresh and original), it never actually feels structured, and instead has a fantastic flow that keeps you ever fearful for the heroes' lives as you learn more and more about what's really happening. A significant part of this accomplishment can be attributed to simply how the protagonists are introduced and interact with one another, as you're not only immediately engaged with their relationships to one another individually, but each also has a contribution to the larger plot. Every scene has a contribution to the film as a whole, but they are peppered with personality and energy that connect you to the movie on a special level (it doesn't get much better than Ben and Beverly's shared appreciation for the music of New Kids On The Block).
If it isn't readily obvious, IT's casting department, headed by Riche Delia, deserves important acknowledgment for their contributions here. Hollywood history is full of titles undercut by poor performances by young talent, but this is a chain that doesn't even understand the concept of a weak link. As the relative "veterans" of the ensemble, Jaeden Lieberher and Finn Wolfhard do stand out (Richie is exactly the foul-mouthed little bastard that you want him to be), but when you factor in the quiet strength of Sophia Lillis' Beverly, the sweetness of Jeremy Ray Taylor's Ben, and the perfect nervous energy of Jack Dylan Grazer's Eddie, the concept of "scene-stealer" just isn't applicable. Even Nicholas Hamilton, who plays sadistic bully and secondary villain Henry Bowers, deserves recognition for an effectively chilling and threatening turn that occasionally cranks things up to 11.
Of course, one of the great curiosities of this adaptation of IT is the treatment of Pennywise The Dancing Clown, and the most appropriate adjective that springs to mind is "otherworldly." For all the lacking of the 1990 miniseries, Tim Curry's original performance as Pennywise set a bar so high that it seemed unfair to expect Bill Skarsgard to compare, and yet it's not hard to imagine this interpretation becoming just as iconic, if not more so. It is admittedly a take that benefits from a higher budget, more artistic direction, and much better effects, but none of those factors should lessen the credibility and impressiveness of the young actor's work. As if the makeup and Victorian-era costume weren't frightening enough, Skarsgard sells Pennywise as a creature who clearly isn't inhabiting his own skin, and his cold smiles and unnatural eye movements are downright disturbing. There are moments where CGI plays a little too heavy a role, but ultimately this is a movie monster that will be featured in nightmares worldwide for decades.
The beauty and horror found in the aesthetic of Pennywise's design is perfectly representative of IT as a whole, with the movie finding ways to hit on both in the narrative and the contrast serving to highlight the wonderful extremes (the innocence of childhood vs. a very real monster and the evil that permeates from his presence). As the kids are riding their bikes through the neighborhood or cliff-jumping into a nearby lake, Andres Muschietti makes Derry seems like a serene, inviting place -- but equally powerful and captivating is the ugliness that reveals itself during encounters with the town's creepy pharmacist (Joe Bostick), or Beverly's awful, abusive father (Stephen Bogaert). Coordinating with unsettling production design (the notorious Neibolt House in particular is a stunning work of art), and crafty framing that keeps you guessing where the next scare is coming from, you leave the theater feeling chilled, and also wishing you could plan a vacation to this special time and place.
In the next couple/few years we will inevitably be seeing IT: Chapter 2 -- featuring the events that occur 27 years later and wrap up the adaptation of Stephen King's book. But while it's now unequivocally one of the industry's most exciting upcoming sequels, it's to Andres Muschietti's credit that IT never feels exclusively like a Chapter 1. As it stands, the movie is one of the best, most exciting, thrilling, heart-filled horror titles that we've seen in recent years, and the fact that we will soon be seeing a follow-up is simply icing on the cake.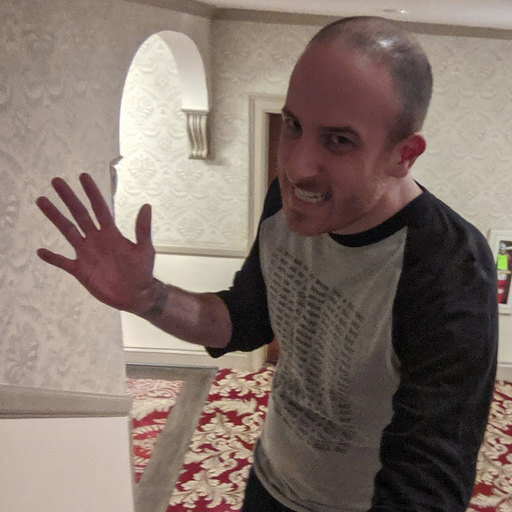 Assistant Managing Editor
NJ native who calls LA home and lives in a Dreamatorium. A decade-plus CinemaBlend veteran who is endlessly enthusiastic about the career he's dreamt of since seventh grade.