Handling source material that is notably 1,138 pages long, director Andy Muschietti and his colleagues behind the big screen adaptation of Stephen King's IT unquestionably made the right choice splitting the book into two movies. The novel is naturally structured to be bifurcated, with its full narrative playing out in two distinct time periods separated by 27 years, and tackling them separately has allowed the inclusion of details that would never have made it into a more streamlined, single-feature take. The benefits of this method were made wonderfully apparent with the release of the first film in 2017, and with so much fantastic groundwork being completed it has always been perceived as a huge advantage for IT Chapter Two.
As it turns out, however, there is a bit of a hitch to this approach that has only made itself apparent with the completion of the sequel. Specifically, it's the fact that while the choice to make two movies was made early in the development process, the projects weren't actually crafted simultaneously. Doing so would have allowed the first installment to include everything required to feed into an ideally-constructed second, and without that what ends up happening is that the follow-up needs to keep dipping back in time to retroactively include unestablished-yet-important details.
The end result is an unevenness that was totally absent the first time around, leaving IT Chapter Two to be solid, but also a significant step down from its predecessor.
Though a tad rushed, the film begins firing on all cylinders, bringing audiences back to the haunted town of Derry, Maine in the year 2016, kick-starting with Pennywise The Dancing Clown (Bill Skarsgard) first inspiring a brutal hate crime, and then violently feasting on the victim. It's an event that quickly catches the attention of adult Mike Hanlon (Isaiah Mustafa), who has spent his entire life in Derry, and he is immediately inspired to call his childhood friends – affectionately known as The Losers Club – and invite them back to their hometown.
Their memories of what happened when they were kids are mystically faded, but still Bill (James McAvoy), Beverly (Jessica Chastain), Ben (Jay Ryan), Eddie (James Ransone), and Richie (Bill Hader) make their way back to The Pine Tree State at Mike's behest. First getting together at a Chinese restaurant, they're exceptionally excited to see one another, their old dynamics immediately returning, but attitudes change when they are forced to remember the events that they experienced in the summer of 1989, and the promise that they made to one another.
Though the group is petrified at the prospect of facing off against Pennywise again, Mike believes that the tools to their potential success lie in their memories of Derry, and each of them are sent off to find their own totems that they will bring into battle. Individually they go on their own journeys, and while doing so reflect not on the time during the summer of 1989 when they were together, but instead when they were apart.
Those who recall the events of IT will remember that The Losers Club had a falling out following their first group showdown with Pennywise, and it's primarily in expanding on this particular period that IT Chapter Two develops the bulk of its flashback material – bringing back Jaeden Martell, Sophia Lillis, Jack Dylan Grazer, Jeremy Ray Taylor, Chosen Jacobs, Wyatt Oleff, and Finn Wolfhard in their respective roles. It's not exactly hard to see why this was done, as the young ensemble is fantastic and significantly contributed to the specialness of the previous chapter – but from a macro perspective their presence in the narrative is both distracting and disruptive, preventing the film from ever finding true focus on the adult characters that really should be front and center.
Had this movie been written alongside its predecessor, the additional scenes with the kids – which, it should be noted, actually required some digital de-aging wizardry due to the maturity of the actors – could have simply been filmed as part of Chapter One, reducing the narrative weight that is hefted on to the flashbacks in the sequel. Because the movie keeps traveling back to 1989, servicing each character separately, what's sacrificed is time to better understand who the characters are as adults, and more scenes that feature them as a reunified-but-still-fractured group. This was supposed to be the whole point of splitting the book, but instead IT Chapter Two falls into the classic sequel trap of overemphasizing what worked in the past instead of fully committing to the future.
All that said, the film still has assembled a fantastic collection of actors here, and individually get some superlative character material to work with. Both James McAvoy and Jessica Chastain deliver excellent reflections of their younger counterparts, haunted by their respective losses and suffered abuses, and the story very much puts them through the emotional ringer and tests the stars' very real dramatic skills. James Ransone also makes for a fantastic Eddie, only occasionally going a touch too big with the neuroses.
At the end of the day, though, this is really Bill Hader's movie. It was immediately apparent after watching IT that the actor would be absolutely perfect as an adult version of Finn Wolfhard's Richie, but far more significant than looking the part and having the exact attitude, Hader also puts on what is simply a phenomenal performance that adds impressive layers to the character that go beyond even what's in Stephen King's book. It will surprise nobody that he is hilarious whenever he needs to be (and with Richie's mouth that's quite often), but it's actually his dramatic skills that add something particularly exceptional to IT Chapter Two.
Naturally, elements of the Richie character aren't the only things changed from the source material for the film, but the alterations more often than not work for the version of the story being told. In most cases it's for the creation of big scares, like Bill trying to rescue a kid in a fun house, or Eddie investigating horrors in the basement of the pharmacy, but they're welcome because they also come paired with some amazing direct adaptations from the book – including the monstrous Paul Bunyon statue in the town square and the terrors that Beverly discovers when she visits her family's old apartment.
Furthering that point, IT Chapter Two is packed with some impressive terrors, and introduces a whole host of new images that will haunt the nightmares of any susceptible viewer – though there are some negatives here as well. There are some wonderfully scary parts of the film, not just limited to those mentioned above, and a handful of moments that will send chills up your spine, but it's also not the most terrifying experience you'll ever have. Bill Skarsgard is once again stunningly brilliant as Pennywise, but weirdly there's a degree to which the movie leaves you wanting more of him, as he spends a significant amount of time taking other forms.
It was always going to be a sincere challenge for IT Chapter Two to match the extreme highs of its predecessor – and the end result of that is the movie feeling like a disappointment for being just "good" instead of "great." It still has a lot to offer even while being an imperfect follow-up, balancing structural issues with strong additions – but perhaps all of those problems will go away when we get a six-hour supercut of the entire IT experience.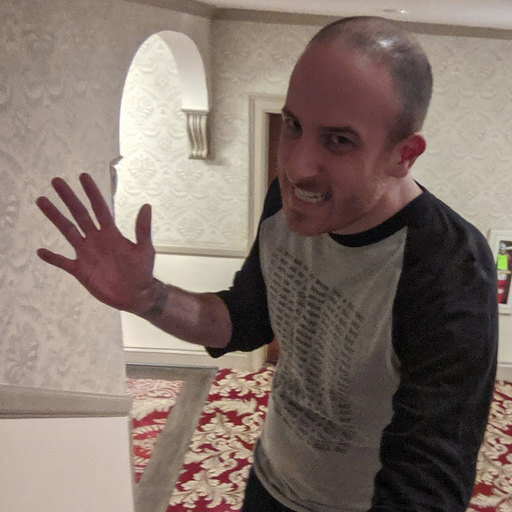 Assistant Managing Editor
NJ native who calls LA home and lives in a Dreamatorium. A decade-plus CinemaBlend veteran who is endlessly enthusiastic about the career he's dreamt of since seventh grade.