Aquaman Box Office: The King Of Atlantis Is Once Again King Of Hollywood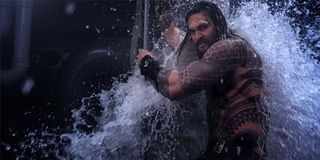 James Wan's Aquaman was never a sure thing. Following the disappointing returns for Zack Snyder's Justice League, it wasn't entirely clear if audiences were willing to show up in droves for DC Extended Universe features. Fortunately, things have worked out tremendously well for the undersea superhero. It rode into theaters on a wave of positive buzz, not to mention big numbers overseas, and now it has won the box office crown for three weeks running. You can check out the figures, as well as the rest of the Top 10, in the chart below, and join me after for analysis!
Aquaman performed exceptionally through the holiday season, only dropping 23.2 percent in its second weekend, and it has continued to succeed by nearly doubling the numbers of the closest competitor. This week's percentage drop was, as expected, a bit steeper, going down 41.1 percent, but the results are still pretty incredible nonetheless. The $259.7 million it has made here at home is already more than Justice League made during its entire run in 2017, and the $291 million made by Zack Snyder's Man Of Steel is next on the take-down list.
Of course, while Aquaman is still climbing the ladder when it comes to domestic performance of DC Extended Universe features, it has already reached the top of the ladder worldwide. More than 72 percent of the film's earnings so far have come from markets abroad, and that contribution has led to an international box office total of $940.7 million. This is already way, way more than the previous top of the leaderboard, Zack Snyder's Batman v Superman: Dawn Of Justice, which made $873.6 million back in 2016. And, again, the movie is still in the early weeks of its release.
This run will very likely extend at least one more week as we get deeper into the nascent 2019. While there are three new wide releases hitting theaters this weekend (we'll get more into them later), it's very likely that Aquaman won't be dethroned by anything before M. Night Shyamalan's Glass, which won't be playing until January 18th. That gives the James Wan film that much more time to rake in extra cash before it has to do so from the number two position.
While Aquaman gets all the glory of a maintained box office crown, that should do nothing to demean the legitimately impressive debut by Adam Robitel's Escape Room. Despite how well horror has been doing as of late, not much was expected from the first wide release of 2019 - particularly because of the number of major features that arrived in the previous two weeks. Even with all of that competition, however, people still turned out in droves of the PG-13 thriller, with sold enough tickets to bank $18 million in earnings. Neither the critical responses nor the audience reactions have been tremendously over-the-top, with Rotten Tomatoes and Cinemascore posting 52% and a "B" grade, respectively, but apparently folks were excited to embrace some thrills in the dead of winter. It probably won't last too long in the Top 10, but it's definitely off to a great start given its reported $9 million budget.
It was a surprise that Escape Room was able to bump Rob Marshall's Mary Poppins Returns from its comfortable number two position, but the family film is still doing just fine. Not only did its acutal drop basically match Aquaman's, but it has now made over $250 million worldwide in its 19 days of release. Its numbers are being moderately consistent, having made $23.5 million in its first three days, and $28.4 last week. Like Aquaman it should continue to do well as we make our way through the slow month that is January, though it's worth pointing out that it has only just this week managed to have its domestic total match its reported budget before marketing ($130 million). There's no way it will wind up being a loss, especially because of the foreign numbers, the merchandising, the home video release, and even a potential award season bump, but it probably isn't doing the business that Disney was hoping for.
Sporting a budget about $40 million less than Mary Poppins Returns, Peter Ramsey, Robert Persichetti Jr., and Rodney Rothman's Spider-Man: Into The Spider-Verse is also still doing extraordinarily well so far in 2019, and added another eight-figure sum to its $133.9 million total so far here at home. Internationally it's coming up on $300 million, and it's already established as the seventh biggest release ever out of Sony Pictures Animation. It also has the distinction of being absolutely incredible, earning some of the best reviews of the year, and an "A+" from CinemaScore. It's also a very safe bet that the filmmakers will be walking away with the Best Animated Feature award at this year's Academy Awards - and it could find itself nominated in some other impressive categories as well.
Lastly, we shall give a preemptive good bye to Etan Cohen's Holmes & Watson this week, as it managed to fall from seventh place to 10th place, and will almost surely not be featured on the Top 10 next week. Costing $42 million to make, the comedy is shaping up as a real disaster, as it has earned serious venom from both critics and audiences. As excited as we may have been to see the reunion of Will Ferrell and John C. Reilly, this definitely isn't how the world wanted to see it happen, and the numbers are showing that.
As mentioned, there is a trio of new releases arriving on the big screen this weekend - but also the theatrical expansion of a notable historical biopic. There's the canine-centric tearjerker A Dog's Way Home; the buddy dramady remake The Upside; the Keanu Reeves-led thriller Replicas; and the Ruth Bader Ginsberg story in On The Basis Of Sex. While Aquaman will likely rule the kingdom once again, all of these titles should do an interesting job mixing up the middle of the Top 10, so be sure to come back next Sunday to see how it all shakes out.
NJ native who calls LA home; lives in a Dreamatorium. A decade-plus CinemaBlend veteran; endlessly enthusiastic about the career he's dreamt of since seventh grade.
Your Daily Blend of Entertainment News
Thank you for signing up to CinemaBlend. You will receive a verification email shortly.
There was a problem. Please refresh the page and try again.