Weird: The Al Yankovic Story: 6 Things To Know Before You Watch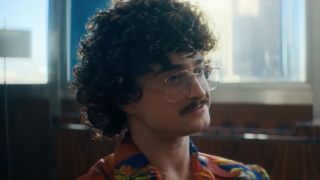 (Image credit: The Roku Channel)
It's here. After months of teasing and trailers releasing and me begging to see Daniel Radcliffe as the legendary Weird Al, the new biographical parody movie, Weird: The Al Yankovic Story, has dropped on our television screens for all of us to enjoy on Roku. If you need a little bit of information before tuning into the film, here are six things you should know about the movie before you dig in.
Weird: The Al Yankovic Story Is About Famous Musician And Parody Artist, Weird Al
As the title implies, Weird: The Al Yankovic Story is about Weird Al, -- whose actual name is Alfred Yankovic -- a famous musician who is known for his musical parodies of popular songs -- like "My Bologna" as a parody of "My Sharona," or "I Love Rocky Road" as a parody of "I Love Rock & Roll."
The movie parodies the musician's life in many ways, showing his rise to fame, and how he turned music into comedy with his funny parodies of famous songs.
It's Based On A Satirical Trailer From Funny Or Die In 2010
While it seemed inevitable that a movie about Weird Al would end up being made, this version is actually based on a trailer from years ago, according to Cheat Sheet. In 2010, Funny or Die released a fake trailer for a Weird Al movie. It ended up going viral, and now, more than a decade later, an actual film exists, directed by Eric Appel.
The Movie Stars Daniel Radcliffe, Though Weird Al Also Appears
You know, out of every person on this planet that I think could portray the famous Weird Al and all his uniqueness, Daniel Radcliffe really is one of the first actors that comes to mind, and he plays Weird Al. Since his rise in the Harry Potter franchise, Radcliffe has done a variety of different films in vastly different genres that can be defined as unique – from playing a guy that has guns stapled to his hands to a literal farting corpse -- that's right, you read that correctly. If you haven't seen it already, be sure to check out Swiss Army Man.
But the film also stars plenty of other amazing actors and actresses in supporting roles. Evan Rachel Wood of Westworld fame portrays Madonna. Rainn Wilson, known mainly from The Office cast, plays Dr. Demento, a radio broadcaster that first put out Weird Al's stuff for people, and even Abbott Elementary star, Quinta Brunson, has a small role as Oprah Winfrey. Truly, there are so many great star here.
Weird Al also shows up in the film, but his role isn't as big as some of the others – however, it is great to see him in his own film and seeming to have the time of his life.
The Film Is Less A Movie Biography And More A Celebration Of Weird Al's Life – With Embellishments
I'll be honest and say that Weird: The Al Yankovic story is more of a parody of a biographical film than anything else. So don't go into this film expecting everything to be completely true. Much of his career has included making jokes out of serious or fun songs – so of course this film would be the same.
However, what I can say is that while it is more of a parody of a biographical film, Weird has no shortage of sheer love of the musician. You can tell this movie was put together by people who love Yankovic's talent and it's a celebration of his music and his career, if nothing else.
But hey, there are at least a few real things in the movie that are true – the rest are just fun embellishments that make this film even more entertaining.
The Movie Features Several Of Weird Al's Hits
While I know we would all love to hear Daniel Radcliffe sing again (since he actually is a skilled singer, as those who've seen him in How To Succeed In Business Without Really Trying would know), but in the case of the snippets of performances we get in Weird, the actual Weird Al provides the signing vocals for his music featured in the movie.
You'll hear classics like I mentioned before, "My Bologna" or "I Love Rocky Road," as well as other popular songs like "Amish Paradise" (a parody of Gangster's Paradise") or "Like A Surgeon" (a parody of "Like A Virgin"). Weird Al even recorded a new song for the film, called, "Now You Know," according to his Instagram. It's a musical, but not really in the traditional sense.
The Movie Is One Hour And Forty-Eight Minutes And Is Rated TV-14
This is less of a fun fact and more of a "need-to-know," but you won't need to worry about sitting for hours on end to enjoy this story, as Weird: The Al Yankovic Story is only an hour and forty-eight minutes, so thankfully not too long. And according to Roku's site, the film is rated TV-14.
What are you looking forward to the most with Weird: The Al Yankovic Story? No matter what, I assure you, you are going to have a fun time. And be sure to check the film out on the Roku Channel on your television.
Stream Weird: The Al Yankovic Story on Roku. (opens in new tab)
Big nerd and lover of Game of Thrones/A Song of Ice and Fire. Will forever hate season eight. Superhero and horror geek. And please don't debate me on The Last of Us 2, it was amazing!
Your Daily Blend of Entertainment News
Thank you for signing up to CinemaBlend. You will receive a verification email shortly.
There was a problem. Please refresh the page and try again.