The 10 Best Daniel Radcliffe Movies That Aren't Harry Potter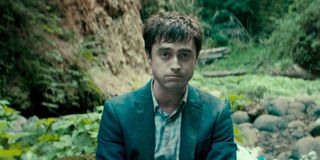 For many moviegoers, Daniel Radcliffe grew up before their eyes with his eight-film commitment to the Harry Potter franchise. But since the former child actor graduated from Hogwarts, Radcliffe has used this golden opportunity to reinvent himself and experiment with both his public image and his acting style — notably by taking on several bold, originals projects, often on the small scale. The result is a slew of movies that prove that the talented actor wants to give a variety of signature roles in a number of films, including comedy, drama, horror, and anything else in-between.
For instance, Daniel Radcliffe's latest film is Guns Akimbo, an indie action-comedy set to hit theaters in limited release on February 28th, which finds Radcliffe playing a video game developer who has guns bolted to his hands. Surely, the results will prove to be something decidedly... different than what audience members expect to see from the Harry Potter actor. Nevertheless, in the nearly 10 years since Radcliffe retired from his most famous role, the actor has willfully experimented with a number of unique and creatively satisfying projects, many of which should hopefully be on your radar.
10. Now You See Me 2 (2016)
Admittedly, Now You See Me 2 isn't any sort of masterpiece. It's a goofy, often ridiculous movie that barely (if ever) follows its own rules and has an unfortunate habit of being a movie about magic tricks that relies heavily on CG effects (which can undermine what makes magic so ... magical). In any case, Now You See Me 2 does have one feather in its cap, and that comes from Daniel Radcliffe's wonderfully inspired supporting turn. The one-time Harry Potter actor, appearing to be liberated by the opportunity to cut loose and have some fun in a big-budget movie, as a cheeky new spin on a magic dweller compared to his most famous character. Playing a tech mogul named Walter, Radcliffe's character is knowingly and winkingly bad at magic, which plays as some clever casting in this sequel. While the movie itself doesn't really stand out, Radcliffe's amusing performance is a winner.
9. December Boys (2007)
When he wasn't committing his time to making the final installments in the Harry Potter film franchise, Daniel Radcliffe allowed himself to pursue other creative endeavors in smaller projects. Many of these included plays, including a controversial and, shall we say, liberated production of Equus, which went to Broadway, but it also included 2006's under-seen December Boys, which served as one of the first times Radcliffe played a character outside of Harry Potter to the masses. The resulting movie isn't necessarily noteworthy outside of this distinction, yet this quiet, tender, grounded indie film does feature a fine performance from our lead actor, one that feels liberated (if temporarily) to be playing a part that's outside of the magical world of Hogwarts. This might not be a well-remembered movie, but it gave us a glimpse into the type of roles that Radcliffe would pursue more regularly later.
8. Jungle (2017)
While it doesn't quite reach the same heights as the actor's more surreal, audacious trek-through-the-wilderness Swiss Army Man, Jungle does feature another commendably challenging and rigorously visceral performance from Daniel Radcliffe. Based on the true life story of Israeli adventurer Yossi Ghinsberg, who fought grave perils while traveling through the Amazon rainforest in 1981, Radcliffe's performance is bold and often fearless, providing yet another glimpse into the actor's intense commitment to character and material. Once again, however, this is another example of a film where Daniel Radcliffe's performance can often outshine the movie itself, but it's further proof of Radcliffe's acting talents and his dedication.
7. Imperium (2016)
In one of his most transformative roles yet, Daniel Radcliffe went from a boy wizard named Harry Potter to an undercover FBI analyst masquerading as a skinhead in 2016's gritty, intense drama-thriller, Imperium. Based on the experiences of FBI agent Michael German, who spent a year working undercover with white supremacists, writer-director Daniel Ragussis' first feature film provides Daniel Radcliffe with yet another opportunity to push himself away from his child-friendly image to provide an introspective, impassioned and challenging lead performance, notably in a film that doesn't quite rise up to his performance. While Imperium tends to fall into a familiar structure, Radcliffe's immersive, invigorated performance brings out the tortured plight of this character pushed ever further into the line of danger. This is certainly not the type of wizard anyone expected Radcliffe to play.
6. Kill Your Darlings (2013)
In the role of Allen Ginsberg, a revolutionary poet at the forefront of the Beat Generation who is most famous for his sprawling poem "Howl," Daniel Radcliffe becomes a different literary darling altogether. Nevertheless, in his compassionate, sensitive, and gently romanticized performance, the actor allows himself to feel even more liberated and vulnerable in his graceful performance. As a younger version of the soon-to-be-famous poet, Radcliffe provides a coming-of-age story unlike the series he's most famous for. Through the performer's passionate on-screen romance with Dane DeHaan, Radcliffe provides an insightful, tender, and engrossing performance to his blooming resume — one that showcases a growing maturity in his work.
5. The Woman In Black (2012)
While he might've been a younger actor than the role required, Daniel Radcliffe provided a somber, gently compelling performance in 2012's moody, atmospheric period piece horror film, The Woman in Black. A supernatural film adapted from Susan Hill's novel of the same name from 1983, Daniel Radcliffe's journey into the horror genre, outside of the intriguing-if-often-miscalculated 2013 horror film Horns, provides the actor with what proves to be an intuitive and unexpectedly moving performance, one that finds Radcliffe's character connected with the supernatural while still grieving the loss of his wife to childbirth. The resulting film might not be remembered as a classic, but Radcliffe's work elevates it into a tale that's worth remembering.
4. What If (2014)
There is nothing wrong with a nice, charming romantic comedy. What If doesn't necessarily break the mold for the genre, but when it comes to Daniel Radcliffe expanding his resume with new creative endeavors, What If proves to be an immensely likable, routinely funny and sweetly endearing entree into the lovelorn genre. Benefited by the winning chemistry between Radcliffe and Zoe Kazan, along with winsome supporting performances by pre-fame Adam Driver, Mackenzie Davis and several others, What If (formally known as The F Word) is also aided by a empathetic-but-mature screenplay by Elan Mastai and warm direction by Michael Dowse. By the time the movie's emotional final moments arrive on the screen, What If wins your heart.
3. Trainwreck (2015)
While Daniel Radcliffe doesn't play a huge role in Judd Apatow's Trainwreck, the actor's presence in the R-rated comedy is among the funny movie's best moments. Playing the title role in Trainwreck's artsy, stylistic movie-within-a-movie, The Dogwalker, which is an intentionally stilted and awkward black-and-white arthouse movie viewed by the characters, Radcliffe gets to cheekily play up his more adventurous artistic side seen from the past few years, while also showcasing the comedy chops that have been given more presence in his last few vehicles. The result is another charming and endearing —if sadly shortly-seen — multi-layered Radcliffe performance, and one that shows that this movie star knows how to flex his funny bone.
2. Lost In London (2017)
Similar to his scene-stealing role in Trainwreck, Daniel Radcliffe's appearance in Lost in London isn't long-standing, but the actor certainly makes the most of his time in this brave directorial effort from actor and first-time filmmaker Woody Harrelson. Priding itself on being the first feature-length film that was broadcast live, with the cast and crew filming the entire production at the exact same time it was being broadcast inside theaters around the globe, Lost in London is an undeniably gutsy accomplishment, and a daring, risky project that thankfully proved to be quite successful along the way.
An autobiographical tale, one in which writer/director/star Harrelson plays an on-screen variation of his real-life persona, Lost in London is a buzzy, one-shot achievement (take that, 1917!) that provides thrills and humor in equal measure. Watching it removed from the live element might take away some of its inherent thrill upon its initial broadcast, where in the moment it's not clear if this whole operation is going to crumble under the cast and crew's feet in an instant. Even despite that, Lost in London remains a sharp, funny, and altogether entertaining yarn, particularly for Harrelson fans, as well as Daniel Radcliffe's fans, as he makes a late-minute appearance in the nocturnal, disorienting live movie's final screen moments.
1. Swiss Army Man (2016)
In what proved to be the actor's most audacious yet most rewarding acting challenge to date, Daniel Radcliffe provided his most lively, inquisitive, thoughtful, physical and spellbinding performance playing a farting corpse in the excellent Swiss Army Man. Yes, you read that correctly (I hope). Radcliffe's best performance to date (outside of Harry Potter or otherwise) remains his quizzical-yet-fascinating role as a magical swiss army knife of a deceased man who provides our hopeless lost main character (Paul Dano) with unexpected guidance in his journey of self-discovery, while trapped on an island with a dead guy who gains the power to speak throughout their budding unlikely friendship. If you see one movie about a farting corpse, make it this one.
A surprisingly smart, deeply heart, incredibly thoughtful (really) and explosively funny dramedy, Swiss Army Man is most certainly a movie like few others, to say the least, and Radcliffe's commanding and oddly powerful performance is utterly incredible in its command. Challenging and taxing himself to play up the rigorous demands on the character's limited physicality, all while providing his own depth and wit to the non-living character, Radcliffe accepts the struggles of playing this character with grace, humor and, yes, a great deal of humanity. It is a performance that is crucial to the film's success. Thankfully, Radcliffe takes the opportunity and crushes it, proving the vastness of his potential. Certainly, he is an actor of great talent.
What are your favorite non-Harry Potter performances from Daniel Radcliffe? Let us know in the comments below. Also, it should be noted that, while it is not a movie, Daniel Radcliffe does tremendously charming work on TBS' surrealist sitcom Miracle Workers, which will soon air its second season.
Your Daily Blend of Entertainment News
Will is an entertainment writer based in Pittsburgh, PA. His writing can also be found in The Playlist, Cut Print Film, We Got This Covered, The Young Folks, Slate and other outlets. He also co-hosts the weekly film/TV podcast Cinemaholics with Jon Negroni and he likes to think he's a professional Garfield enthusiast.