100+ Netflix TV Offerings For Binge-Watching Over The Holidays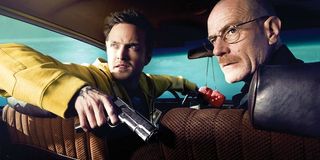 It's that time of year again! TV doesn't exactly grind to a halt during the holidays, as some networks fill their primetime hours with holiday programming, but most of our favorite TV dramas and comedies will be going on hiatus for the next few weeks, if not longer. Lest you think that means you actually have to step away from the television, rest assured, this is actually a great time of year to watch those shows you've been meaning to check out, or lose yourself in a nostalgic binge-watch. Netflix is a perfect resource for such an activity, as the streaming video service has no shortage of great TV shows available streaming, and we've scoured the service to find some of the ones that are well worth watching. Here they are (numbered for count, not rank!):
(1) Breaking Bad
Breaking Bad is about a high school science teacher who learns he's dying of cancer and decides to start cooking meth in an effort to stockpile some cash for his pregnant wife and their son before he goes. The story of Walter White starts out good and only gets better with each season. It is as good as people say it is, so if you've been on the fence about watching it, now's the time. All but the second half of the fifth and final season are available streaming on Netflix. (Watch it (opens in new tab).)
(2) Sons of Anarchy (opens in new tab) - Kurt Sutter's gritty motorcycle drama is currently wrapping up its sixth season, but you can get caught up on all the dramatic and sometimes really violent dealings of the SAMCRO men and their old ladies through Season 5 on Netflix.
(3) The Walking Dead - AMC just got us to the halfway point of the fourth season of the popular zombie drama. Netflix will get you through the first three seasons, the first of which introduces us to Rick, a sheriff who wakes up after months in a coma from a gunshot wound, to discover the world's been overrun by a zombie epidemic. Survival becomes the never-ending goal.
Looking for more thrills? Try (4) Longmire (opens in new tab), (5) 24 (opens in new tab), (6) Burn Notice (opens in new tab), (7) Revolution (opens in new tab) and (8) White Collar (opens in new tab).
(9) Arrow
Arrow's on my own personal list of shows to get caught up on over the hiatus. The DC comic adaptation starring Stephen Amell as the titular archer superhero Green Arrow is currently amidst its second season on The CW. If it's as good as everyone says it is — or gets, as I hear the first season takes a little while to get going — now would be a good time to check out Season 1. (Watch it (opens in new tab).)
(10) Supernatural (opens in new tab) - Got a lot of time on your hands? You'll need it if you want to get through all eight of the seasons Netflix has for Supernatural. This supernatural thriller centers on two grown brothers who hunt demons and investigate paranormal mysteries.
(11) Buffy the Vampire Slayer (opens in new tab) and (12) Angel (opens in new tab) - Joss Whedon's beloved vampire-focused series are both available streaming on Netflix in their entirety. Whether you're due for a rewatch or ready to see what all the fuss is about, these are great options for binge-watching. Start with Buffy, as Angel doesn't come into play until later. And be sure to give it until the second season of Buffy before deciding whether or not you're going to stick with it, as it takes a little while for the show to warm up, but when it does, it's fantastic.
Looking for more fantasy, sci-fi and supernatural? Try (13) Continuum (opens in new tab), (14) Fringe (opens in new tab), (15) Heroes (opens in new tab), (16) Alphas (opens in new tab), (17) Farscape (opens in new tab), (18) Firefly (opens in new tab), (19) Dollhouse (opens in new tab), (20) Merlin (opens in new tab), (21) Eureka (opens in new tab) and (22) Being Human (opens in new tab).
(23) Scandal
Another show that lives up to the hype, Scandal stars Kerry Washington as a Washington DC "fixer" who uses her legal expertise and her team of "gladiators" to help their high profile clientele deal with their various public image issues. Of course, their clients' messes tend to pale by comparison to the ones Olivia Pope and her people are dealing with in their own personal lives. Scandal is dramatic, suspenseful and soapy in all of the best so-wrong-it's-right ways. (Watch it. (opens in new tab))
(24) Pretty Little Liars (opens in new tab) - PLL centers on a group of teen girls whose clique falls apart when their leader mysteriously disappears. The ABC Family teen drama mystery thriller is currently midway through its fourth season. Netflix will let you get caught up through Season 3.
(25) Grey's Anatomy (opens in new tab) - Like Scandal, Grey's comes from Shonda Rhimes, only this series confines its drama to the hospital, centering on the lives and world of a group of surgeons. Netflix has nine seasons available streaming.
Looking for something a bit female skewed? Also consider (26) Gossip Girl (opens in new tab), (27) Nikita (opens in new tab), (28) The Vampire Diaries (opens in new tab), (29) Once Upon a Time (opens in new tab), (30) The Secret Life of the American Teenager (opens in new tab), (31) Switched at Birth (opens in new tab), (32) The Carrie Diaries (opens in new tab), (33) Beauty and the Beast (opens in new tab), (34) Army Wives (opens in new tab), (35) Drop Dead Diva (opens in new tab), (36) Revenge (opens in new tab) and (37) Glee (opens in new tab).
(38) American Horror Story
The first two seasons of Ryan Murphy and Brad Falchuk's over-the-top horror drama are available streaming on Netflix. The first season ("Murder House") tells the story of a modern-day family that moves into a house with a dark and twisted history. American Horror Story: Asylum is set in the past in an institution for the criminally insane. These seasons (as well as the currently-airing third) operate independently in terms of their story, so watch them in order or out, but if you have to pick just one season, go with AHS: Murder House (Season 1), as it's arguably the better of the two available on Netflixthe. (Watch it. (opens in new tab))
(39) Dexter (opens in new tab) - Netflix only has the first four seasons of Dexter available streaming, with Seasons 5-8 coming in January. But that's ok, as Seasons 1-4 of the serial killer drama starring Michael C. Hall are the ones most worth watching, particularly Season 4. John Lithgow as "Trinity" is chillingly amazing.
(40) The Following (opens in new tab) - Get caught up on the first season of Kevin Williamson's Fox drama before Season 2 premieres next month. The first season centers on Kevin Bacon's character Ryan Hardy, an FBI agent brought back to work to track down escaped serial killer Joe Carroll (James Purefoy). To complicate matters, Carroll has a cult-like following of people willing to die (and kill) for him if necessary. The show crosses into melodramatic territory at times, but it's fun, dark and twisted for those not averse to violence.
Looking for more killer dramas? Try (41) Bones (opens in new tab), (42) The Killing (opens in new tab), (43) CSI: NY (opens in new tab) and (44) CSI: Miami (opens in new tab).
(45) Sherlock
With the third season of this popular UK series headed to PBS Masterpiece in January, getting caught up on this properly hyped mystery drama should be high on your list. The modern-day telling of Arthur Conan Doyle's beloved character and his sleuthing side-kick Watson is a must watch. Or watch because Benedict Cumberbatch is mesmerizing. And each season is only three episodes. (Watch it. (opens in new tab))
(46) Doctor Who (opens in new tab) - Looking for a bit of sci-fi in your drama? Netflix has the first six of the seven recent series of Doctor Who, which centers on the adventures of a space and time traveling doctor and his companion.
(47) The Fall (opens in new tab) - Set in Belfast, this gritty and captivating murder mystery stars Gillian Anderson and Jamie Dornan and follows the shady dealings of a serial killing grief counselor and the detective who's trying to track him down. The first season's only five episodes, but be prepared to not be able to stop watching (and then start tapping your foot waiting for Season 2 with the rest of us).
(48) Torchwood (opens in new tab) - What's that? You've already seen all of Doctor Who? Even if you haven't, Torchwood's still well worth a look. The spin-off series follows Gwen Cooper, a police detective who stumbles upon and eventually joins a secret organization called Torchwood, led by the adventurous Jack Harkness.
Netflix has some really great UK offerings. Also consider (49) Luther (opens in new tab), (50) The IT Crowd (opens in new tab), (51) The Inbetweeners (opens in new tab), (52) Prime Suspect (opens in new tab), (53) Skins (opens in new tab), (54) Derek (opens in new tab), (55) Shameless (opens in new tab) (the series on which the Showtime dramedy is based), (56) Being Human (opens in new tab) (the series on which the Syfy drama is based) and the original (57) The Office (opens in new tab).
(58) Orange is the New Black (TV-MA)
One of Netflix's newest original series, Orange is the New Black is inspired by a true story and follows a Brooklyn woman's experience entering the correctional system and trying to acclimate herself to prison life. It takes a little while to get going but gets funnier and more dramatic as the first season ensues. (Watch it (opens in new tab))
(59) House of Cards (opens in new tab). Another Netflix original, House of Cards comes from David Fincher and stars Kevin Spacey as the cunning Congressman Francis Underwood, who plays politics like a game of chess, and he's looking to win at all costs. Robin Wright's Claire serves as the Lady Macbeth in this story, which is more of a slow-boil drama that builds on itself and grows more addicting with each new episode. Catch up on Season 1 before Season 2 debuts this February.
(60) Arrested Development (opens in new tab) - Mitchel Hurwitz's original comedy about a wealthy family who lost everything (and the one son who had no choice but to keep them all together) aired on Fox a decade ago, and Netflix revived the series, green lighting a fourth season that debuted earlier this year. Revisit the previous seasons or get caught up on what's been going on with this whacky, self-absorbed Bluth family with Season 4.
Looking for more exclusive Netflix content, try (61) Lilyhammer (opens in new tab), (62) Hemlock Grove (opens in new tab) and (63) Aziz Ansari: Buried Alive (opens in new tab).
(64) Louie
Comedian Louis CK puts his stand-up act to work, playing himself as the awkward single-dad living in New York, just trying to figure it all out. If you like the comedian, you're probably already watching this FX comedy, but if you haven't given it a shot, and you can relate to an average guy's humorous perspective on life, dating, parenting and everything else life throws in his path. (Watch it. (opens in new tab))
(65) It's Always Sunny in Philadelphia (opens in new tab) - Eight seasons is a lot of shenanigans to navigate through, but that's what Netflix is offering here. Catch up with the Paddy's Irish Pub gang as they scheme to get ahead, stepping all over each other in the process, and often falling flat on their faces.
(66) New Girl (opens in new tab) - The popular Fox comedy is currently partway through its third season, and you can catch up through the first two seasons via Netfix. The story begins when Zooey Deschanel's character Jess gets cheated on, leading her to take residence in a loft full of guys. While Jess is at the center of the show, this starting-over comedy eventually morphs into a friends-focused ensemble story about a bunch of roommates dealing with personal and professional issues.
Need to laugh? Also consider (67) Futurama (opens in new tab), (68) The Office (opens in new tab), (69) Family Guy (opens in new tab), (70) How I Met Your Mother (opens in new tab), (71) Don't Trust the B—— in Apartment 23 (opens in new tab), (72) Archer (opens in new tab), (73) Parks and Recreation (opens in new tab) and (74) Psych (opens in new tab). Also (75) Adventure Time (opens in new tab). Ok, it's a kids' cartoon, but it's kind of awesome, even if you're a grown-up.
(76) Weeds
Weeds was easily at its best in its first couple of seasons, when the series centered on a beautiful suburban widow who's trying to maintain her comfortable lifestyle by secretly peddling marijuana in her posh upper-middle-class community. The show goes a bit off the rails in its later season and never quite gets back on them, but Mary Louise Parker is fantastic as the determined Nancy Botwin, who discovers her own strength and inner bad-ass as she wanders further and further down the dark and sometimes comically twisted road of weed dealing in this series. Watch it. (opens in new tab)
(77)Greek (opens in new tab) - College is hard. It's also funny and full of drama, which makes it the perfect setting for a dramedy. Netflix has all six "chapters" of the ABC Family series available.
(78) Battlestar Galactica (opens in new tab) - All four seasons of Ronald D. Moore's sci-fi reboot are available streaming on Netflix. Even if you don't consider yourself a sci-fi fan, BSG has plenty of character drama to go around as we see what's left of mankind attempt to escape the clutches of the humanoid "Cylons" who have annihilated most of the human race.
Looking for more gone but not forgotten series? Netflix has no shortage of them:
(79) Alias (opens in new tab)
(80) Jericho (opens in new tab)
(81) Desperate Housewives (opens in new tab)
(82) Damages (opens in new tab)
(83) Chuck (opens in new tab)
(84) Prison Break (opens in new tab)
(85) Lost (opens in new tab)
(86) Nip/Tuck (opens in new tab)
(87) The X Files (opens in new tab)
(88) Frasier (opens in new tab)
(89) Everybody Loves Raymond (opens in new tab)
(90) Cheers (opens in new tab)
(91) Rescue Me (opens in new tab)
(92) The Wonder Years (opens in new tab)
(93) Saved by the Bell (opens in new tab)
(94) The Ghost Whisperer (opens in new tab)
(95) Medium (opens in new tab)
(96) Better Off Ted (opens in new tab)
(97) MacGyver (opens in new tab)
(98) That 70s Show (opens in new tab)
(99) Friday Night Lights (opens in new tab)
(100) Knight Rider (opens in new tab)
(101) Life (opens in new tab)
(102) Ally McBeal (opens in new tab)
(103) Brothers and Sisters (opens in new tab)
(104) Ugly Betty (opens in new tab)
(105) Xena Warrior Princess (opens in new tab)
(106) Terriers (opens in new tab)