12 Days Of Christmas: The Andy Griffith Show's Christmas Story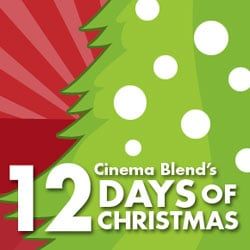 It's time to celebrate the Christmas/ Chanukah/ Kwanza/ Festivus Holiday season, so here at Cinema Blend we're enjoying Twelve Days of Christmas. Yes, we know traditionally the "12 days" start with Christmas, but we plan on being celebrated out by that time, so we're pushing the twelve days leading up to the holiday.
Here in Blend Television we're celebrating by counting down our some of our all time favorite holiday episodes, in an effort to boost your Christmas spirit. These aren't the 12 best out there by any means, just twelve of our favorites. Some of them you might enjoy like we do. Others you might want to check out for the first time. So without further ado:
On the first day of Christmas, my true love gave to me…
Andy Griffith singing Away in a Manger.
I saw this episode for the first time a few years ago – on Christmas Eve during an Andy Griffith Show marathon. There's nothing like a little "Ange" to make you feel all warm and fuzzy inside. This episode – entitled "Christmas Story" and the one and only Christmas episode from the series – aired on Dec. 19, 1960. It tells the story of Ben Weaver, an old codger who finds himself alone on Christmas. So he keeps getting himself thrown in the slammer so he'll at least be around the Taylor family and soak up some of their Christmas karma. Yes, they're hanging out at the jail -- with presents, a Christmas tree, real dishes and silverware, and a tasty holiday feast prepared by Aunt Bee.
The rub is that Andy keeps letting Ben OUT of jail because, well…it's Christmas, after all! But when the sheriff realizes that Ben actually WANTS to be there, Andy finagles one last misdemeanor to put him in jail for the night. Of course, he can't let on that he knows Ben wants to be there, because that's just the kind of guy Andy is.
Vintage black-and-white TV, small-town charm, everyday people, a little holiday cheer for an old man…it's the stuff dreams are made of. Best scene: Andy and his gal singing "Away in a Manger," as the camera pans to Ben, mouthing the words quietly as he peers through the alley window…sniff…
Read all of Cinema Blend's 12 Days of Christmas features in other sections by clicking here.
Image 1 of 2
Your Daily Blend of Entertainment News