The Problem Some NFL Players Have With Dwayne Johnson's Ballers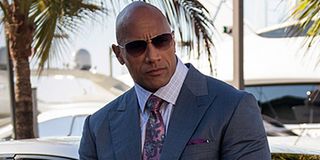 Nobody could have expected that Ballers would perform as well as it did with audiences last year. Sure, it has the benefit of an all-star cast -- fronted no less by franchise Viagra Dwayne Johnson -- and it covers some engaging subject matter regarding the inner workings of the NFL, but the series has become a bona fide hit unlike any comedy HBO has produced in recent years. However, not everyone is laughing. As it turns out, some NFL players seem to actually have a problem with the kind of inside information Ballers divulges on a weekly basis. Here's how Ballers actor John David Washington put it.
So it seems that -- despite all of the outlandish situations and lavish depictions of the NFL lifestyle -- the events portrayed during the first season of Ballers hit fairly close to home for those close to the source material, and John David Washington doesn't seem to have problems with that. The show depicts many players as total party animal - and Washington's Ricky Gerret is absolutely the most outrageous one - but it also broaches some very real issues such as depression and substance abuse, and it doesn't shy away from shining a very negative light on these sorts of matters. :
Of course, although many people within the NFL have expressed a desire to keep these sorts of issues a secret, those close to the production of Ballers don't seem deterred at all. John David Washington describes that realness as "fun," and even Dwayne Johnson himself has also admitted to TV Insider that he wants the future of Ballers to go even deeper into these dark and dreary topics, while still maintaining the charm that the show's first season established so perfectly.
On a similar note, plenty of other NFL players have actually come out and expressed an immense appreciation for the series, and Ballers has had no trouble finding players to cameo on the show from time to time. Just like the first time around, Season 2 of Ballers feature numerous cameos from beloved NFL players like Terrell Suggs, and not so beloved athletes like Ndamukong Suh.
This isn't the first bit of controversy to arise from the very existence of Ballers. Only recently we reported upon a major lawsuit leveled at the HBO series by a group claiming copyright infringement -- noting alleged similarities between Ballers and project called Off Season. HBO officials have already written the lawsuit off as preposterous, but it shows that Ballers continues to exist as a magnet for all sorts of potentially controversial attention, which may only help it as it continues to draw big ratings.
While some people haven't seemed thrilled with the content of Ballers, it looks like an overwhelming majority of viewers continue to love it week after week. We will keep you up to date with any information concerning the show's second season, which premieres on July 17 at 10 p.m. EST. Make sure to check out our premiere schedule for information on all of your other favorite summer TV series.
Your Daily Blend of Entertainment News
Originally from Connecticut, Conner grew up in San Diego and graduated from Chapman University in 2014. He now lives in Los Angeles working in and around the entertainment industry and can mostly be found binging horror movies and chugging coffee.