This Is Us Review: NBC's Engaging New Series Is A Real Winner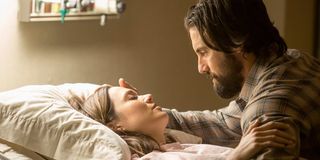 NBC has spent the last several TV seasons trying to build its lineup into something that fans of all ages---and especially the advertising demo---can enjoy. The network has largely succeeded with hits like Blindspot and The Blacklist and it's trying for another winner this fall with This Is Us. The new drama sports well-known names like Mandy Moore, Smallville's Justin Hartley and Milo Ventimiglia, and counts Dan Fogelman as its creator, which certainly helps it to get off to a good start. In its best moments This is Us is both emotional and surprising, and one of the best introductions to a new TV series we've ever seen.
For a few minutes into NBC's new feel-good, feel-bad, cry-a-little series This Is Us, it's hard to know what to expect from the heavily marketed program. Though the promos we've seen have followed Mandy Moore's character as she has realized her pregnancy may have complications or have followed Chrissy Metz's character's struggle with the state her life is in, NBC cleverly hasn't revealed too much about its new drama. For the most part, it is better for it. The threads the show throws together in its first minutes explain that the various storylines are being followed because they are about people who share the same birthday, and the story quickly unfolds from that small kernel of a premise.
The plot follows Rebecca (Mandy Moore) and Jack (Milo Ventimiglia), a couple dealing with the birth of their first children. It also follows Kate (Chrissy Metz), a woman who is unhappy with her weight, her job, and her lack of a relationship. It follows Randall (Sterling K. Brown), a man who is looking at the origins of his birth parents. It follows sitcom actor Kevin (Justin Hartley), a man who is getting fed up with the empty, unfulfilled life he's been leading for years. Beyond the birthdays, these people are all looking to change something about their lives and these changes will likely be explored in the coming weeks.
A lot about This is Us is sentimental. From the somber but hopeful Sufjan Stevens track that opens the series to a lot of familiar conversations that people watching at home can identify with, sentiment abounds. This means the new NBC drama isn't reinventing the wheel when it comes to television programming, but it's also programming that is executed extremely well. There's also a bit of a twist, but you'll have to watch for yourself to understand how the pilot works so well.
Good pilots are a lot scarcer than they may seem. The pilot for This Is Us is so wonderful because it captures exactly what the series wants to be in one episode, introduces an ensemble cast and leaves enough hooks for viewers to hopefully want to return the following week. But because the pilot works extremely well, it might be hard for the series to work the same kind-of magic during Week 2. We'll have to wait and see. Regardless of how this series pans out, This Is Us has a premiere to be proud of.
This is Us premieres on NBC on Tuesday, September 20 at 10 p.m. ET following the Night 2 premiere of The Voice. In addition, if you'd like to see whenever the rest of TV's brand new shows---and returning favorites---will be premiering, check out our fall TV schedule.
Your Daily Blend of Entertainment News
Reality TV fan with a pinch of Disney fairy dust thrown in. Theme park junkie. If you've created a rom-com I've probably watched it.
Your Daily Blend of Entertainment News
Thank you for signing up to CinemaBlend. You will receive a verification email shortly.
There was a problem. Please refresh the page and try again.