What's In The Box On Agents Of S.H.I.E.L.D.? Here's What Jed Whedon Says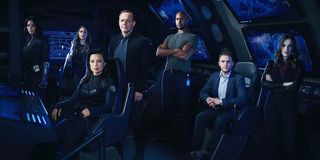 Warning: spoilers for the Agents of S.H.I.E.L.D. Season 4 premiere are ahead!
For months, Agents of S.H.I.E.L.D. Season 4 has been using Ghost Rider as its mascot for the insanity that's coming. After all, a guy with a flaming skull who drives around in a '69 Dodge Charger makes for a cool visual. However, in the Season 4 premiere last night, titled "The Ghost," viewers learned about a mysterious box that can drive those who open it insane. What's in that box? We don't quite know yet, but like Ghost Rider, it will build on the supernatural elements coming to the MCU.
While the "payoff" for what this box is won't come until a little later on, Agents of S.H.I.E.L.D. executive producer Jed Whedon did tell IGN that the box will connect to Doctor Strange, Marvel's next movie release coming in November. He said:
Whatever the deal with this box is, it gave off an Indiana Jones Ark of the Covenant vibe when it was opened last night. While tracking Ghost Rider, Phil Coulson and Mack found a truck full of men who tore each other apart thanks to that box. Later, when we actually saw it opened, a weird mist came out that hit all of the gangsters. This not only let out a strange female spirit, but also made the men see each other with demonic faces, which led to them shooting one another. We'll have to wait and see what exactly this spirit is and where it came from, but unfortunately, it has also affected May, though to a lesser degree.
As for Agents of S.H.I.E.L.D.'s connection to Doctor Strange, the show has always liked to tie into Marvel movies that come out while it's airing. Nevertheless, Jed Whedon also suggested that certain questions fans might have concerning the show will be answered by the Sorcerer Supreme's movie. He continued:
The S.H.I.E.L.D. agents have had to deal with a lot over the last three years, from HYDRA experiments to Inhumans to aliens. Supernatural forces are just the latest weirdness they'll have to deal with, but science and regular superpowers may not be enough to help the government agents out. Perhaps they'll have to fight fire with fire and find their own magic to wield, either through artifacts or supernatural allies like Ghost Rider (assuming he eventually comes to their side).
You can catch new episodes of Agents of S.H.I.E.L.D. Tuesdays at 10 p.m. EST on ABC. Make sure to check out our fall TV premiere schedule to see when your other favorite shows are coming back.
Your Daily Blend of Entertainment News
Connoisseur of Marvel, DC, Star Wars, John Wick, MonsterVerse and Doctor Who lore. He's aware he looks like Harry Potter and Clark Kent.
Your Daily Blend of Entertainment News
Thank you for signing up to CinemaBlend. You will receive a verification email shortly.
There was a problem. Please refresh the page and try again.