Doctor Strange: What We Know So Far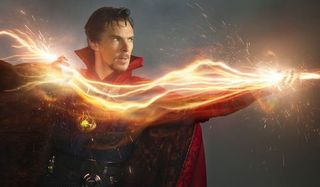 After Captain America: Civil War hits theaters in May, Marvel's Phase Three will continue later this year with Doctor Strange. One of Marvel's most prominent heroes since 1964, there have been many attempts to get a Doctor Strange movie made over the years, but now that the Marvel Cinematic Universe is growing exponentially more popular, the time has come to finally have the Sorcerer Supreme get his live action due.
Compared to the other MCU movies, Doctor Strange is (no pun intended) one of the stranger entries. Although magic and mysticism has been alluded to in previous projects set in this franchise, the movie is going to swing that proverbial door fully open. Just like Marvel's other movies, a lot of details surrounding the movie are being kept secret, but every so often, new information makes its way online, whether it's from a casting announcement or one of the creative team dropping tidbits and teases. Taking these into account, here you'll find everything we know so far about Doctor Strange!
Let's start with a look at the trailer:
Warning! Some possible SPOILERS are ahead.
What Is The Doctor Strange Release Date?
Marvel's releases have varied, but most of the time, they've come out around the summertime. Doctor Strange is breaking away from that tradition by hitting U.S. theaters on November 4, 2016. This will be Marvel's second November release, preceded by Thor: The Dark World on November 8, 2013. Early November is typically when blockbusters start to come out in full force following those glorious summer months, so Doctor Strange will help kick off that period, and better yet, it comes only a few days after Halloween.
What Is The Doctor Strange Rating?
Doctor Strange has yet to be officially rated, but like all the MCU movies before it, it's guaranteed to be PG-13 in the United States. Marvel wants their movies to reach the widest audience possible, but they also want to tell stories that are more mature than what kids are seeing in the cartoons. So even though Doctor Strange will feature a fair amount of violence, intense images and maybe even some cursing, it will still fall into that area where it will be accessible to people of nearly all ages, although the younger viewers may need a parent with them. After all, just because something is PG-13 doesn't mean it won't push the boundaries. Remember The Dark Knight?
The Director
Director Scott Derrickson was hired to helm Doctor Strange in June 2014, and given the tone the movie is going for, he seems like a good choice. Derrickson's background is primarily rooted in horror, having directed movies like The Exorcism of Emily Rose, Sinister and Deliver Us from Evil. He also has some sci-fi experience directing 2008'sThe Day the Earth Stood Still, so transitioning into a superhero movie should be easy. So, why does he seem like a fit for Doctor Strange? Well, the good Doctor spends his time harnessing magic to fight otherworldly threats, many of which look monstrous and scary. While Doctor Strange shouldn't be considered a horror movie, it will definitely have some scary elements, so, naturally, you'd want a horror director to be the one to realize that vision.
What Is Doctor Strange About?
Just like the comics, Doctor Strange will follow the adventures of Stephen Strange, a brilliant neurosurgeon whose life is veered off course when he's caught in a car accident. Although he survives, his hands are irreparably damaged, thus ending his career. Desperate to restore his hands, Strange travels around the world for a cure and eventually finds The Ancient One (more on that individual in a bit) in the East. Rather than help him return to his old life, The Ancient One tutors him in the mystic arts, and after completing his training, he moves to New York and sets up shop in the Sanctum Sanctorum as the new Sorcerer Supreme.
Using both his own natural abilities and objects like the Eye of Agamotto and the Cloak of Levitation, Doctor Strange will battle mystical threats on Earth and in alternate dimensions like the Astral Plane and the Dark Dimension. The movie has also been described as "psychedelic", and having a different feel compared to the other Marvel movies, so fans should be in for a visual treat.
Stephen Strange
After months of rumors over who might play Stephen Strange, with names like Joaquin Phoenix and Keanu Reeves tossed out as contenders, Benedict Cumberbatch was officially confirmed as the Sorcerer Supreme in December 2014. Over a year later, we got our first look at the actor in the Doctor's costume, but until a preview comes out, fans will have to keep waiting for a taste of his performance. We don't even know if Cumberbatch will use Strange's America accent or if he'll retain his own British one. Fun fact: Cumberbatch's Sherlock co-star, Martin Freeman, has also been added to the MCU as Everett Ross in Captain America: Civil War.
Although Doctor Strange will be an origin story, Stephen Strange was first mentioned in Captain America: The Winter Soldier as one of the folks that could pose a threat to HYDRA. Marvel hasn't revealed yet when exactly in the MCU timeline Doctor Strange takes place, but given how these movies tend to follow one after another, the reasonable assumption is that it will happen after Captain America: Civil War. So even before he studied magic, Strange's reputation was big enough that he was on the terrorist organization's radar.
The Ancient One
Stephen Strange couldn't have become the Sorcerer Supreme without training under The Ancient One, and in Doctor Strange, that mysterious instructor will be played by Tilda Swinton. This casting is without a doubt the most radical departure from the source material. In the comics, The Ancient One is an elderly, Asian man, while, as you can see above, Swinton is a white woman. That being said, Doctor Strange is a story featuring magic, and with a figure like The Ancient One, their physical appearance can be adjusted if necessary. There will presumably be some explanation about how they assumes many forms or may be neither fully woman or man. Whether we get a specific reason or their gender is left ambiguous, The Ancient One (who is the latest individual to carry that title) will train Stephen Strange in the mystic arts after he comes to them originally to heal his hands. Since the comic book Ancient One continued to advise Stephen Strange in the spirit realm after he died, even if something bad happens to Swinton's Ancient One in the movie, we could still see her guide her pupil from the great beyond during the rest of the story or in a sequel.
Baron Karl Mordo
Stephen Strange won't be the only student of The Ancient One seen in Doctor Strange. Baron Karl Mordo will be played by Chiwetel Ejiofor, and although he also doesn't look exactly like his comic book counterpart, he's being set up as a major player in this movie. Doctor Strange fans know Mordo as the Sorcerer Supreme's chief human antagonist, but moviegoers won't see Ejiofor's iteration as a villain...at least not right away. Instead, this Mordo is described as an "amalgamation" of several characters from the Doctor Strange mythos who won't be entirely villainous. His long relationship with The Ancient One was also described as "very deep and very connected." It sounds like Mordo will start out as an ally/associate to Stephen Strange when we first meet him, but given their history in the comics, don't be surprised if Mordo eventually turns to the dark side, whether in this story or another.
Rachel McAdams' Character
Last September, Rachel McAdams was confirmed to be playing the female lead in Doctor Strange, and for a while it was rumored she might play someone like Clea or Night Nurse. At the time of this writing, her character hasn't been named yet, but we do know how she fits into the story. McAdam's character is a fellow surgeon of Stephen Strange's who serves as a "lynchpin to his old life" after he becomes a sorcerer. It's thanks to her that he'll be able to "reconnect and anchor" his humanity, so although she won't be a magic user, she'll still play a crucial role in helping the good Doctor balance between his old, normal life and his new, magical life. Unless the MCU has decided to radically change the background of one of the women in Strange's life in the comics, it sounds like McAdams is playing an original character rather than someone established, but time will tell.
Mads Mikkelsen's Character
Since Mordo isn't Doctor Strange primary antagonist, someone else needs to fill his villainous shoes, and that's where Hannibal's Mads Mikkselen comes in. Like with McAdams, Mikkelsen's character hasn't been named yet, but he's been described as a sorcerer who "breaks off into his own sect." He also believes The Ancient One is only keen on protecting her power base and believes our world would be better off "if we were to allow some of these other things through." When Mikkelsen's casting was first rumored, many fans speculated he was playing Dormammu, the Dark Dimension's ruler and arguably Strange's greatest enemy. That doesn't appear to be the case anymore, unless they've altered Dormammu so that he was originally a human, but later transforms into a demon. Either way, it sounds like Mikkselsen's character is not only powerful, but has a fair amount of followers at his side, so it won't be easy for Strange to take him down.
Wong
When he's studying at the Sanctum Sanctorum or physically traveling the world (as opposed to his astral self), Stephen Strange is accompanied by Wong, and The Martian's Benedict Wong (how appropriate) will play him in the movie. Rather than being Strange's manservant, MCU Wong is described as his "valet" who "performs healing duties, assists in occult matters, is knowledgeable in martial arts, and tends to Strange's affairs. Although Wong can't conjure magic on his own in the comics, he has read many texts about the mystic arts, so he's been able to assist Strange with performing spells. He's also a talented martial artist, so if a physical threat veers his way, he can defend himself. Wong was assigned to work for Strange by The Ancient One in the comics, so maybe that's how they'll meet in the MCU. Aside from his assigned tasks, we don't know what's in store for Wong in the movie, but presumably he'll be looked at more as an equal of Strange's rather than just his assistant.
Nicodemus West
Rachel McAdams' character won't be the only character from Stephen Strange's former life. Boardwalk Empire's Michael Stuhlbarg will play Nicodemus West, a "rival scientist" to Strange, so clearly these two either didn't get along or were highly competitive. In the comics, West performed the surgery that saved Strange's hands, but when he learned that the nerve damage is permanent, he was devastated. West then traveled to the East to find Strange, but when he just missed him, he stayed behind to study magic under The Ancient One. Although he didn't complete his training, he used what he learned about healing in his profession. West eventually became an adversary to Strange when he became desperate for power, but there's no word yet on how involved he'll be with Strange's life when he returns to New York. At best, we may see him somehow join forces with Mads Mikkelsen's character to ruin Strange's life.
Differences Between The Comic Books And Movie
Going off the news that's been release so far, it looks like Doctor Strange will be mostly be faithful to the comics. He'll still have his unique abilities and artifacts, his hideout will still be the Sanctum Sanctorum and the movie will feature major players from his supporting cast. Character-wise, the most notable changes are, as pointed earlier, with Mordo and The Ancient One, who don't physically resemble their comic book counterparts, but will ideally stay true to the spirit of what makes the unique. In Mordo's case, he doesn't appear to be an antagonist, though that could change for a sequel.
Perhaps the biggest thing hasn't been confirmed yet is whether the magic in Doctor Strange will legitimately be magic, i.e. unexplainable phenomena. So far in the MCU, forces beyond human comprehension have been attributed either to advanced science, like what the Asgardians have, or something cosmic, like the Infinity Stones. Magic is one of the few forces from the comics that has yet to be explored in the MCU, and for the sake of making Doctor Strange unique, many will agree that the magic seen on the big screen will be the classic kind of mysticism rather than something explained away in a few minutes.
Like all MCU movies, Doctor Strange promises to be something to look forward to, and, from what we've heard so far, there's no doubt that it will bring something totally new to Marvel's film world.
Your Daily Blend of Entertainment News
Connoisseur of Marvel, DC, Star Wars, John Wick, MonsterVerse and Doctor Who lore. He's aware he looks like Harry Potter and Clark Kent.