Son of Zorn Review: Fun Premise Isn't Enough To Save This Basic Sitcom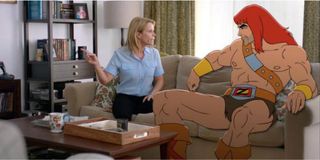 At this point, FOX is known for their animated shows. Family Guy, The Simpsons and Bob's Burgers have all been on for longer than most people would have imagined. Hell, The Simpsons has been on long enough for an entire generation to know no television without that show. Now there's Son of Zorn, a new partially animated show that leaves that legacy behind. Way behind. But, I can tell it's trying. A little.
Son of Zorn focuses on Zorn (voiced by Jason Sudeikis), an animated hero from the faraway island of Zephyria, as he visits California and tries to reconnect with his non-animated son, Alangulon a.k.a. Alan (Johnny Pemberton). When Zorn arrives, he finds that he and his son hardly have anything in common, and his ex-wife Edie (Cheryl Hines) has a new fiancé (Tim Meadows). He soon decides to take a chance on getting to know his son better and makes the choice to leave Zephyria behind for a new life in California.
I really wanted to like Son of Zorn. The show comes to us from executive producers Phil Lord and Christopher Miller, who have collaborated on The LEGO Movie, 21 Jump Street and FOX's own The Last Man On Earth. Those are all great things that have made me happy. While Son of Zorn has a great premise and is pleasant to watch, it doesn't have much of anything going for it beyond the fact that one of the main characters is animated and comes from a land where everyone and everything is also animated.
Son of Zorn is, obviously, a fish out of water tale that throws a somewhat silly and oblivious manly man from a sword and sorcery type land into a regular California town. Zorn knows just enough of the regular world that he realizes that in order to stay around and be a more present father to Alan, he has to get a job and an apartment, so he does. A lot of the comedy should come from seeing him in such normal situations; I should have howled when I saw him sitting in an office cubicle wearing a shirt, tie, his sword and furry loin cloth, but I didn't. Watching him chase down his son's school bus and then threaten to rip it and everyone inside of it in half if the teenager didn't come out should have been hilarious, but it wasn't. Listening as he pronounces genitalia as vagiba and peebus should have at least brought a smile to my face, but all I did was roll my eyes. If the basic elements of your premise don't bring out the best, funniest moments, then you've got a problem.
The problem here is that Son of Zorn seems to be relying on the animated elements to make the jokes and sight gags funny. It's as if the people behind the show don't know that if these are things that wouldn't be that funny without animation being involved, they're not going to be funny with animation, either. That's the main reason Son of Zorn falls flat; the creators are trying to make the show funny, but not in the right way. The animated elements should have been more of an afterthought; that way, they could have focused even more attention on writing something interesting and funny, instead of writing something that's interesting and funny when it's animated.
What we have in Son of Zorn is really no different from what we'd get in a standard sitcom about a dad trying to reconnect with his 17-year-old son. The basics of the show aren't bad, they just don't impress or even bring the laughs the way you'd want a show that you're spending your time on to do.
I can't even really say anything better about the performances. With one exeception, Sudeikis, Hines and Meadows all do what we expect them to do with their roles. Sudeikis is believable as a man who doesn't quite know how to parent a teenage son; Hines is believable as a former wild child who's matured and wants her son to have his father around, even if Zorn is kind of weird; and Meadows is believable as a very normal guy who's fallen for the woman with that weird ex-husband. The exception comes in the form of Johnny Pemberton as Alan. Even though he's the least well known member of the cast, he's the most likable in his role out of the live action actors. Pemberton is just right as a kind of shy, aw-shucks kid who knows his dad means well, but is generally way off base. Here's hoping that all involved find something better to lend their talents to before long.
You can catch Son of Zorn on Sunday, September 25 at 8:30 EST.
Your Daily Blend of Entertainment News
Yennefer's apprentice, Gilmore Girl; will Vulcan nerve pinch pretty much anyone if prompted with cheese...Yes, even Jamie Fraser.
Your Daily Blend of Entertainment News
Thank you for signing up to CinemaBlend. You will receive a verification email shortly.
There was a problem. Please refresh the page and try again.