Ratings Roundup: How The First Season Shows Are Doing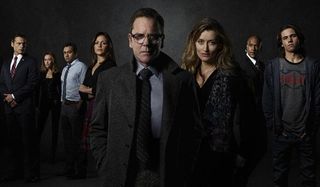 Fall TV hit the schedule in full swing this past week, and the major networks released a slew of brand new series. As happens every year, some have fared better than others. While it usually takes a few weeks for the ratings to settle in, the first week is still a good indication of what people wanted to tune in for and what they didn't. Therefore, we've taken a look at each of the fall shows that have premiered so far. We've compiled the numbers, along with any other information you might be interested in. You can check them out below, listed by premiere night.
Please keep in mind that the CW's offerings, as well as a few other shows on other network channels, have not premiered yet. To see what is still coming, check out our fall TV premiere schedule.
Kevin Can Wait, CBS
Kicking premiere week off on Monday, September 19 was Kevin Can Wait, the brand new vehicle from Kevin James, who is returning to television for his first starring role since King of Queens ended in 2007. The premiere of Kevin Can Wait, which conveniently aired after CBS' juggernaut The Big Bang Theory, nabbed 11.2 million total viewers and a 2.6 rating in the 18-49 demographic. And that's just talking about the comedy's debut ratings, not DVR ratings. After Live+3 (day) ratings came in, Kevin Can Wait bumped to a 3.3 rating, which is not too shabby for a premiere.
Week 1 Consensus: That's a good start, but will the numbers stay up when The Big Bang Theory moves to Thursdays?
The Good Place, NBC
NBC's The Good Place is another high-profile series, mostly thanks to its leads Ted Danson and Kristen Bell. The Good Place actually aired on two separate nights this week. NBC kicked the show off after an episode of The Voice on Monday, and potentially because of such a huge lead-in show, the numbers were high. However, during the show's time slot premiere on Thursday, the numbers had already dropped some. On Monday, The Good Place did 8 million total viewers and a 2.3 rating. On Thursday, The Good Place did 5 million total viewers and only a 1.3 ratings share. That's a pretty big difference, especially in the overall ratings.
Week 1 Consensus: A mixed bag. Viewers who watched the comedy on Monday probably weren't expecting it to be back on Thursday, but we'll have to wait and see if the numbers stabilize in the weeks to come. The good news? DVR numbers were also good.
Bull, CBS
This year's projects seem to be all about bringing well-known names to or back to primetime. After Michael Weatherly decided to leave NCIS partway through last season, the network managed to keep the popular actor in the fold with its starring vehicle Bull. In terms of total viewership, CBS should be really impressed with Bull's performance on Tuesday. The new drama did nearly 15.5 million total viewers in its first week. A lot of the people who watched were not in the perimeters of the 18-49 demographic that a lot of advertisers prefer, though. Even with that huge total viewers number, the show only did a 2.2 rating.
Week 1 Consensus: A lot of CBS shows skew older. If the show keeps putting up huge numbers, Bull should be around for some time to come.
This Is Us, NBC
This is Us had the highest trailer views last spring, and it's no huge surprise the new NBC drama did good numbers when it premiered, too. Hitting the schedule last Tuesday, This is Us was watched by almost 10 million total viewers. The new series did a 2.8 rating and the DVR numbers grew the show to even greater ratings heights. The premiere added an additional 1.38 rating counting DVR viewers and also added 3.5 million more total viewers. That DVR increase is wildly impressive. Maybe a few more future viewers will tune in live.
Week 1 Consensus: Numbers frequently drop as shows move forward, but that's a pretty strong start for an emotional tearjerker family sort of drama.
Lethal Weapon, FOX
Based on a hugely popular film franchise, there was a lot of buzz around Fox's new Lethal Weapon series before it premiered on Wednesday, Lethal Weapon did 7.9 million total viewers. A lot of those viewers were pretty young, too, which means Lethal Weapon did a 2.2---the same as Bull a day earlier, and it took way fewer total viewers to get to that rating. We'll have to wait and see if the over-the-top series continues to invest viewers in the weeks to come.
Week 1 Consensus: That's a pretty good start for a show that looked pretty costly to produce, but not so wildly good that the show can stand to shed more than a few viewers.
Speechless, ABC
Also airing on Wednesday, ABC's brand new comedy Speechless didn't have the largest amount of buzz heading into the 2016-2017 TV season. However, the show's uncommon premise, about a disabled family dealing with a new school environment for their kids, apparently spread through word of mouth and good advertising. It probably helps the series is full of laughs. The premiere episode did nearly 7.4 million total viewers and a 2.0 rating.
Week 1 Consensus: While not a home run out of the park, Speechless' numbers were pretty close to what other ABC shows The Goldbergs and black-ish did on Wednesday night. We'll see if the show can keep that up.
Designated Survivor, ABC
Kiefer Sutherland is back, and his new show is on ABC this time. Ten million total viewers caught his new show, which follows the actor as a member of the cabinet who finds himself in the unprecedented position of becoming the President of the United States after a huge attack. Despite the huge number, the show, which aired at 10 p.m. ET, only did a 2.2 rating, tying it with Bull and a few other shows on this list.
Week 1 Consensus: The rating for the series might not be something to get super pumped about, but those huge overall viewers are not too shabby. Let's wait and see if Designated Survivor can top itself as it moves forward.
Notorious, ABC
Later in the week, new shows did not do quite as well. Facing stiff competition on Thursday night, ABC's new series Notorious. Only 5.4 million total viewers tuned in to watch the newsroom drama starring Piper Perabo and Daniel Sunjata. That only translated into a 1.1 rating for the series, as well. It's hard to compete against Thursday Night Football, but this isn't a strong start.
Week 1 Consensus: Those would have been fine enough numbers on cable, but since we expect most shows to drop in the ratings as the weeks wear on, Notorious is looking a little insignificant at this point.
Pitch, FOX
Pitch was actually a pretty original... pitch. The series follows the first female pitcher in the major leagues who is dealing with some personal stuff on the side. Despite its original concept, it didn't lure in a large number of viewers on Thursday night. A little over 4.2 million total viewers caught the episode, which led to a 1.1 rating, similar to Notorious.
Week 1 Consensus: Live+3 ratings aren't in, yet, but Pitch will need to throw out fewer softballs if it wants to stick around over the long haul.
MacGyver, CBS
CBS has a strong Friday night lineup filled with procedurals. Keeping that in mind, newbie MacGyver fit right in. It may have helped that ABC's strongly-rated series Shark Tank was down in the ratings this Friday, helping MacGyver to actually top the night in the ratings. Nearly 11 million total viewers tuned in for the Season 1 premiere. The show also averaged a 1.7 rating in the 18-49 demographic.
Week 1 Consensus: It was a strong premiere for a series that should fit right in with Blue Bloods and Hawaii Five-0. If MacGyver keeps those numbers up, it should be around for some time.
The Exorcist, FOX
The Exorcist is another series based on a strong film franchise, but it didn't do nearly the numbers FOX's other TV remake (Lethal Weapon) did. The show only did a 1.0 rating and 2.9 million total viewers. That's a decent rating for the small viewership that tuned in, but is still not great overall.
Week 1 Consensus: With Grimm and The Vampire Diaries both ending this season, there was certainly room in the Friday night schedule for another genre series, but The Exorcist may not be it.
Amazing Race & Top Chef superfan with a pinch of Disney fairy dust thrown in. If you've created a rom-com I've probably watched it.
Your Daily Blend of Entertainment News
Thank you for signing up to CinemaBlend. You will receive a verification email shortly.
There was a problem. Please refresh the page and try again.