How The Good Wife Was Supposed To End, According To The Showrunners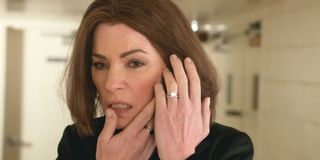 For several years, The Good Wife was one of the most creative and well-written programs on television. Then, last spring it went out with more of a whimper than a bang. Well, more accurately, it went out on the slap heard 'round the world, leading to dissenting opinions on the show's ending. However, this week, The Good Wife creators Robert and Michelle King actually revealed that the ending we got was not the original ending to the series. In fact, it's The Walking Dead's fault that The Good Wife ended the way it did. Inadvertently, of course.
At a Q&A in New York this week, showrunner Robert King revealed that originally The Good Wife was not supposed to end with Diane Lockheart slapping Alicia Florrick in the face. Instead, Alicia Florrick was supposed to get her happy ending, an ending that was supposed to come thanks to Jason Crouse, who just so happened to be played by Walking Dead actor Jeffrey Dean Morgan. However, by the time the team had crafted the preferred Good Wife ending, Jeffrey Dean Morgan was already contracted by and filming on The Walking Dead. Since The Walking Dead films in Atlanta and is a long process, he was unable to make it back to shoot a happy ending for the character. So, the show pivoted.
Honestly, Alicia had a revolving door of suitors following Will Gardner's death on The Good Wife. If one of those had stuck around for a few seasons, perhaps we could have bought into the love affair as deeply as we bought into the one between Alicia and Will through its ups and downs... and there were definitely downs, considering Alicia's frequent choice to reunite with Peter, etc. But Josh Charles opted to leave the series, and when that happened, even guest stints from major names Matthew Goode, Steven Pasquale and Jeffrey Dean Morgan, who all acted as potential suitors or actual suitors for Alicia, never stuck quite as well.
Because of this, Robert King said (via Variety) that having Alicia officially end up with Jason at the end could have been "too much of a cop-out," so maybe it's actually a blessing that Alicia didn't go out that way.
Still, the final row between Alicia and Diane was unexpected, as Diane is not a woman who frequently lets her emotions show. Previously Robert and Michelle King had explained why they ended the show the way they chose to noting:
That's a nice quote, but now it also looks that scheduling may have come into play. If you didn't like the ending, you may get some sort of closure soon. CBS has a Good Wife spinoff called Good Fight currently in the works at CBS All Access that is set to heavily follow Diane Lockhart and other characters from the original series. As for Alicia, maybe we'll hear about what the character is up to in another way? To find out more about Good Fight, head here. To find out more about what TV has coming up, check out our midseason TV premiere schedule.
Reality TV fan with a pinch of Disney fairy dust thrown in. Theme park junkie. If you've created a rom-com I've probably watched it.
Your Daily Blend of Entertainment News
Thank you for signing up to CinemaBlend. You will receive a verification email shortly.
There was a problem. Please refresh the page and try again.