Why That Photo On Westworld Is So Important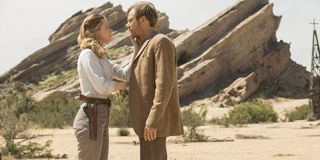 (Image credit: Photo courtesy of HBO)
Major spoilers from the ninth episode of Westworld are all over this article.
Westworld has only been on the air for a few weeks now, but in that time the series has introduced a slew of mysteries that the audience is hoping will be answered. In that time, some savvy Internet sleuths already figured out the big secret related to Bernard. This week, another major online theory seems far more likely now, thanks to one innocuous photo and a few other minor details.
For a while, Westworld seemed like a place set in the present but filled with history lessons about people and androids involved with the park's past. However, a few weeks ago a theory emerged that newcomer William and the Man in Black may be one and the same, just living thirty years apart from one another. While some other evidence has seemed to counter this, during "The Well-Tempered Clavier" we got clues confirming that William and Logan are in fact at a version of Westworld from the past. First and foremost, after Logan caught William with Dolores, he reminded his soon-to-be brother-in-law that he actually does have a fiancée living at home. In that moment, he handed her a picture, a picture that also just happens to be the same image that Dolores' father found in the dirt at home.
In this week's version, the image was brand new and not tattered, our first clue that William and Logan are living in the past and not the present. Combine that with the fact that a very well kept Angela (Talulah Riley) greeted William when he entered the park and is now running around with Wyatt and the Man in Black and we have pretty compelling evidence that Westworld has been showing us multiple points in time. Then, when Logan cut into Dolores and when William wreaked havoc on the soldiers that had formerly been holding him hostage, we saw that they were comprised more of robotics than the flesh and blood of the newer androids. These are cornerstones for the audience, providing clear evidence Westworld is showing us multiple points in time, although they don't wholly confirm that William is the Man in Black.
Still, that seems to be where HBO's Westworld is heading. The Man in Black confirmed this week that he owns shares in the theme park, and William was part of the Westworld family when he first set foot in the park. Last week, we also learned that the Man in Black was married but could never truly get away from the violent delights the park was able to offer. His wife took too many sleeping pills and died in what may have been a suicide years later. Is this Logan's sister, the woman in the photograph?
At the end of the episode, Dolores made her way to the church, which was whitewashed and looked nearly brand new this episode. As she shifted between costumes and moments in time, she made her way down to the basement, where she encountered the original Arnold, remembering something that happened in her past. Dolores' story is the most convoluted here and suggests that Westworld is not just shifting time but that Dolores is remembering multiple versions of herself and is having trouble keeping track of where she is at. Thus the comment from a few episodes ago where Dolores asked, "When am I?"
There's only one more episode left during Season 1, and it should be a doozy. Westworld has not been the most straightforward TV series, but I'm anticipating at least some of the questions we've had will be answered during the finale. The good news is that HBO has already renewed the series for Season 2. While we wait a long, arduous year for new episodes to hit the schedule, check out what is coming up at midseason, here.
Your Daily Blend of Entertainment News
Reality TV fan with a pinch of Disney fairy dust thrown in. Theme park junkie. If you've created a rom-com I've probably watched it.