TV Shows That Got Way Worse After A Main Character Left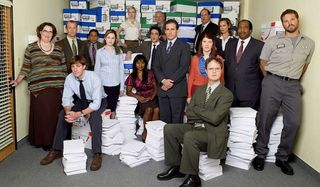 Many TV shows over the years maintained a high level of quality from pilot to finale, with no overtly embarrassing dips causing viewers to permanently stitch their palms to their foreheads. But the same cannot be said for all shows, and there is a certain subset of series whose mostly inarguable downfalls came from the loss of one or more main characters, be it through an onscreen death, an offscreen exit or any number of other reasons. A chain may only be as strong as its weakest link, but removing the strongest link from a successful TV show makes everything else weaker in comparison, and here are some of the most glaring examples, minus butchered metaphors.
General spoilers are present for certain series, given the subject matter, so be warned.
Scrubs
For eight seasons, ABC's Scrubs was the delightfully silly, clever and emotionally poignant balance to the many melodramatic hospital dramas that are now permanent TV staples. But, instead of getting cancelled as planned, Scrubs was granted a new season with a huge makeover that scrapped the well-established location and regular appearances from most of the hilarious original ensemble. Season 9 took place at a medical school, and the narration switched from Zack Braff's J.D. to Kerry Bishé's Lucy, which meant that (fill in the blank with one of many complaints). Had this been a completely different series, this final season might not have felt so terrible, but trying to seriously compare this to previous seasons is markedly funnier than most of the episodes.
The X-Files
For so many years, The X-Files kept fans rabidly interested with heavy doses of The 3 Ms: Mythology, Monsters, and Mulder'n'Scully. But after seven seasons, the sci-fi hit was dealt a blow when David Duchovny got into financial disputes with Fox over contract negotiations, and his appearances dropped to include only half of Season 8's episodes and just Season 9's finale. And - shocker! - the show suffered greatly without half of its power duo always around. No Mulder, combined with other casting fluctuations like Robert Patrick's addition and fewer Walter Skinner appearances, made for further proof the real truth was "the show needed to end." Thankfully, the shortened X-Files reboot brought Mulder and Scully together and recaptured some of its former glory.
The Office
The Office's original incarnation could not exist without Ricky Gervais' David Brent, and common sense would dictate the American version couldn't go on without Steve Carell's attention-craving boss. Yet, NBC stuck it out for two seasons beyond Carell's exit from The Office, and replacement roles from James Spader and others unfortunately were not up to the oblivious snuff of Michael Scott. I will admit that The Office's series finale was one of the show's most memorable episodes, but it wasn't necessarily worth going through two dive-bombing seasons to get to it. Against all odds and the beliefs of Scranton's population, more Michael Scott actually does make some situations far better. (Also, we would have also accepted "snakes.")
ER
The only things that can still look the same after 15 years are inanimate objects and Paul Rudd, so NBC's long-running medical drama ER didn't have a good chance to retain its narrative excellence throughout its run. And ER stands out here, since it managed to lose major characters every one or two years, leading to a consistent degradation. It largely began when George Clooney's Doug Ross vacated the emergency room, which was followed by Julianna Margulies's Carol, Gloria Reuben's Jeanie, Eriq La Salle's Benton and Anthony Edwards' Mark. By the time Noah Wyle's John Carter left in Season 11, there were no lead characters left from the first two seasons. And it showed.
That 70s Show
Its name implying the show's events would conclude with the 1980s, That 70s Show would have also been wise to pull the plug when lead actor Topher Grace decided to leave, which prompted Ashton Kutcher to follow suit not long after. Everyone entering legit adulthood should have also been a sign to call it quits, but the show kept going for Season 8, which introduced Josh Meyers' dreadful Randy Pearson. Had Bret Harrison stayed on, instead of jumping over to The Loop, it might not have been as bad, but there was little reason to be hanging out down the street with this show without Eric or Kelso. Not even more Tommy Chong.
The O.C.
When The O.C. made itself comfortable on Fox's schedule in 2003, young people everywhere wanted their relationships to be like that of Ben McKenzie's Ryan and Mischa Barton's Marissa. That certainly changed in subsequent seasons as the soapiness of The O.C. rose and Marissa's substance abuse and alpha behavior grew to soaring heights. When Marissa was killed off in the Season 3 finale, though, the drama tried and failed to grow very far beyond the shadow of Barton's absence. That particular view is disputed by those who abhorred Marissa in the end, but the show itself still spun its wheels in its own confusing aftermath, and the steady decline in ratings was a sign the spark was gone.
Top Gear
Top Gear was led for 13 years by Jeremy Clarkson, Richard Hammond and James May, a trio of sometimes controversial characters - semantically qualifying them for this list - that are beloved by millions around the world. That love was deflated last year when Clarkson was fired due to a physical altercation with a producer. Hammond and May volunteered to leave, later joining Clarkson for Amazon's recently released The Grand Tour. Top Gear, meanwhile, brought in a cookie cutter Matt LeBlanc and U.K. familiar Chris Evans, both of whom spawned headlines focusing on their alleged feuding, and Evans was fired after the poorly rated and poorly received season, amid multiple reports of Evans' past sexual misconduct. The Grand Tour sure is fun, though.
Two and a Half Men
Two and a Half Men received far better ratings than it ever did critical acclaim, to be sure, and many tuned in to watch Charlie Sheen saying lewd and crude things. Because duh, it's Charlie Sheen. The actor's behind-the-scenes problems, including rehab stints and verbal attacks on show creator Chuck Lorre, were far more engrossing than the show itself, and it all concluded with Sheen being fired prior to Season 9. He was replaced by Ashton Kutcher, of all people, and though the ratings were steady enough to keep the show going for four more seasons, it was a watered down version of the tiger blood that was Charlie Sheen's run.
Mistresses
Not exactly an example of highbrow drama, Mistresses was nonetheless a fine piece of soapy escapism on the primetime schedule, and a lot of it initially had to do with Alyssa Milano's Savi Davis. Unfortunately, when MIstresses changed filming locations from L.A. to Vancouver, Milano left the show as to not have to travel so far, and the show had to deal with that glaring crater. Jennifer Esposito hopped on board for a bizarre storyline in the third season, but that was just a one-and-done scenario, and Mistresses struggled on for another season before ABC decided to just get rid of it entirely.
Nick is a Cajun Country native, and is often asked why he doesn't sound like that's the case. His love for his wife and daughters is almost equaled by his love of gasp-for-breath laughter and gasp-for-breath horror. A lifetime spent in the vicinity of a television screen led to his current dream job, as well as his knowledge of too many TV themes and ad jingles.
Your Daily Blend of Entertainment News
Thank you for signing up to CinemaBlend. You will receive a verification email shortly.
There was a problem. Please refresh the page and try again.