A Fan-Favorite Lethal Weapon Character Is Heading To The TV Show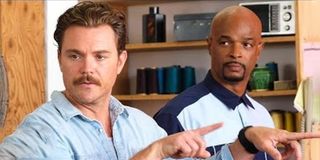 Despite having the same title as a popular film franchise--perhaps even the greatest film franchise--and featuring characters with the same names as the film franchise, Fox's Lethal Weapon has so far been differentiating itself from the films with a different sort of bromance and some sillier case-of-the-week antics. However, recently Fox revealed that Lethal Weapon will be nodding at the movies by bringing in Leo Getz, a character originated by Joe Pesci in Lethal Weapon 2 and reprised in Lethal Weapon 3 and 4. The new TV version of the character will be played by none other than Thomas Lennon.
While we usually get announcements like these quite a bit in advance, today's report indicates that Leo Getz will be popping up in Fox's Lethal Weapon, and soon. Thomas Lennon will take over the role on February 15, in an episode that will feature the lawyer character meeting with Riggs and Murtaugh as part of the story that week. EW reports that so far Thomas Lennon is only signed on for a guest role---meaning he's only set to appear in one episode of the Fox series so far. Presumably, if the character goes over well, Lethal Weapon could bring the ambulance chasing lawyer back in the future.
Of course, that's a long way off. First and foremost, Thomas Lennon currently has his own series on TV right now, the comedy The Odd Couple, which is in the third season on CBS. That show isn't on the best footing right now, as about a month ago the Eye Network ultimately decided not to add to The Odd Couple's episode order, so that the comedy will only be producing 13 new episodes this year. This doesn't necessarily mean the comedy, which also stars Matthew Perry, is cancelled, but it doesn't bode well for its future, either. If Lennon doesn't have The Odd Couple to worry about, he could potentially show up on Lethal Weapon more down the line, as well.
Although Fox gave the show additional episodes, Lethal Weapon only has a chunk of episodes left during Season 1, which means Fox will be looking to make a decision about the future of the series, probably this spring. The ratings have been pretty steady for the series, averaging well above a 1.7 rating, although recent episodes have been closer to a 1.4. We're guessing the series will be back for another round, but as ratings traditionally fall as the season wears on, we'll have to wait and see how the series fares this spring.
The real question is how Lethal Weapon will fare if it starts bringing in a steady stream of memorable characters from the movies. So far, the show has done enough to differentiate itself from the film franchise that sometimes I even forget the two lead characters are takes on the personalities played by Mel Gibson and Danny Glover on the big screen. I actually like that Lethal Weapon has been offering us something different. Hopefully, it won't need to rely on more casting gimmicks down the line. You can catch Lethal Weapon on Wednesdays at 8 p.m. on Fox. To find out when the rest of your favorites will be back, take a look at our premiere schedule.
Reality TV fan with a pinch of Disney fairy dust thrown in. Theme park junkie. If you've created a rom-com I've probably watched it.
Your Daily Blend of Entertainment News
Thank you for signing up to CinemaBlend. You will receive a verification email shortly.
There was a problem. Please refresh the page and try again.