Supergirl May Be Introducing A Crazy Superman Villain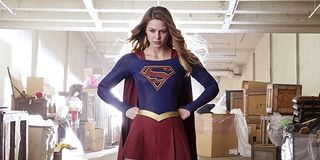 Warning: major spoilers ahead for Supergirl. Don't read any further if you haven't seen "Exodus" yet.
Last night's episode of Supergirl was the culmination of almost two years of anticipation, as Jeremiah Danvers (Dean Cain) finally returned to his family, and all seemed temporarily right with the world. However, as is always the case with this show, something dark was brewing beneath the surface. In fact, one particular Friedrich Nietzsche quote uttered by Lillian Luthor seems to suggest that a terrifyingly imposing Superman villain known as Overman may be on the horizon for Kara Danvers to face off against. To refresh your memory, Ms. Luthor said:
That Supergirl quote is the classic Luthor mindset (whether it be Lillian's or Lex's) and it cuts to the core of that family's deep-seated distrust of aliens as our saviors. However, the mention of the "Overman" seems to go one step further when we consider the fact that there is a DC character specifically named Overman. Hailing from Earth-10, Overman is a version of Kal-El who landed in Europe and grew up in the early days of WWII as a supporter of Nazi ideology. This version of Superman is ironically an avid believer in the Nietzsche concept of the Ubermensch (a.k.a "The Superman") and a champion for fascist ideas. He's not a good guy.
Of course, this theory (caught by a ComicBook.com staffer) could be nothing. The entire Luthor clan is already known for its faith in self-reliance and distrust of seemingly divine beings. However, consider that Nietzsche's Übermensch concept is commonly referred to as both the Overman and the Superman concept, and when the Man of Steel was first being conceived by Jerry Siegel, it was as a direct representation of the philosopher's thoughts. Superman only became a good guy after Joe Shuster got involved. There are plenty of other Nietzsche quotes that could've delivered the same message, but Luthor specifically went the Superman/Overman route, which seems a little too on the nose to be coincidental.
Check out Overman below to see for yourself:
One other thing that's also worth mentioning about this significant development is the fact that other members of the Overman family could potentially show up as well. Specifically, there is a character known as Overgirl (an alternate reality version of Supergirl), which leads us to believe that Melissa Benoist could double up and portray Overgirl in the near future -- just like Bizarro in Season 1.
Now the real question is whether or not we actually will see Overman on Supergirl at some point. Luthor refers to Jeremiah Danvers as "the only Superman we need" during the episode, which seems like a meta reference to Dean Cain's tenure as the Man of Steel, as well as a possibly ominous indication that he could step in as the Nazi-esque supervillain at some point. We could also potentially see Tyler Hoechlin step into the boots of the iconic villain. Anything is possible at this point, so we will have to wait.
We will bring you more information related to Supergirl (as well as the rest of the Arrow-verse shows) as new details become available to us. Make sure to check out the adventures of Kara Zor-El every Monday night at 8 p.m. EST on The CW. And head to our midseason premiere schedule to see what's left to debut in the early months.
Looking for more information about the remaining spring television debuts in 2017? Make sure to take a look at our comprehensive midseason premiere guide and fill out your TV viewing schedules accordingly.
Originally from Connecticut, Conner grew up in San Diego and graduated from Chapman University in 2014. He now lives in Los Angeles working in and around the entertainment industry and can mostly be found binging horror movies and chugging coffee.
Your Daily Blend of Entertainment News
Thank you for signing up to CinemaBlend. You will receive a verification email shortly.
There was a problem. Please refresh the page and try again.