Turns Out Grey's Anatomy Gives Some People False Expectations About Medical Care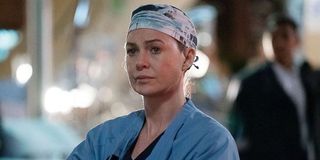 Grey's Anatomy is one of the most popular medical dramas in television history, and it's still going strong in Season 14. As it turns out, however, Grey's Anatomy and other medical shows have given people unrealistic expectations about medical care, and not just because their doctors don't look like supermodels in scrubs. According to some pretty shocking statistics, many viewers may have skewed outlooks on medicine nowadays due to shows like Grey's Anatomy.
According to data accumulated by the Trauma Surgery & Acute Care Open journal, the rate of mortality on Grey's Anatomy is 22%, which is a big bump up from the real-life rate of 7%. The majority of patients on TV are sent straight from the emergency room to the operating room at a rate of 71%, whereas such cases unfold only 25% of the time in the real world. TV survivors of injuries are only transferred to long-term care programs 6% of the time as compared to 22% of real patients. Basically, patients with traumatic injuries on the small screen usually head to the OR right out of the ER and survivors are sent home sooner rather than later. The rapid recovery on TV could very well mislead real-life patients about their own recoveries.
The TV medical data was gathered thanks to the efforts of two physicians and a nurse practitioner from a Level I Trauma Center verified by the American College of Surgeons, who watched all 269 episodes of Grey's Anatomy Seasons 1 - 12. Out of those 269 episodes, 290 trauma patients could be identified with age and gender demographic, identifiable injuries data, the time spent between admission to the operating room, length of stay, and discharge status (i.e., death, sent home, directed to another facility). The nature of storytelling on the small screen means that data could rarely be gathered about the specific length of hospital stays, but stays could generally be broken up into categories.
The real-life data used for comparison came from the 2012 National Trauma Databank National Program Sample. 4812 patients from the NTDB were evaluated and compared to the 290 fictional patients from Grey's Anatomy. Interestingly, Grey's Anatomy was chosen as the medical drama for study due to its long run, popularity, and setting in an urban teaching hospital. Despite the attempts of Grey's and other medical shows to stay somewhat realistic with the use of medical consultants, there is clearly still a lot to be desired when it comes to accuracy. We can only hope that not too many people head to the hospital expecting Grey's Anatomy-esque care.
Grey's Anatomy airs on Thursdays at 8 p.m. ET on ABC. A firefighter spinoff of Grey's will debut in March, so this is an exciting time to be a fan of the universe. For your other viewing options, take a look at our midseason TV premiere guide and our 2018 Netflix premiere schedule.
Resident of One Chicago, Bachelor Nation, and Cleveland. Has opinions about crossovers, Star Wars, and superheroes. Will not time travel.
Your Daily Blend of Entertainment News
Thank you for signing up to CinemaBlend. You will receive a verification email shortly.
There was a problem. Please refresh the page and try again.