Rick And Morty And Breaking Bad Got Awesome Shoutouts On My Little Pony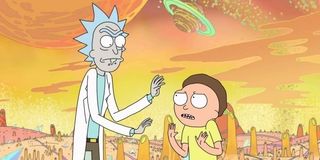 The fifteen minutes of fame celebrated by the brony subculture may have died down, but My Little Pony: Friendship Is Magic is still hoofing along strong. The series still appears to be catering to its alternative fanbase, too, as a recent My Little Pony episode featured ponies referencing two TV shows most younger female fans would steer clear of: Rick and Morty and Breaking Bad. First up, let's [urrrrrrhhhp] look at the ponies, Morty. It's ponies all the way down, Morty.
The easter egg showed up in the My Little Pony: Friendship Is Magic episode titled "Grannies Gone Wild," which featured Rainbow Dash escorting Granny Smith and her friends on a trip to Las Pegasus. Rainbow Dash wasn't actually going on the trip specially to escort a bunch of elders in the Pony equivalent of Las Vegas, though; she was in it to ride the "Wild Blue Yonder," a rollercoaster that was about to close permanently. And it was in the extremely long line for the roller coaster where fans witnessed one pony donning a pretty recognizable lab coat and spiked blue hair, next to another younger pony with only a thick patch of hair in the middle of its head. Instant recognition, Morty.
But it wasn't just an alcoholic scientist and his grandson getting pony shoutouts. Take a closer look at another part of the line, where Breaking Bad's Heisenberg was also waiting to ride the coaster.
This My Little Pony: Friendship Is Magic moment happened in a quick flash, so it's understandable how fans watching the episode may have missed it. It also may explain why the animators snuck in that potentially risqué cutie mark for the Heisenberg pony, which looks an awful lot like a baggie of the blue meth crafted throughout Breaking Bad's run. Rick has a far more appropriate science flask to go along with his trademark hair and lab coat, although the lack of spittle around the pony's mouth is disappointing. Really, the pony who got a raw deal in all this is Morty, who appeared to be completely naked. I bet Pony Jerry is responsible.
Obviously, the odds of a Breaking Bad and My Little Pony: Friendship Is Magic crossover are slim, but Rick and Morty could legitimately make such a mash-up happen. With Rick's Portal gun, any sort of crossover imaginable could happen between the two shows, although one can only imagine what twisted scenario Justin Roiland and Dan Harmon could spin up for a Pony-esque episode in Season 4. Adult Swim fans would probably love it, but the concept might be a little too off-brand for the MLP target demo.
My Little Pony: Friendship Is Magic airs new episodes on Discovery Family Saturdays at 11:30 a.m. ET. For a look at shows that are set to premiere or return in 2018, head on over to our midseason premiere guide and summer premiere guide.
Your Daily Blend of Entertainment News
Mick likes good television, but also reality television. He grew up on Star Wars, DC, Marvel, and pro wrestling and loves to discuss and dissect most of it. He's been writing online for over a decade and never dreamed he'd be in the position he is today.