Clayne Crawford Was Blindsided By Lethal Weapon Firing, Talks Humiliating Time On Set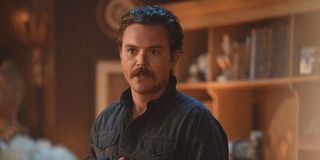 Lethal Weapon is about to kick off its third season on Fox, but it's going to be a brand new show this time around. At the end of last season, Warner Bros. ultimately opted to kick Clayne Crawford off of the series after an alleged set incident and replaced him with longtime comedian and actor Seann William Scott. The new leading man will appear this fall, but Clayne Crawford has finally spoken out about his side of the story, why he was blindsided by his firing, and why working opposite Damon Wayans on Lethal Weapon ultimately ended up being a humiliating experience.
Speaking on the Drinkin Bros. podcast, Crawford admitted that no one from the show actually ever told him that he was going to be fired and he found out on Mother's Day when his mom showed him a social media post. At that time, he knew he wasn't getting along with Damon Wayans and had been in some hot water for an incident that occurred on set a short time prior, but he said he was still blindsided when the network made the call, noting that prior to the social media posts he believed:
To be clear, Clayne Crawford knew there were problems on the show. He said on Drinkin Bros. that he had issues with the way the show was shot because he felt it catered to whatever whims other series star Damon Wayans had that week, noting the veteran actor never read scripts and the show would have to change on the fly. An example he cited was that once Wayans got mad at Crawford after he laughed when Wayans said he couldn't film a scene in a church. Crawford thought he was joking and laughed, but Wayans is a Jehovah's Witness and can't shoot in other places of worship. (Damon Wayans has also complained about Crawford's behavior on the show.) Beyond those issues, Clayne Crawford readily admits that he lost his temper one day when Lethal Weapon was filming. He yelled at an AD, Newman, after noise from the other side of a cinderblock wall kept messing up audio during the filming of a scene. It's a moment that he still regrets.
However, Clayne Crawford claims that after the tape came out he did his penance, yet the set became "humiliating." Per the actor, anytime he had an issue with Damon Wayans or the way the show was being shot after the incident with the AD, it became all about the tape.
Obviously, things were not ideal on the set of Lethal Weapon Season 2. Still, Clayne Crawford believed the show was doing well and the two leads were still able to create a product that was resonating with the fans. He says he believed that if the show was going to cut him, they would at least give him a heads up and let him know that was the decision being made. But after he refused to apologize to Wayans, believing their issues were two-sided, the show unceremoniously replaced him with Seann William Scott. To this day, Crawford says he was surprised by the ultimate outcome, as he explained...
Damon Wayans is certainly the bigger name in the Lethal Weapon TV series, and if the two actors weren't able to get along on set, its easy to see why the network made the decision it did, although it sounds like it could have been handled better on all sides. All in all, Clayne Crawford can spend some time with his family while he figures out his next move. We have a while to wait, however, before we see whether or not Lethal Weapon can land on its feet without the dynamic duo that made the Fox series so compelling in the first place. You can catch new episodes on Tuesday, September 25 at 9 p.m. ET, only on Fox, if you are so inclined.
Reality TV fan with a pinch of Disney fairy dust thrown in. Theme park junkie. If you've created a rom-com I've probably watched it.