The Game Of Thrones Scene That Nikolaj Coster-Waldau Thinks Could Have Happened Sooner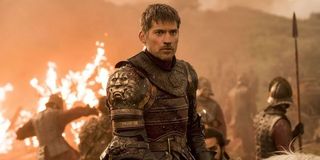 Game of Thrones fans have been waiting for more than a year now for new episodes, and there's still not even confirmation of when exactly the show will be back for its eighth and final season. Nikolaj Coster-Waldau, who plays none other than Jaime Lannister, is keeping a tight lid on spoilers, but he did reveal one major Season 7 scene he believes could have happened a lot sooner: the final conversation between Jaime and Cersei that saw Jaime bailing on his sister. Here's how Coster-Waldau put it:
Who knew that being the middle child is complicated even in families that regularly engage in scheming, betraying, and incest? For Nikolaj Coster-Waldau, the scene of Jaime giving up on playing second-fiddle to his power-crazed sister could have happened long before Cersei decided to prioritize her own political maneuverings over the survival of everybody north of King's Landing. Cersei acknowledged the threat of the White Walkers and was convincing enough when she agreed to an alliance with Dany and Jon that even Jaime believed her. Her reveal that she intended to protect her own interests over aligning with her rivals proved that she was lost to her own machinations.
While Cersei has been getting crazier and crazier over the years, Jaime has become more and more developed and stable. His captivity may have cost him his sword arm, but it may have been the best thing that ever happened to him. Who knows what would have happened if he hadn't met and bonded with Brienne, finally getting to admit why he did what he did when he killed Aerys? Returning to Cersei's side seemed to set him back, and her announcement that she's pregnant had the potential to keep Jaime at her side no matter what. Instead, it turns out that the threat of ice creatures and their army of frozen zombies are enough to motivate Jaime to bail on his sister and fight the good fight. Instead of Cersei and Jaime as the Lannister siblings working together, we could get Jaime and Tyrion.
Nikolaj Coster-Waldau also spoke in his chat with Huffington Post about one of the plot twists that he feels should have come between Jaime and Cersei:
Game of Thrones showrunners Dan Weiss and David Benioff didn't always make it easy on the actors by playing the long game and keeping secrets close to the chest until a payoff. As fans know, Jaime and Cersei didn't spend much time on screen discussing the shocking suicide of Tommen in the Season 6 finale after Cersei unleashed her wildfire on all her enemies. When Jaime brought Tommen up in the Season 7 premiere, Cersei simply insisted that they would build the Lannister dynasty by themselves, no matter that their three kids died. If that wasn't a sign that Cersei was regularly wearing her crazy pants, I don't know what was! At least Jaime eventually came to his senses.
Only six episodes of Game of Thrones remain until the final credits roll, and although Nikolaj Coster-Waldau did reveal one thing he won't miss about the show, we can bet that the last season was an emotional ride for all involved. Hopefully we won't have to wait too much longer for the exact premiere date. A recently-released first look at the final season only showed one brief flash of a scene and confirmed a 2019 release; only time will tell what else is in store. If you need some ways to pass the time while we wait for more Game of Thrones, take a look at our fall TV schedule.
Resident of One Chicago, Bachelor Nation, and Cleveland. Has opinions about crossovers, Star Wars, and superheroes. Will not time travel.