Murphy Brown Review: CBS' Timely Revival Goes Too Heavy On Politics And Old Age Jokes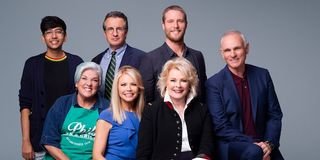 Television and politics are both cyclical beasts, and the crossroads merging the two has become all the more interesting (and awkward and arguably damaging) in recent years. It's due in large part to President Donald Trump, who partially inspired the recent boom of TV revivals, including Will & Grace and the now-cancelled-and-spunoff Roseanne. And now CBS has joined the fray with its high-profile Murphy Brown revival, which is easily the most politically active TV return of any show this fall. That's not exactly a compliment, as Murphy Brown is so angrily focused on 2018 politics that its comedy often gets stuck back in the '80s.
For creator Diane English and her writing team, setting up Murphy Brown's comeback seems like it had to have been a pretty easy and practical affair. With the news program FYI in her past, Murphy was no longer caught up in Washington D.C.'s push-and-pull, but the yearning to get back behind an anchor desk came calling anew after Donald Trump won the 2016 election. And in true sitcom fashion, Murphy quickly lands a new cable news series and gets almost the whole FYI gang back together to try to turn Murphy in the Morning into a hit. Those efforts do include Bergen literally saying the phrase "The band is getting back together," which isn't even as on-the-nose as this revival gets.
When the ensemble cast is on screen and goofing around together, Murphy Brown feels like it never left primetime. Joe Regalbuto's investigative reporter Frank Fontana remains a quick-witted womanizer, which is played for some laughs that keep him on the right side of the #MeToo movement. Faith Ford's Corky Sherwood has maintained her small-town sensibilities, which are magnified even more by the hullabaloo of contemporary society. Surprisingly (to me), my favorite returning character was Grant Shaud's Miles Silverberg, who was probably my least favorite character during the initial run. After leaving FYI (in Season 8), Miles apparently gave into his crippling neurosis and is now a strained time bomb of nerves that could detonate at any moment, leading to some of the more random and absurd jokes.
And big props to the 82-year-old Charles Kimbrough for returning to live-action acting after being away from the profession for the past 15 years or so. Kimbrough returns to Murphy Brown for a multi-episode arc that'll see his esteemed and retired journalist Jim Dial finding a reason to reconnect with the FYI crew after all these years.
All that said, it's when a scene hangs solely on Murphy herself, or sets her outspoken motivations at the scene's forefront, that the comedy gets kneecapped by constant attempts to show audiences how topical and relevant its political commentary is. Even when that commentary doesn't appear to be doing anything for the story besides drawing attention to itself. At times, Murphy Brown holds a mirror up to its riled-up lead character, reflecting all of the ways that she can regrettably be likened to Donald Trump, and those fleeting moments feel slightly more objective in conceiving her mental crisis.
But then five seconds later, that introspection has left and been replaced by hackneyed jokes about Murphy not understanding YouTube or something. Seriously, at one point, she tells her now-grown son Avery that he has to stick around the house because he's the only one who knows how to work the universal remote...an electronic device that is older than the show is.
I'd love to say that Murphy Brown's comeback could, like Roseanne attempted to do, use politics as a way to reach for social understanding, but the show's topical jokes are just too mean-spirited for all that, like The Daily Show without a whiff of self-aware satire. Because even beyond the overbearing way in which it takes sides, Murphy Brown can't possibly offer a new side of the political conversation, at a time when there are hundreds of TV shows, movies, websites, magazines and more -- combined with millions of social media stalwarts -- who provide their own hot takes on D.C. scandals on a second-by-second basis. Things were way different back in 1988.
Few could have argued against this being the perfect time for Candice Bergen's Murphy Brown to return to television, both in our world and in the character's world. Murphy quickly rose up a feminist icon in a TV news world populated by men, just as the 24-hour news cycle was coming into existence. And the show blend over into the real-world even in the early 1990s, when Vice President Dan Quayle was on the campaign trail and criticized the comedy for Murphy giving birth to a son out of wedlock, which led to some back-and-forth between the two. (And yes, the revival makes quick note of Murphy's relationship with Quayle.) And with one episode seeing Murphy engaging in a Twitter war with Trump, it's clear that the show wouldn't mind some of that off-TV attention coming around again.
Some new faces are around to help usher Murphy Brown into 2018 primetime, with the most promising TV vet in the bunch being former Judging Amy and Cagney & Lacey star Tyne Daly. Always a consummate professional, Daly stars as Phyllis, sister of the late bar owner Phil -- former star Pat Corley passed away in 2006 -- who find a new path in life as she attempts to keep Phil's Bar up and running. Atypical's Pat Patel plays the morning news show's social media director, so just about all of his scenes contain age-old "technology is a young person's game" jokes.
The new/returning character most important to Murphy Brown's return is that of son Avery Brown, now played by Limitless' Jake McDorman. Avery moves back into town, and back into his family home, due to a new job that would normally be gobsmackingly good news to his mother. Only, his new job puts him in direct competition with Murphy, which leads to some difficult moments between the two. Murphy and Avery's relationship is another one of the more interesting elements within the revival, as it's another avenue in which Murphy can come to terms with her more negative and destructive impulses.
In a perfect alternate world, Murphy Brown's revival would have showcased all the acerbic verve of Veep, the political gravitas of The West Wing and the apolitical relatability that made this comedy such a big hit to begin with. Instead, we have an abundance of Trump-bashing disguised as the return of a popular sitcom, with Things Overheard By Nursing Home Electricians as the main source of broader comedy. And hey, that kind of thing can make for a perfectly enjoyable time for some people, but it's definitely not for everyone.
Murphy Brown makes its big return to CBS (opens in new tab) on Thursday, September 27, at 9:30 p.m. ET. To see what other returning hits and future classics are heading to primetime soon, check out our fall TV premiere schedule.
Your Daily Blend of Entertainment News
Assistant Managing Editor
Nick is a Cajun Country native, and is often asked why he doesn't sound like that's the case. His love for his wife and daughters is almost equaled by his love of gasp-for-breath laughter and gasp-for-breath horror. A lifetime spent in the vicinity of a television screen led to his current dream job, as well as his knowledge of too many TV themes and ad jingles.
Your Daily Blend of Entertainment News
Thank you for signing up to CinemaBlend. You will receive a verification email shortly.
There was a problem. Please refresh the page and try again.