How This Is Us' Fall Finale Proves Season 3 Can Be Saved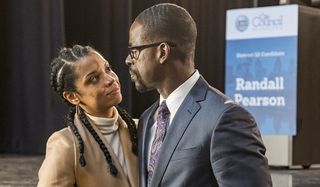 Warning! The following contains spoilers regarding This Is Us Season 3. Read at your own risk!
Mandy Moore teased ahead of This Is Us Season 3 that it would be its "most ambitious" yet, and after the first month of episodes, I felt the show got lost in its ambition. The story was jumping every which direction, there were few if any tear-jerking scenes, and Randall's plotline felt like a mess. Then the fall finale happened, and I'm somewhat confident the back half of Season 3 of This Is Us could be its greatest yet.
And not just because it featured the massive twist that Nicky Pearson is alive in the present day, either. Granted, that twist was one of the biggest audiences have seen in 2018, but it also explained why so much of Season 3 was dedicated to Jack's time in Vietnam. Sure, the season needed to feature America's favorite dad somehow. Was dedicating a whole arc to his relationship with a character we only briefly met in Season 2 the right call?
I'll answer that question with a resounding yes now that we know Nicky Pearson is not only alive but living in Pennsylvania. Now the event that felt like an inevitable crawl to an outcome This Is Us fans were expecting has been turned on its head and made relevant in the present day. Nicky's story and what went down between him and Jack gives the arc a fresh new direction to explore whatever happened between the two brothers.
It's a story that ends in Nicky being away from Jack and the Pearson family, with the mystery being why that happened. Did Jack believe his brother died in Vietnam or was that what he led his family to believe? The latter isn't too much of a stretch, as Jack had cut his father out of his life in his adult years. Learning he did that with Nicky as well despite their closeness has to have a great story.
It's the promise of a satisfying arc that, initially, just seemed like a way to include Jack and work war stories into This Is Us. The arc hasn't been bad, but it's certainly felt a bit out of place compared to past storylines and other episodes. Bringing the story into the present rectifies that, and leaves the opportunity to further shake up the family dynamic with Nicky's potential inclusion.
Speaking of shake-ups, This Is Us' fall finale finally made sense of what has been a downright confusing season for Randall Pearson. Randall's obsessive search for a purpose had him running for city council in the Philadelphia area, just on the heels of a season that ended with him purchasing and running a run-down projects building. Meanwhile, problems were building on the home front, and for whatever reason, This Is Us had Randall skate on while his family suffered.
This Is Us did a great job at playing its cards close to the chest as I let out a small yelp of joy when Beth finally confronted Randall about the election during the fall finale. The wife let him know the writing was on the wall, and with his being so far behind in the polls it was time to close up shop and focus on the issues happening with her, Deja, and Tess.
It was a moment that felt like the audience was about to get lovable Randall Pearson back, and that stereotypical display of shared couple's strength This Is Us so often shows. This time, however, Dan Fogelman flipped the script and Randall refused to abandon his hopeless campaign even at the expense of his family. It was a heel turn that felt like a gut punch, as one of This Is Us' strongest couples ended the episode at an impasse.
Much like the Nicky twist, This Is Us quickly followed the scene with a flash-forward that appeared to imply Randall and Beth aren't together in the future. To think, there's been all this speculation about the status of Kate and future Toby when there's a possibility that Beth and Randall aren't together? Again, the fall finale came through with another interesting question and the tease that this season's back half may be the end of Beth and Randall.
Randall and Nicky's developments were so significant that the revelation that "Her" has been Rebecca Pearson was really buried in the mix. This Is Us should be thankful for that, by the way, considering the reveal that the already old present-day mother is the one the family is gathering around in the future isn't the most exciting theory fans have come up with.
That said, the official reveal that everyone is headed to see Rebecca is another plus towards the rest of Season 3, as this big meeting of the family will inevitably reveal all the answers we've been craving. It's a mystery that, despite This Is Us dipping in its ratings to a series low recently, audiences still seem invested in learning about as the NBC drama remains one the most popular shows in the key demographic.
Of course, the incredible fall finale doesn't necessarily guarantee This Is Us will stick the landing and deliver an exceptional rest of the season. It does, however, show that the series hasn't lost its direction, and that there was a clear reason for why this season has played out the way it has. The fall finale proved there are a few important and interesting stories to tell in Season 3, it just took a while to properly set them up.
Viewers will get a chance to see how This Is Us follows up on that crazy fall finale when new episodes pick back up Tuesday, January 9 at 9:00 p.m. ET. For a look at what's left to watch on television before that or a look ahead at what other shows are coming in 2019, visit CinemaBlend's fall and midseason premiere guides. Be sure to stay tuned to CinemaBlend for the latest and greatest in TV news.
Your Daily Blend of Entertainment News
Mick likes good television, but also reality television. He grew up on Star Wars, DC, Marvel, and pro wrestling and loves to discuss and dissect most of it. He's been writing online for over a decade and never dreamed he'd be in the position he is today.