This Is Us Had Better Not Split Up Beth and Randall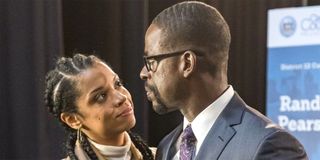 SPOILER ALERT: This article includes spoilers from the This Is Us Season 3 midseason finale.
Nope. Stop now, This Is Us. Don't even think about breaking up Beth (Susan Kelechi Watson) and Randall Pearson (Sterling K. Brown). Listen, fans were worried enough thinking "Her" referred to Beth and that maybe Beth died in the flash-forward timeline. Instead, we just found out in the Season 3 midseason finale that "Her" is Rebecca Pearson. We don't know Rebecca's status, but Beth was shown to be alive. However, the flash-forward also suggested some kind of estrangement between Randall and Beth.
This is not acceptable.
Beth and Randall cannot separate or [whispers] get divorced. The Season 3 midseason finale tried to suggest some cracks were pushing them apart, but it came across as forced manufactured drama.
This is not a fan service gripe. It's whiplash from a storyline that just skidded off the road on a sunny day.
Randall had just told Beth her voice was his favorite sound in the world. She used that voice to pump him up before his big political debate, telling him to crush it like Serena. He did crush it. They both knew he did.
And then This Is Us presented the first of many twists. This one may have seemed minor by comparison to Nicky or Her, but it showed both Beth and Randall's campaign manager Jae-Won Yoo (Tim Jo) approaching Randall after the debate to say he was too far down in the polls to win. He should drop out of the race.
What?
First of all, have we learned nothing from the 2016 election? Polls don't mean squat. Plus, as Randall noted, the poll was done before his big debate win with several weeks left before the vote. He should see it through. He didn't make the argument that he's come to far to back out, but -- if he drops out now -- Solomon Brown (Rob Morgan) will just go back to politics as usual.
Even if Randall loses, he will have made a statement, and the constituents could always tell Councilman Brown if he doesn't step up, they will vote for Randall Pearson next time. No one will say that if he's a quitter. Beth seems like someone who might bring up an argument like that, but instead she sided with Jae-Won -- which is strange on its own, since they have never gotten along.
Later, Beth added more arguments for Randall to drop out of the race, saying they were both out of jobs, and they needed to focus on the girls. She even referenced Tess (Eris Baker) having a lot going on, as if Tess coming out as gay might be something the family would have to spend more time on than if she was straight. Beth reminded Randall that he had told her if she was ever uncomfortable with him running he would drop out.
When Randall said he wanted to see this through, she said he sounded like a politician. She then grabbed a pillow and blankets and made him sleep on the couch instead of in the bedroom.
Really?
What had changed since the debate, other than the poll numbers and Tess coming out, for Beth to go from Randall's biggest cheerleader to Drop Out Now Or Else? That doesn't sound like something Beth would do. Not only would she back Randall to keep going -- polls be damned -- she wouldn't punish him after his big debate by making him sleep on the couch downstairs. This was all in the same day.
The timeline doesn't make sense, and the idea that this was the first fracture in something that could push The Ultimate Goals Couple apart years later? No. Hopefully this is all a big mislead. It's not like This Is Us doesn't like to set false trails. Show creator Dan Fogelman hinted to tough times ahead for Beth and Randall in the second half of this season, but not necessarily The End. Here's what he told Deadline:
Dan Fogelman added that, when the show returns in 2019, we'll be digging deeper into Randall's campaign and seeing what happens there. Season 3 is also giving us a Beth-centric episode to further flesh out her character's story. It's good to see This Is Us treating Beth as the main character she is, complete with a focus on her history.
This Is Us Season 3's second half will have a lot to cover, including Uncle Nicky, more flash forward "Her" details on Rebecca, plus Toby and Kate's baby boy, etc. But now that this cloud has descended over Randall and Beth -- with the potential that it lasts several decades into the future -- the NBC show has threatened to derail its best modern love story into something nearly as tragic as How Does Jack Die.
I'm not convinced this is all leading to a real breakup between Randall and Beth. Even if they do grow apart, I think they have to get back together. They are the new Jack and Rebecca. Remember when we thought they, too, might divorce? Thankfully that didn't happen. They went through rough patches, but stayed together ... at least until the Crock-Pot.
This Is Us had a rough road in the ratings leading up to the Season 3 midseason finale, but we'll have to see if these new twists entice more fans to watch in 2019 to see what happens next. This Is Us Season 3 returns Tuesday, January 15, at 9 p.m. ET. Here's what is still coming in 2018, and what else is ahead in the 2019 midseason.
Your Daily Blend of Entertainment News
Gina grew up in Massachusetts and California in her own version of The Parent Trap. She went to three different middle schools, four high schools, and three universities -- including half a year in Perth, Western Australia. She currently lives in a small town in Maine, the kind Stephen King regularly sets terrible things in, so this may be the last you hear from her.