Lethal Weapon Midseason Trailer Reveals An Interrupted Wedding And More Craziness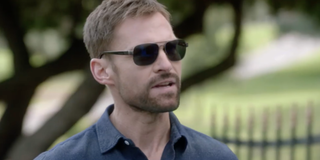 Lethal Weapon is going to be off the air for a while, but the show didn't leave fans without any clues of what to expect when it returns in the new year. The midseason trailer that aired after Murtaugh and Cole celebrated the holidays in a predictably explosive way reveals that an interrupted wedding is coming, and that's not the only craziness to expect. Take a look!
Well, I think it's safe to say that Lethal Weapon is going to return with a bang! What would this show be without some good old-fashioned car chases and crashes? Lethal Weapon is going to help fans ring in the new year in an exhilarating fashion with the winter premiere on January 1.
It does look like the particular car chase being showcased in the trailer is going to have an entertaining twist. In a blink-and-you-miss-it moment, the sign on the side of the truck reads "Green Harvest Dispensary." Honestly, if that episode doesn't feature at least one person in the precinct winding up baked, what would be the point?
Speaking of drugs, I'm not altogether convinced that the tease of Cole interrupting Natalie and Andrew's wedding is based in reality. Could it be a drug-induced hallucination? A dream sequence? The result of being hit over the head one too many times in the course of an hour? The possibilities for how it could be fake are endless.
Admittedly, it wouldn't be entirely out of character for Cole to want to interrupt Natalie's wedding, even if he did seemingly give his blessing to the marriage at the end of last week's episode. Still, unless there's a huge time jump between the end of the latest episode and the beginning of the winter premiere, I'm going to have a hard time believing that Natalie could have thrown together a full church wedding (including flowers and a dress!) so quickly. There are some things even too unrealistic for Lethal Weapon!
Unfortunately, the trailer didn't give away much in the way of details regarding the interrupted wedding or anything else that's going to happen. Damon Wayans hasn't indicated a change of heart from when he announced his intention to leave the series at the end of Season 3; if that's still the case and Lethal Weapon intends to continue without Murtaugh just as it continued without Riggs, then there are some big twists in store in the second half of the season!
As actress Keesha Sharp explained to CinemaBlend, Lethal Weapon could certainly evolve to continue without Murtaugh, if such a thing became necessary. The new maverick partner for Bailey could certainly help compensate for his departure, and there are all kinds of options. Join me in crossing fingers that Lethal Weapon will soon be out of danger of cancellation!
Lethal Weapon returns to Fox with new episodes starting Tuesday, January 1 at 8 p.m. ET. For more important TV dates in the not-too-distant future, check out our midseason TV premiere schedule.
Resident of One Chicago, Bachelor Nation, and Cleveland. Has opinions about crossovers, Star Wars, and superheroes. Will not time travel.
Your Daily Blend of Entertainment News
Thank you for signing up to CinemaBlend. You will receive a verification email shortly.
There was a problem. Please refresh the page and try again.