Wicked Tuna Star William Hathaway Has Died At 36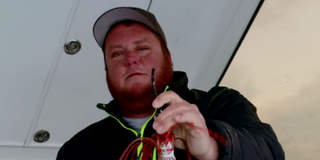 Fans of the Nat Geo fishing series Wicked Tuna received some very sad news recently, when it was announced that one of the show's memorable featured fisherman has died. William Hathaway died when his truck was involved in an accident in Salisbury, Maryland. He was best known for his status as first mate on the Foolish Pleasures fishing boat. He was 36 years old.
William Hathaway died on Saturday, December 15 after his vehicle veered into a ditch on Old Ocean City Road in Maryland. State police received a call from a concerned citizen around 4:10 p.m. that day, reporting the truck in the ditch. By the time emergency personnel and state troopers arrived on the scene, Hathaway was not breathing and was slumped over the center console, according to police (via USA Today (opens in new tab)).
He was then transported to Peninsula Regional Medical Center and pronounced dead. The tale has an especially tragic twist, as William Hathaway reportedly called his wife after the accident, telling her that he was okay. He told his wife that he'd had to swerve into a ditch when somebody turned in front of him, and she could hear him tell bystanders who stopped to check on him that he was okay.
According to authorities, the damage to William Hathaway's truck was minimal and the airbag did not deploy. The damage to the truck was reportedly not consistent with fatal injuries to the driver. Police continue to investigate the incident. Hathaway is survived by a wife and young daughter.
News of his death undoubtedly rocked the Ocean City fishing community, as Foolish Pleasures and therefore William Hathaway were based out of Ocean City. Members of that community wasted no time in setting up a fundraising page on Facebook with the goal of helping Hathaway's widow, Mary, and their newborn daughter, Mary.
Here is the message shared on the Facebook page:
At the time of writing $64,054 of the target $250,000 has been raised for Mary and Molly Jean Hathaway. Given that this amount has been raised in only two days, perhaps it's possible that the Ocean City fishing community will be able to raise their goal sum. Only time will tell. Sadly, William Hathaway isn't the first Wicked Tuna fisherman to pass away this year. Nick "Duffy" Fudge passed away at the age of only 28 back in July.
Resident of One Chicago, Bachelor Nation, and Cleveland. Has opinions about crossovers, Star Wars, and superheroes. Will not time travel.
Your Daily Blend of Entertainment News
Thank you for signing up to CinemaBlend. You will receive a verification email shortly.
There was a problem. Please refresh the page and try again.