What All The Former NCIS Cast Members Are Doing Now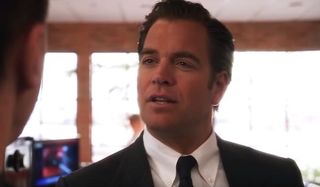 When any show is on television for as long as NCIS has been, it's bound to lose a few key cast members along the way. Those who have stuck with the program know that all too well as beloved actors and actresses have moved on for one reason or another. For those who have wondered what those folks have been up to in the time since they've left, we've got the answers.
Sasha Alexander - Caitlin "Kate" Todd
Sasha Alexander came and went on NCIS rather early in its run, as her stint as Caitlin Todd, or "Kate," began in Season 1 but only lasted two seasons. Though the former Secret Service agent was killed and Alexander was written off in Season 2, her character has been referenced many times and was even brought back in future seasons through the use of deleted scenes from prior episodes, voice-overs, and CGI.
The circumstances behind Sasha Alexander's NCIS departure are a bit strange, as the actress has alluded she's barred from talking about the exact reasons she left. Donald P. Bellisario said the reason was that Alexander couldn't keep up with the shooting schedule and wasn't conditioned to being on a series long term. Whether that's all that it was will remain a mystery for the time being.
Things have gone well for Sasha Alexander since, with her longest television stint having happened as Maura Isles on Rizzoli & Isles. She's been active in both film and television since NCIS, with her latest projects a role in the BMX film Ride, and a guest spot on Law And Order: Special Victims Unit. Alexander has nothing in the immediate future, but with her long resume in Hollywood, it's hard to imagine her next role isn't just around the corner.
Lauren Holly - Jennifer "Jenny" Shepard
The NCIS got a new director in Season 3, as Jenny Shepard came to the team with prior ties to Gibbs. The two worked together in previous years, and the reunion sparked up feelings that resulted in casual flirting between them during her tenure. Shepard was killed off in Season 5 after a botched operation from her past came back to haunt her. Her death was felt throughout the entire team, especially with Gibbs.
Lauren Holly kept busy following her NCIS exit with a good number of film and television appearances. Following a long stint on ABC's Motive, Holly is still holding a steady stream of roles on television. Her most notable recent role was a guest spot on Lucifer, and she was also a part of the cast of UPtv's television holiday film Christmas Catch. Holly has a couple of smaller films in post-production, so expect to see more from her soon.
Cote de Pablo - Ziva David
Cote de Pablo's Ziva David was brought in to replace Sasha Alexander's Kate, but the two characters had their clear differences. Ziva was actually the half-sister of the man who killed Kate, who she then killed. Ziva's run on NCIS lasted from Season 3 and was celebrated by fans who loved the Israeli character's attitude and particular chemistry with DiNozzo. Ziva eventually resigned from the NCIS in Season 11 and was presumed dead in Season 13.
Cote de Pablo followed up NCIS with a short run in the CBS miniseries The Dovekeepers and was involved in the film The 33 the same year she left. After Syfy passed on a pilot she was a part of in 2016, Cote de Pablo is back and trying to make a career behind the camera. Specifically, she's on board as an executive producer for an in-development project called MIA, which could be picked up by CBS.
Michael Weatherly - Anthony "Tony" DiNozzo
Anthony DiNozzo was rough around the edges at first, but future seasons of NCIS polished him into one of the show's best characters. The world would've let DiNozzo and his love of movies, women, and justice carry on forever, but Michael Weatherly finally decided it was time once he felt there wasn't much more for him. After 13 seasons, DiNozzo left the team to care for his and Ziva's daughter he hadn't previously known about.
Michael Weatherly slipped into Bull, which has been his home ever since leaving NCIS. There's been some drama on that front, although Weatherly's former NCIS co-stars have had his back after his confessions to inappropriate jokes while on the Bull set. Weatherly also has that project MIA in development with Cote de Pablo. Neither star is expected to lead. It's a shame, of course, because fans would be all over a show that featured the two reuniting.
Jennifer Esposito - Alexandra Quinn
Alexandra Quinn was one of the quickest main character exits of the show's history as Jennifer Esposito left the program after only one season. The character, who had trained McGee, Bishop, and Torres, gracefully exited the program after a call from her mother led her to return home to care for her. Quinn's sharp wit and intellect would've been a great asset to the team, but alas, it wasn't meant to be.
Like many actors and actresses in Hollywood, Jennifer Esposito is on her way into the wide world of superhero programming with a key role on The Boys. Esposito will play CIA director Susan L. Rayner and will appear in about 5 episodes of Amazon's upcoming original series. Esposito will also be a part of an upcoming mafia movie called Apalachin, which involves the historic meeting of crime bosses in New York.
Duane Henry - Clayton Reeves
Clayton Reeves found his was onto NCIS in Season 13 via a connection with DiNozzo, who he worked with overseas as an MI6 officer. Reeves later joined on as part of the International arm of the outfit, and established a rivalry with Torres and a penchant for popping up unexpectedly with details on a case. Reeves' ride came to an end in Season 15 when he was murdered by a hitman trying to kill Abby.
Duane Henry's future post-NCIS remains wide open, but for those desperate to see him again somewhere, look no further than Hallmark. His TV Movie A Gingerbread Romance is the perfect holiday film for an NCIS fan, and really the only recent option for someone looking to see something new with him in it. That said, Henry's past resume is extensive so don't expect to see him out of the spotlight for too long.
Pauley Perrette - Abby Sciuto
Pauley Perrette's Abby Sciuto is perhaps the most iconic character of NCIS. As one of the few Goths to have graced primetime, Abby had many fans thanks to her happy attitude and usefulness to the task force. After 15 seasons, Abby resigned after surviving an assassination attempt. Abby followed the body of Clayton, who died as a result of the attempt, back to England to start a charity in his name.
Abby got a semi-happy exit on NCIS, but the reason behind Pauley Perrette's exit was a different story. The actress alleged multiple physical assaults led to her exit, and that rich and powerful forces were feeding false stories around her exit to cover things up. Perrette still has yet to reveal specifics of what happened, but needless to say the allegations are disturbing, to say the least.
Pauley Perrette spent 15 years of her life on NCIS, so it's understandable that she hasn't jumped into anything immediately following her exit. Though acting hasn't been on the docket for the actress as of late, she continues to be an activist for Civil Rights and other social causes. Hopefully she'll make a television return in the future, although her father has said she's enjoying her time off. Perrette's big return may never come!
NCIS (opens in new tab) airs on CBS Tuesdays at 8:00 p.m. ET. Keep tabs on all new television shows coming in the near future with our midseason premiere guide, and be sure to vote in our poll for which character would make for the most exciting return on the program, be it by comeback, flashback, or dream sequence.
This poll is no longer available.
Mick likes good television, but also reality television. He grew up on Star Wars, DC, Marvel, and pro wrestling and loves to discuss and dissect most of it. He's been writing online for over a decade and never dreamed he'd be in the position he is today.