Jeopardy Has Gotten A Big Ratings Boost Thanks To James Holzhauer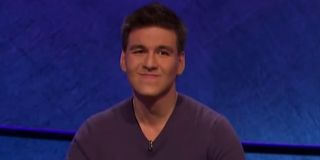 James Holzhauer's run on Jeopardy! has been quite the spectacle to see. With frequent records being broken, and big bets being wagered by the competitor left and right, Holzhauer has successfully grabbed America's attention. It's paid off in the ratings department for the long-running game show, too, and viewership is on the rise across the country for Jeopardy!
Jeopardy! getting a 9.2 market rating from Nielsen's latest report, surveying the 56 largest local TV markets in the U.S. That number, which is very different from the usual age demographic rating that advertisers hold dear, means that in the most-watched week of his run, an average of 9.2% of all television audiences in those areas tuned into Jeopardy! to see James Holzhauer destroy the competition.
It's quite the climb from his first week run on the program, which netted a 6.5 market rating, and the numbers show that was even a step up from the prior week's 8.5 tally. Clearly, more and more people are getting invested in James Holzhauer's record-smashing run as it continues.
Another ratings win came the same night Holzhauer took the record for Jeopardy!'s second-longest win streak, according to CNN. That episode is currently the highest-rated episode of the season, but like James Holzhauer's own records thus far, it could still be topped. Jeopardy! averaged 9.8 million viewers prior to the contestant's run, but that number increased to 10.1 in the first three weeks of his win streak.
In the third week of James Holzhauer's run, Jeopardy! was the number one syndicated show on television. It's a feat that the beloved game show hasn't accomplished since its 2014-2015 season, and it may not have taken that prize had Holzhauer not been on such an impressive tear and wowing Jeopardy! legends like Ken Jennings with his intense betting strategy and vast trove of trivia knowledge.
Now, Holzhauer's ratings are good, but they're not "Ken Jennings good." It's kind of unfair to compare Jennings' original run to Holzhauer's current one, due to the vast changes in TV-viewing behavior, but Jennings' 72-day stint did net better ratings on a base level. THR reported Jennings masterful streak got Jeopardy!'s ratings to increase by 22%, compared to the on-average 10% increase that Holzhauer's episodes have brought in for his winning weeks.
Jennings is still king where those ratings are concerned, but one would imagine Holzhauer's numbers will spike the closer he gets to the mythical champion's record. He's still got quite a road to travel to break the win streak, but he might surpass Jennings' winning totals much quicker than the champ amassed his winnings. Hypothetically speaking, that creates some potentially big television moments for Holzhauer and Jeopardy! that could eclipse Jennings' run.
Both Holzhauer's streak and Jeopardy!'s ratings still have chances to grow, as the competitor won his most recent match on Friday, and elevated his overall winnings to $1,691,008. That's where they'll stay for another couple weeks, however, as he'll get some time away from the show so that it can host its annual Teachers Tournament. Once that is complete, Holzhauer will continue until someone either topples the champ, which isn't an outright impossibility, or when Season 35 ends for the summer.
It is very difficult to conceive who could beat him, however, as Holzhauer's vast trivia knowledge and aggressive betting ensures he can take quite a substantial lead on opponents in the game. By the game's end, it's often mathematically impossible for any competitor to beat him, and it'll likely continue on in that fashion, unless of course James Holzhauer would illogically bet so much that he falls beneath another competitor.
It's possible something like that could happen in an extremely rare moment of lapsed mathematical skills, but given how careful he's been thus far, it doesn't seem likely he'll fall out of this competition due to greed or bad math. But that's about as likely as Holzhauer suddenly forgetting how to use the buzzer to ring in.
Jeopardy! will return with James Holzhauer back in the champion slot in a couple weeks, but until then, somebody else will have a chance to win episodes for a change. Stick with CinemaBlend for more updates on the game show, as well as the latest headlines on popular television, movies, and pop culture.
Mick likes good television, but also reality television. He grew up on Star Wars, DC, Marvel, and pro wrestling and loves to discuss and dissect most of it. He's been writing online for over a decade and never dreamed he'd be in the position he is today.
Your Daily Blend of Entertainment News
Thank you for signing up to CinemaBlend. You will receive a verification email shortly.
There was a problem. Please refresh the page and try again.