Game Of Thrones Star Posted A Beautiful Tribute To Killed-Off Season 8 Character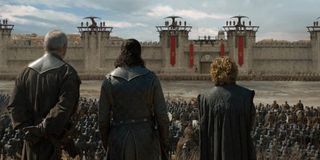 All the spoilers for HBO's fantasy drama are ahead, I assure you. If somehow you are still behind, what were you thinking clicking on this article?
Game of Thrones actually had a fairly uneventful fourth episode, particularly given how insane "The Long Night" had been a week previously. Regardless, it did end with a big death, as Daenerys Targaryen met with Cersei to try to avoid battling on the streets in King's Landing, particularly after Euron Greyjoy took down one of her dragons and captured Missandei.
It was clear very quickly that Cersei Lannister had no intentions of peace and ultimately decided to sacrifice Missandei in front of Dany's delegation. It was a tragic moment and in many ways Missandei ultimately was a sacrificial pawn on a larger chess board.
For actress, Nathalie Emmanuel, however, although her Game of Thrones story has ended, the part and her larger love story with Grey Worm was life-changing for the actress. She shared a thoughtful nod back at her work on the HBO series through a touching post. You can check it out below.
Prior to the release of Season 8 of Game of Thrones, Grey Worm actor Jacob Anderson talked about how the series is constantly keeping the fans guessing, not only in terms of who will die and how they will die, but also whether death is even permanent. Some characters, including but certainly not limited to Jon Snow, have already returned on the series.
Regardless, given there are only a couple of episodes left of the long-running fantasy drama, and given Nathalie Emmanuel seems to be officially saying goodbye to Game of Thrones here in her post, this ending seems permanent for the character.
Which is a shame, because Missandei was always the calm beside Daenerys Targaryen's storm. She was also one of just a few actors of color on the show during the long eight seasons and she was one of the longest-running characters on the show. Although not a lead on Game of Thrones, her death should act as a catalyst for what is to come on the show.
Nathalie Emmanuel joined Game of Thrones back in 2013, during Season 3 of the series. Her arc had her becoming a world traveler and a loyal supporter to her queen, Daenerys Targaryen. During her final episode, Missandei went out in a way that still showed support to her queen, as her final line was, "Dracarys." She also left behind her love, Grey Worm, and there was definitely a faction of fans out there hoping the two could realize their happy ending in a much warmer climate after all this fighting was over.
Unfortunately, as we saw last week, not everyone has shown such unwavering loyalty to Daenerys Stormborn in recent weeks as Grey Worm and Missandei did. In fact, this week it looks as if Varys trying to put the kingdom before his own personal safety may be his undoing. More on that and other Game of Thrones theories only at CinemaBlend. Game of Thrones airs on HBO on Sunday nights at 9 p.m. ET.
Your Daily Blend of Entertainment News
Reality TV fan with a pinch of Disney fairy dust thrown in. Theme park junkie. If you've created a rom-com I've probably watched it.