Swamp Thing Review: DC Universe's Eco-Superhero Tale Is Convincingly Creepy And Menacing Fun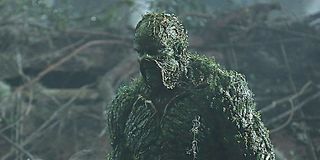 (Image credit: dc universe press)
With Titans and Doom Patrol, DC Universe quickly established itself as a primo home for unique and envelope-expanding comic book television. We're talking about shows involving demons, an invisible man, a consciousness-embedded robot and more. It's the natural setting for the ecological creature-hero Swamp Thing, whose self-titled return to the small screen is impressively creepy, looks fantastic, and effectively balances its humanity with its deadly monstrosities.
First hitting the comics scene in 1971 from creators Len Wein and Bernie Wrightson, Swamp Thing enjoyed a decade-ish-long heyday in the 1980s and early '90s via a Wes Craven film (and sequel), a USA TV show, and a Fox Kids animated series. DC Universe's Swamp Thing harks back to the peaks of Craven's horror legacy, but it may well eclipse every other non-comic entity in the franchise.
Swamp Thing sets up some familiar narrative pieces for longtime fans, though not without twists and turns written into the 10-episode first season. The story kicks off as one would expect, with people realizing some danged strange shit is afoot in that thar swamp. Enter Crystal Reed's Abby Arcane.
This version of Abby Arcane grew up in Marais, Louisiana, where unfortunate events occurred that caused her to skip town. Eventually, Abby became a doctor within the CDC, and once things start going haywire back in her old stomping swamps, she takes charge and returns to South Louisiana to make some scientific analyses. Much easier said than done, of course.
Crystal Reed, a veteran actress of Teen Wolf and Gotham, immediately makes Abby feel like a genuine, lived-in character. Abby isn't exactly a hero getting a wide welcome, and her emotional fortitude is quickly tested once the skeletons in her closet get their bones rattling. She does have some friends there to provide support and levity, though, which gives Reed a satisfying assortment of tonal targets to hit.
The mysterious swamp goings-on are also of interest to biologist Alec Holland, as played by Andy Bean, who factors into another major horror release in 2019, IT Chapter 2. Alec is busy researching the swamp as part of an assignment for the power-wielding businessman Avery Sunderland, who relies on swamp life for subsistence, as do many of the other locals.
Alec's choice to put weird science over his personal reputation makes him as much of a semi-pariah as Abby in town, so it makes sense for them to put their brains together for investigative purposes. The characters' time together isn't extended, but enough of a bond is developed to plausibly set up their continued connection after Alec – not a spoiler – goes missing, with Swamp Thing appearing suspiciously soon afterward.
Actor Derek Mears, who most memorably portrayed Jason in 2009's Friday the 13th reboot, takes on the physical role of Swamp Thing, and it's seemingly a perfect fit. (The titular hero admittedly didn't have a large presence in the episodes available for review.) Swamp Thing's look is a cross between a well-crafted physical costume and the addition of CGI vines and tendrils that envelop his and other bodies unlucky enough to fall victim to whatever exists in that swamp.
Swamp Thing excels in many ways, and the way the series consistently downplays over-the-top moments stands out as a big plus in the early episodes available for review. The narrative comes across as grounded, not because the creative team got exhaustive in the minutiae, but because the performances and the score simply aren't over-extended for dramatic impact. There is some mild camp to be found if one looks hard enough, but Swamp Thing expertly cuts the genre fat to keep audiences locked into the suspense.
Speaking of suspense, Swamp Thing brings character spins to Avery and Maria Sunderland, portrayed respectively by Halloween's Will Patton and Designated Survivor vet Virginia Madsen. The couple has stakes that work both with and against Alec and Abby's goals, partly because they suffered the hardest from Abby's history in Marais. The Sunderlands clearly have villainous motivations, and Swamp Thing appears to be grounding them in human nature as opposed to more megalomaniacal goals.
Before covering the supporting characters, it's worth taking the time to applaud Swamp Thing's creative team for keeping things rooted in horror, pun mostly intended. One of the DC Universe series' co-developers is DC Comics vet Mark Verheiden, whose TV credits include Ash vs Evil Dead, Constantine, Daredevil, Battlestar Galactica and more. The other is Gary Dauberman, writer of the Annabelle films – he directed the impending Annabelle Comes Home sequel – and The Nun, as well as IT (credited with Chase Palmer and Cary Fukunaga), IT Chapter 2 and the upcoming Salem's Lot adaptation.
Furthering the Conjuring franchise's influence is filmmaker James Wan and Atomic Monster's Michael Clear, who serve as executive producers on Swamp Thing. Wan's penchant for spooky aesthetics and smart CGI is ever-present in Swamp Thing, which is also executive-produced by Len Wiseman, the filmmaker behind the Underworld franchise who also created the Sleepy Hollow TV series. Wiseman also directed the premiere episode. Obviously, Swamp Thing has more than enough talent behind the scenes to be a hit.
Which brings us to the rest of the ensemble cast of characters, with many taken from the comic pages. Riverdale recurrer Henderson Wade plays the pragmatic Deputy Matt Cable, son of Sheriff Lucilia Cable, played by Flashdance and The Night Shift vet Jennifer Beals. Channel Zero: The Dream Door's Maria Sten plays Abby's friend Liz Tremayne, a local reporter who has some hunches about the swamp-set madness.
Then there's The Walking Dead vet Jeryl Prescott as the mystical Madame Xanadu and Beverly Hills 90210 alum Ian Ziering as Daniel "Blue Devil" Cassidy. (Yes, Ziering brings that signature Sharknado verve to Swamp Thing.) We also have Westworld's Leonardo Nam as Abby's CDC underling Harlan Edwards, with The Strain's Kevin Durand appearing as biogeneticist Jason Woodrue, who has his own monstrous alter ego to potentially turn into.
Within that supporting cast lies a source of Swamp Thing's early growing pains. A lot of narrative and character threads are set up in the first episodes, which sacrifices moments that might have been better locked on Abby and/or Alec. It might have made more sense to stagger certain introductions out, as Season 1 went on, though I do get that ten episodes isn't an infinite timespan for the creators to work with.
For anyone who doesn't mind extended and atmospheric set-ups, though, Swamp Thing will be a breath of fresh air, both as a comic adaptation and as a horror TV series. The embrace of physical effects over CGI is welcomed, as is the masterful way digital effects do get used for the show's more visceral and gory scene dressing.
Swamp Thing's cold open, in particular, lays out the basic blueprint for viewers in a pretty brilliant way. Using some Evil Dead-esque P.O.V. camerawork to denote the swamp entity's pursuit of its potential new victims, the shots keep the CGI work mostly limited to the rapidly growing plant-life taking its prey. Thankfully, the series looks to be keeping that effective mash-up going throughout the first season.
DC Universe has another successful original with Swamp Thing, which follows in Doom Patrol's footsteps in proving that the less traditional corners of DC Comics' library are well worth exploring for premium TV services. Swamp Thing is a winner for both longtime fans and franchise novices, and it sets the bar for where DC can go within darker genres. Hopefully we'll get more of Alan Moore's mythology worked in as time goes on, too.
Swamp Thing will make its highly anticipated premiere on DC Universe on Friday, May 31, and will release new episodes weekly. Be sure to make it part of your regular summer TV viewing, and stay tuned for more details about other shows coming to the DC Universe streaming service and beyond.
Your Daily Blend of Entertainment News
Assistant Managing Editor
Nick is a Cajun Country native, and is often asked why he doesn't sound like that's the case. His love for his wife and daughters is almost equaled by his love of gasp-for-breath laughter and gasp-for-breath horror. A lifetime spent in the vicinity of a television screen led to his current dream job, as well as his knowledge of too many TV themes and ad jingles.