The 15 Best Superhero TV Shows Of 2018, Ranked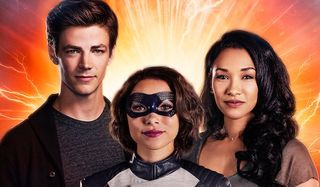 It's a bird! It's a plane! It's Tyler Hoechner's Superman, along with non-visual references to Man of Steel iterations across 2018 TV! The past year has seen more comic book shows than ever, taking primetime television to wildly heightened peaks, with superhero-focused series taking up a healthy chunk of comic-sourced entertainment. Even beyond established favorites, the year introduced a heap of vigilantes and villains who were completely new to live-action.
Here, we're celebrating the 15 best superhero shows of 2018, ranked by how awesome, action-packed, emotionally effective and fan-friendly they were, combined with lots of other subjective hot-take viewpoints. Keep in mind that just because a few superhero shows were left off this list, that doesn't mean they were considered awful or unwatchable -- it just speaks to how many superhero shows were on the air this year.
Mild spoilers below for certain shows' storylines and characters, so be warned for series you're not caught up with.
15. Krypton - Syfy
Syfy doubled down on the "origin story" concept by digging deep into Superman's family history for Krypton, which focused on Kal-El's grandfather, Seg-El, as portrayed by Cameron Cuffe. It's less about saving people from exploding skyscrapers, and more about the shifts of power within a soon-to-be-dying planet's political system.
What Makes It Great: Krypton embraces its comic book roots with a wraparound narrative that involves Shaun Sipos' Adam Strange going back in time to warn Seg-El of the planet's future, and of his family's impact on Earth. The future angle allows for familiar elements to enter into a plotline that hasn't been done to death already.
What Wasn't So Great: Early episodes took some getting used to, and while Krypton definitely gets more enjoyable as its freshman season goes forward and broadens its horizons, Kryptonian politics and class systems don't make for the most attention-grabbing dialogue.
What's Next: Syfy ordered up Season 2 ahead of the first season's finale, with comic favorite Lobo and more joining the fun.
14. Jessica Jones - Netflix
After a highly successful first season, guided in part by David Tennant's psychological warfare as Kilgrave, Jessica Jones dropped Season 2 as Netflix's first Marvel offering of 2018. This time around, a different area of the titular heroine's past was explored, for better or worse.
What Makes It Great: First and foremost, Krysten Ritter is endlessly watchable as the brash yet selectively tender Jessica, and it's always fun to watch her throw criminals through walls. Season 2 also featured rather solid performances from Eka Darville as neighbor/employee Malcolm and Janet McTeer as Jessica's mother Alisa.
What Wasn't So Great: Alisa's story, along with the rest of Season 2, could have been whittled down into a six-episode arc or so, with the rest of the season going in different directions with a genuine antagonist and more expansive stakes. The 13 episodes were far too many, especially without other heroes around to spice things up.
What's Next: Jessica Jones Season 3 is hitting Netflix in 2019, although expectations are fairly grim, considering what happened to the other Defenders' shows. Plus, the creator is now working on...other things.
13. Marvel's Runaways - Hulu
After a successful first season on Hulu, which was criticized for not having its heroes adhering to their titular description, Marvel's Runaways returned to Hulu for a second season that finally put the teens on the run while further complicating their relationships with their parents and one another.
What Makes It Great: The generational Offspring vs. Parents angle was already an amazing hook, and Season 2 makes that battle more palpable, giving the kids more experience with their various abilities. To that end, Runaways excels at showing audiences that being a superhero cannot reverse or dampen all the woes that come with being a teenager.
What Wasn't So Great: Creators Josh Schwartz and Stephanie Savage imbued Season 1 with the sharpened claws that drove their previous collaborations Gossip Girl and The O.C., but Season 2 is like the fan-fiction version of that. Too often, storylines and dialogue fall into trope-driven territory that lacks the biting wit and semi-subversion that made the freshman season stand out.
What's Next: Hulu released the second season of Marvel's Runaways in the final two weeks of 2018, and no news has surfaced yet about Season 3 chances.
12. Luke Cage - Netflix
The second Marvel series season to hit Netflix in 2018, Luke Cage returned with new villains and a new mindset for its seemingly bulletproof hero. Season 2 fixed some earlier issues, but any potential for Season 3 was dashed when it got cancelled.
What Makes It Great: While Luke Cage's now-infamous dab did not win anyone over, it was indeed more fun to watch Mike Colter embracing the hero's local celebrity status while also ramping up his confidence as Harlem's arguable saving grace. Plus, Simone Missick was even more impressive as the justice-seeking and spinoff-deserving Misty Knight.
What Wasn't So Great: Similar to the pacing issues that have plagued other Netflix series, both Marvel shows and otherwise, Luke Cage Season 2 took too long to lay out the power-hungry triangle that Luke shares with Alfre Woodard's Mariah and Mustafa Shakir's new villain Bushmaster, with the latter nonetheless an interesting threat.
What's Next: After being cancelled by Netflix, the character Luke Cage will have to take a couple of years off from live-action appearances, though it's possible the hero could return to Marvel projects in the future, with or without actor Mike Colter.
11. Black Lightning
Rather than continuing to expand its hero-heavy Arrow-verse, The CW went the standalone route in bringing Black Lightning to TV in 2018. Black Lightning is only the second black superhero to lead a superhero TV series, and star Cress Williams has been positively perfect for the role.
What Makes It Great: In many ways, Black Lightning is as much about the social and racial injustices happening in Freeland as it is about Jefferson Pierce's second rise to power as the electricity-charged vigilante. These are definitely not the kinds of angles that get addressed on The Flash or Agents of S.H.I.E.L.D., and the drama has a stellar cast turning in grounded performances.
What Wasn't So Great: Starting as a tightly plotted midseason entry, Black Lightning expanded its episode count for Season 2 and also started tacking on more and more characters (from the comics and not) that have watered the focus down by making the story a bit too busy and erratic. It's still great, but could excel further by slowing things down in certain areas.
What's Next: Season 2 still has six episodes left, which will hit The CW in 2019. Future seasons are a mystery, though, as creator Salim Akil was recently hit with a lawsuit over allegations of abuse and breach of contract.
10. Supergirl - The CW
Supergirl kicked off 2018 by bringing in Brainiac 5 of the Legion of Super-Heroes, and closed the year out with its "Elseworlds" finale, which unlocked the pathway to "Crisis on Infinite Earths," which could have gigantic ramifications on the Arrow-verse. All in all, a pretty good year for the Kryptonian badass.
What Makes It Great: In short, Melissa Benoist remains a dose of sunshine, and much applause goes to transgender actress Nicole Maines' introduction as Nia Nai. Season 3's Reign continued Supergirl's character development through comparing and contrasting Kara's values and ideals with those of her enemies. Supergirl's creative team shot for a more divisive real-world reflection in Season 4 with Sam Witwer's Agent Liberty, a vengeful supremacist aiming to eradicate all aliens from Earth.
What Wasn't So Great: As it goes with Arrow-verse shows in general, Supergirl features as many so-so storylines and character beats as it does hallmark moments and standout episodes. Its comic-to-IRL balance is somewhat polarizing within the fanbase, and it grasps certain issues with heavy-handed gloves. The drama also heaped on the new characters in Season 4, adding perhaps too many moving parts to the hot-button story.
What's Next: Supergirl will wrap up the second half of Season 4 in January, and it's presumed that The CW will announce a Season 5 renewal in the spring.
9. The Tick - Amazon
Few could have expected Amazon to dive feet-first into a new live-action series based on indie comic hero The Tick, but it definitely won over anyone who did have such lofty expectations. The second batch of Season 1 episodes premiered in early 2018, concluding The Tick and Arthur's troublesome efforts to take down The Terror.
What Makes It Great: Peter Serafinowicz and Griffin Newman are pitch-perfect as the blue behemoth and his mothy sidekick, respectively, adding depth and pathos to characters that could be simple caricatures in others' hands. Throw in a fantastic supporting cast of oddball heroes and villains, and creator Ben Edlund's absurdist sense of humor, and you have the most unique entry on this list.
What Wasn't So Great: For one, more episodes in 2018 would have been great, since six great episodes just weren't enough. As well, the show's self-aware and metatextual comedy is no longer so unique after Deadpool and LEGO Batman completely upended that angle. (Still, it's not like superhero comedies are anywhere near a saturation point, yet.)
What's Next: Amazon ordered up Season 2 before The Tick's first season had returned, so that's as good a sign as any that "Spoon!" will be echoing in our houses for a while yet.
8. Cloak & Dagger - Freeform
Since comic book TV is still a relatively recent phenomenon, networks have largely stuck to household-name characters for new adaptations. The youth-skewing Freeform, however, went with DC Comics' emotional teen duo of Tyrone "Cloak" Johnson and Tandy "Dagger" Bowen, resulting in a surprisingly excellent show.
What Makes It Great: Stars Aubrey Joseph and Olivia Holt deliver two of the most effectively understated performances of any show on this list. Cloak & Dagger showrunner Joe Pokaski, who shifted the narrative to New Orleans, thankfully crafted a character-driven origin tale, as opposed to a first season sparked by hyperbolic threats of chaos and destruction. Their powers, respectively tied to seeing others' deepest fears and hopes, make Cloak and Dagger truly unique on the small screen.
What Wasn't So Great: The season's intentional slow-burn approach probably isn't everyone's favorite way for a show to pull back the layers of its mysteries and plotlines. Plus, as comic-esque as the reveal of Cloak & Dagger's main conflict may be, its rather preposterous nature is at odds with the less fantastical world that Tyrone and Tandy call home. As were J.D. Evermore's performance as the love-to-hate Detective Connors, and Andrea Roth's theatrical scenes as Tandy's substance-abusing mother.
What's Next: Season 2 was ordered up by Freeform in the middle of the first season, and fans can expect Cloak & Dagger to return to primetime during or after Summer 2019.
7. Arrow - The CW
Arrow wrapped up its sixth-season fight against Michael Emerson's Cayden James by having Oliver go public with his Green Arrow persona, sending him to prison for the first half of the seventh. Under new showrunner Beth Schwartz, Arrow brought in several new plot points in Season 7 that offered refreshing jolts, even though we've yet to see how it'll all shake out.
What Makes It Great: Season 6 thankfully excised Oliver's five-year flashback arc, while Season 7 introduced an interesting selection of flash-forwards that hint at a vastly different future for Star City and its elite vigilantes. Removing Oliver from the team could have been disastrous, but his time in Slabside delivered some of Arrow's most impressive fight sequences in these latter years, and gave the female stars more time to shine in various contexts.
What Wasn't So Great: It has to be daunting to keep Arrow-verse seasons afloat for more than 20 episodes each season, and Season 6's plotting got understandably muddled in the latter half. As well, Arrow has sporadic issues giving certain leads and recurring characters enjoyable and fleshed-out storylines, which did get better in Season 7.
What's Next: Following the "Elseworlds" crossover, Arrow will bring Oliver into the out-of-prison fold for the back half of Season 7, where the Longbow Hunters will continue to cause trouble. Expect a Season 8 renewal in the spring.
6. The Flash - The CW
For the second half of Season 4, The Flash continued The Thinker's body-swapping plot to evolve the human race via The Enlightenment. The Scarlet Speedster's fifth season followed that up with some time-traveling pizzaz via Jessica Parker-Kennedy's daughter-from-the-future Nora West-Allen, whose introduction has allowed for quite a few stellar callbacks to all of the previous seasons.
What Makes It Great: The Thinker storyline took a few too many weird detours, but gave Team Flash a chance to defeat a non-speedster Big Bad, and in a way that cleverly fed directly into Season 5's storyline. Nora's presence had added more emotional heft than expected, and she's responsible for an assembly line of comic easter eggs and Flash callbacks. As well, The Flash featured the silliest "Elseworlds" crossover installment, with a strong focus on Barry and Oliver's similarities and differences. Admittedly, I still can't tell if Tom Cavanagh's Sherloque Wells is genius or heinous.
What Wasn't So Great: Season 4's bus metas weren't interesting enough to justify that extended storyline, even if the Ralph angle worked well in and of itself. For all the exciting places that Season 5 has gone already, Nora's overzealous immaturity can be grating at times, especially without full context. I'm also no longer convinced that Chris Klein's Cicada was worth all the initial hype.
What's Next: The Flash will return to The CW for the remainder of Season 5, which will assumedly look deeper into why Nora West-Allen really showed up in Barry and Iris' life. As the most-watched of the Arrow-verse shows, The Flash is almost definitely destined for a Season 6 renewal in the spring.
5. Agents of S.H.I.E.L.D. - ABC
ABC changed things up for Agents of S.H.I.E.L.D. with Season 5, which came months later in the year than usual, following the network's unsuccessful Inhumans launch. It also took the story to drastically new places with world-altering consequences, and fans were definitely paying attention.
What Makes It Great: Similar to how Agents of S.H.I.E.L.D.'s narrative zigged and zagged due to MCU feature plots, the sci-fi-tinged Season 5 was split into distinct sections with different character motivations at hand, and different questions and twists to unpack. Not only did this give the ensemble cast completely different situations to play around with, but it also allowed enjoyable new characters to make an impact on the constantly shifting plot.
What Wasn't So Great: I mean, ABC could have released at least one new Season 6 episode in 2018, instead of choosing to hold everything off until a full year had gone by between seasons. But as for Season 5 itself, the multi-arc structure didn't eliminate all of the pacing issues that plague longer TV seasons, and the season's major threats weren't always the most captivating.
What's Next: The 13-episode Season 6 isn't going to premiere until July 2019, but fans can take comfort in the distant future, since Agents of S.H.I.E.L.D. has already gotten a Season 7 renewal.
4. DC's Legends of Tomorrow - The CW
Initially the most imbalanced entry in the Arrow-verse, DC's Legends of Tomorrow is now possibly the CW show that most comfortably embraces the absurd inherent logic required. The latter half of Season 3 and the opening chunk of Season 4 were fully on board with sending the titular heroes to whatever time period allowed for the most gags and adventures.
What Makes It Great: John Constantine's inclusion to the Legends team was a huge win for all involved, and the sheer variety of locations and timelines used is mind-boggling considering Legends of Tomorrow isn't exactly a gigantic ratings hit. Nearly every episode has at least one moment that serves as a one-of-a-kind TV highlight, such as that magnificent Godzilla homage from Season 4's "Tagumo Attacks!!!" Or Paul Reubens' hilarious turn as the puppet Mike the Spike.
What Wasn't So Great: I think everyone could have done with more Paul Reubens, more giant Beebo and maybe an entire half-season set at summer camp. Those might seem like foolhardy requests, but not much is off-limits for Legends of Tomorrow these days.
What's Next: The show will follow up on that timeline-distorting finale when it returns for the back half of Season 4 in 2019. Unfortunately, those episodes won't arrive until April, with Black Lightning taking Legends' Monday night slot in the midseason.
3. Gotham - Fox
With the fifth and final season pushed back until the early days of 2019, Gotham only had eleven episodes to show for itself in 2018. Thankfully, those episodes were more than enough to cement this batshit crazy drama's high placement on this list. I suppose one could argue that it's more of a supervillain show than a superhero show, but those arguments can go the way of Jerome Valeska.
What Makes It Great: Not to take away from the fabulous work done with 95% of Gotham's gigantic ensemble -- with Barbara and Ed getting notably fun turns -- the latter half of Season 4 belonged to Cameron Monaghan's cacophonous performances as the outwardly unhinged Jerome and his inwardly unhinged brother Jeremiah. The actor makes everyone else in a scene pop, and his Joker-esque presence is so effective, it's easy to misremember how often he actually appeared in Gotham's four seasons. Plus, his characters teamed up with Penguin and Scarecrow, which ruled.
What Wasn't So Great: Gotham's breathtaking highs generally dwarf its most awkward and ill-advised elements, and many of the latter were gloriously muted during Season 4's plot-hopping second half. Ivy 3.0's story definitely could have used some WTF oomph, though, and something about the Ra's al Ghul appearances rub me the wrong way. Plus, the insanity of the Jerome-Jeremiah transition did feel rushed within this limited span, so that could have been more spread out across the season. (Yes, that's just me shamelessly wanting more Cameron Monaghan.)
What's Next: Gotham Season 5 will kick off 2019 (on January 3) by showing off the aftermath of the "No Man's Land" plotline that separated Gotham City from the rest of the world. These next twelve episodes are all that's left, too, so you best believe I'll be savoring every moment.
2. Titans - DC Universe
To introduce the comic-friendly streaming service, DC Universe skewed dark with its flagship original series Titans, which revamped Robin, Raven, Starfire and Beast Boy's titular team for a superhero series unlike any other. All Season 1 episodes aired in 2018, with the producers deciding to cap things off one episode earlier than originally planned, wrapping up with a wildly off-the-cuff finale, complete with a WTF cliffhanger.
What Makes It Great: Debuting on an official DC Comics platform allows Titans to make comic-specific references and show off specific characters that have been completely off limits for TV shows in the past. Its intentionally diverse blending of tones and genres welcomes everything from street-brawling action to demonic psychological horror to surreal black comedy. (See the episode "Doom Patrol.") Titans proved in Season 1 that it'll try anything once, and it's a concoction full of delightfully weird surprises.
What Wasn't So Great: As a matter of taste, I fully acknowledge that not everyone will be as gung ho about Titans' tonal mashup, with the drama's most bleak and violent moments as dark as live-action superhero stories get. As well, the show's sexualized situations and elements, while not wholly graphic, largely feel like writers are checking off boxes, rather than aiding the storytelling.
What's Next: Titans already had Season 2 secured before Season 1 debuted, so the writing team was able to scope the upcoming plots earlier than they would have otherwise. The second batch of episodes will presumably debut in 2019.
1. Daredevil - Netflix
After two and a half years without a standalone season, Charlie Cox's Man Without Fear made his post-Defenders return for the highly anticipated Daredevil Season 3. The wait was absolutely worth it, expanding upon Matt Murdock's comic-sourced past while unwittingly closing out the character's overarching rivalries with both his own morality and with Wilson Fisk. To me, Season 3 even improved upon the debut season, which itself remains high on the list of the best superhero TV seasons of all time.
What Makes It Great: Without the supernatural brouhaha of The Hand around anymore, new showrunner Erik Olseon grounded Daredevil's third season within its characters and their tiered mindsets. Matt unknowingly connected with a mother he barely knew and tried coming to terms with the entirety of his life, shaking up his approach to vigilantism. New star Wilson Bethel provided some hectic T-1000 vibes as the villainous "Dex" Poindexter, which contrasted nicely with Vince D'Onofrio's meticulous Kingpin performance. Also, Karen's episode was the apex of that character's run.
What Wasn't So Great: The pacing, naturally, with some noticeable wheel-spinning happening on occasion. As well, the conclusion largely undercuts Matt's narrative thrust, making me wish these episodes had actually formed Daredevil's first season on Netflix. If I can get nitpicky, I'd even say that show's signature fight choreography lost steam, partly due to overuse in Season 3 itself, and partly due to The Punisher upping the ante with its own brutal long-form brawls. Still, twas a great time to be a Daredevil fan.
What's Next: Shocking everyone from diehard fans to the Season 4-planning creative team to Marvel execs, Netflix cancelled Daredevil around a month after Season 3 debuted, neutering any further plans for Matt, the proto-Bullseye and the rest. Despite the season's critical acclaim and reported popularity, Netflix's complicated rights issues with Marvel and Disney got more complicated once the Disney+ streaming service was announced, leaving us with lots of unanswered questions.
2019 is shaping up to be another gigantic year for fans DC, Marvel and other comic companies, so get ready for next year's list to be even more varied and expansive. Find out when some of those series will be debuting and returning by bookmarking our midseason premiere schedule.
Your Daily Blend of Entertainment News
Assistant Managing Editor
Nick is a Cajun Country native, and is often asked why he doesn't sound like that's the case. His love for his wife and daughters is almost equaled by his love of gasp-for-breath laughter and gasp-for-breath horror. A lifetime spent in the vicinity of a television screen led to his current dream job, as well as his knowledge of too many TV themes and ad jingles.