How Terry Crews Went From The NFL To America's Got Talent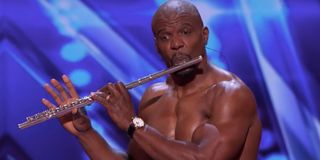 Terry Crews is a force of nature in the world of entertainment, with his current role as America's Got Talent's host being the latest move in a career of huge leaps and bounds. But Crews wasn't always the host of NBC's hot talent show, as there was a journey that took place launching him from his original career as an NFL player into various roles in films like The Longest Yard and White Chicks, as well as his other big TV gig as Sergeant Terry Jeffords on Brooklyn Nine-Nine.
While his profile as a performer has raised in relatively recent fashion, his professional life reaches all the way back to the '90s, back when he played pro ball for the NFL. That's where his story starts, and it's where we'll begin to talk about how Terry Crews went from athlete to entertainer.
Terry Crews' NFL Career
As a defensive end/linebacker, Crews worked his way through six years of history in his NFL career. Starting in 1991, Terry Crews played for the Los Angeles Rams, after being selected as an 11th round draft pick linebacker for the team. Throughout his career, which ended with his retirement in 1997, Crews also played for the San Diego Chargers and the Washington Redskins, before ending his run as a Philadelphia Eagle in the 1996-1997 season.
Throughout his run, Crews racked up 57 tackles and 39 assists over the course of 32 games played. While playing the great game of football, Terry Crews even took some time to play on an NFL Europe team, the Rhein Fire, which was based out of Germany. As a supplement to his NFL career, Crews would even take on courtroom sketching, and went on to eventually put those talents to use on some official NFL licensed artwork. Some may think of it as a hobby, but to Terry Crews, it was a gig that would lead to greater artistic ventures.
Terry Crews' Movie Career
While his big claims to fame wouldn't come for another couple of years in the worlds of movies and TV, Terry Crews started that first part of his acting career with supporting roles in films like the Arnold Schwarzenegger sci-fi adventure The 6th Day, or Training Day with Denzel Washington and Ethan Hawke. Though it was his role of eccentric basketball player Latrell Spencer in director Keenan Ivory-Wayans' White Chicks that helped boost Terry Crews as a comedy superstar, and all it took was a Michelle Branch song to make history and send Crews on to some choice roles in his future.
From there, he'd score invaluable gigs like the Adam Sandler-led remake of The Longest Yard and Mike Judge's cult comedy classic Idiocracy, the latter of which saw Terry Crews put his physique and humorous nature to great effect as President Dwayne Elizondo Mountain Dew Herbert Camacho. Both served Terry Crews well, as he not only continued to work with Adam Sandler through several other films, but Crews also started landing roles in franchises like The Expendables, which counted on his imposing stature and his ability to land a joke. Most recently, Terry Crews was seen as Bedlam, a member of the ill-fated X-Force in last year's Deadpool 2.
Terry Crews' TV Career
Terry Crews would get his TV career started as an athletic competitor on the show Battle Dome in 1999, but his first steady gig in the format was as Julius, the father in the central family of Chris Rock's autobiographical sitcom Everybody Hates Chris. Crews would later have guest spots on everything from CSI: Miami to Arrested Development, with other regular gigs coming from TBS's Are We There Yet? and the syndicated version of Who Wants To Be A Millionaire?, which Terry hosted for 176 episodes.
But there's one role that fans of Terry Crews can't help but single out as probably his most important TV gig: that of NYPD Lieutenant (a recently-earned promotion) Terry Jeffords on the hit sitcom Brooklyn Nine-Nine. The nervous, yet incredibly strong police officer that serves on the former Fox/current NBC comedy hit has been a staple of the Nine-Nine since the show's debut in 2013, and will continue to do so into the recently green-lit seventh season.
Terry Crews On America's Got Talent
It all started with America's Got Talent: The Champions, a spinoff that pitted past Got Talent winners from across the globe against each other in a competition to see who would take home the crown of the ultimate champion. Around the same time his beloved Brooklyn Nine-Nine jumped over to NBC's illustrious lineup, Terry Crews was announced as the host for this particular run, which lead to an even bigger gig than anyone could have dreamed of.
What looked like a part time gig for Crews, seeing as this was a spinoff and all, turned into full time madness as America's Got Talent's big shake ups for season 14 didn't stop with the shifting lineup of judges overseeing the program. In that great spirit of freshening things up, Terry Crews was made the host of the program, taking over for previous host Tyra Banks. Which leads to Crews' position as an entertainment powerhouse who's always down for a stunt, a gag, or anything else that puts his energy into the world, being shown on weekly television even more than before.
Making the jump from the NFL to Hollywood isn't easy, and it doesn't always pan out. But in the case of Terry Crews, failure was surely not an option. With his supernova's worth of energy, his acting chops secure, and his winning personality encouraging the world to watch him as he executes his next feat of entertainment, Crews is someone to always be watching, because you never know what he'll do next.
You can currently see Terry Crews as the host of America's Got Talent, which regularly runs on Tuesdays at 8 PM ET on NBC. Also, the entire sixth season of Brooklyn Nine-Nine is streaming on Hulu and NBC.com, for your current viewing pleasure.
Your Daily Blend of Entertainment News
Senior Movies Contributor
CinemaBlend's James Bond (expert). Also versed in Large Scale Aggressors, time travel, and Guillermo del Toro. He fights for The User.