Criminal Minds Camera Operator Sues Over Years Of Alleged On-Set Harassment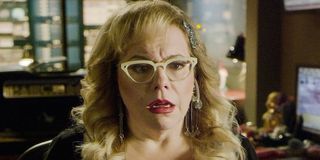 The hit CBS drama Criminal Minds will be bowing out in the near future, with its shortened fifteenth and final season set to hit the network's schedule in early 2020. Unfortunately, the series is at the center of another possible controversy, as longtime camera operator Todd Durboraw has filed an explicit and disturbing lawsuit alleging that he was the victim of years of harassment in the workplace, both of the sexual variety and otherwise.
In Todd Durboraw's lawsuit, which was filed in Los Angeles Superior Court, he alleges that ever since he was first hired on by Criminal Minds in 2011, he was harassed in a variety of different ways by the show's director of photography, Greg St. Johns. The suit claims that St. Johns touched Durboraw's body parts in sexually harassing ways on an average of 2-3 times per week over the course of the latter's eight years of employment on the drama.
For example, it's alleged that Greg St. Johns had, in a sexual manner, touched Todd Durboraw's groin, his sexual organs, his buttocks and his anus, and it was also noted that St. Johns would rub Durboraw's earlobes and flick his nipples. On at least one occasion, the lawsuit states that St. Johns approached the Plaintiff from behind while he was couching down, and the D.P. used his foot to touch Durboraw's groin and buttocks.
Outside of the sexual groping claims, Todd Durboraw also alleged that Greg St. Johns showed discriminatory harassment whenever the former took some days off of work for the birth of his daughter, who had a medical condition that required follow-up surgeries. It's claimed that St. Johns would scream at Durboraw about taking off for the birth and medical procedures, despite being foretold about her condition, per the filing posted by Deadline. St. Johns also reportedly began "threatening him with termination, threatening him with demotions," as well as threatening to obstruct Durboraw's chances of getting promoted.
According to Todd Durboraw's lawsuit, he wasn't the only one being victimized by Greg St. Johns over the years. He claims to have witnessed a variety of different situations involving the director of photography harassing, embarrassing or intentionally causing pain to others. The latter claims tie into St. Johns allegedly screaming into the radio devices used by staffers to communicate, knowing that it would cause pain and damage to those listening.
Todd Durboraw alleged that he witnessed Greg St. Johns pulling down another crew member's pants, and claims that the crew member was later fired after he protested and reported St. Johns' behavior. As well, it's claimed that after another crew member (named "Andre") went to the hospital for an unknown ailment, St. Johns had a subordinate go to an adult novelty store to purchase a dildo and anal plug to send to Andre as a "get well gift."
Beyond these claims and others specific instances, Todd Durboraw alleges that certain supervisors were informed of Greg St. Johns' behavior, but nothing was done to aid the alleged victims. As well, the lawsuit states that some of those who complained about the harassment were wrongfully terminated in retaliation, and that others were denied requests to change positions or to secure work assignments outside of St. Johns' supervision.
What's more, it's claimed that Greg St. Johns actually rewarded those who accepted the harassment without complaining or going to bosses. For example, Todd Durboraw claimed that gifts were bought for those employees, and that he would also offer them promotions, time off when needed, more hours when needed, and other sought-after work assignments.
If any or all of these allegations sounded familiar, it's probably because a large number of then-current and former Criminal Minds employees went public with similar claims about Greg St. Johns. It doesn't appear that the director of photography faced any noteworthy discipline in relation to those allegations, and it's also unclear how CBS will handle Todd Durboraw's claims. If the network's HR department already investigated some of the claims he made in his lawsuit and deemed they were non-punishable, it could possibly weaken his overall argument. But that's all in the hands of the legal system and CBS executives now.
For what it's worth, there is at least one instance in the lawsuit where details were possibly misreported. The list of defendants includes Warner Bros Entertainment alongside ABC Studios, CBS Corporation, Entertainment Partners, and Greg St. Johns. However, Warner doesn't have anything to do with Criminal Minds, which also lists Touchstone Television, The Mark Gordon Company and Paramount Network Television among its production companies.
Regardless, it's never a good thing for a show heading into its final season to be at the center of controversial stories such as this, especially when there are tons of Criminal Minds fans that are hoping to see Thomas Gibson return after his own contentious exit over a scuffle with a writer. Showrunner Erica Messer had previously seemed semi-open to the idea of his return if everything made enough sense for it to happen, but it's currently unknown if Gibson actually will be making any surprise appearances. (The final season's production wrapped up in May, so it almost definitely would have been filmed already.)
Criminal Minds dealt with some ratings and viewership dips following Thomas Gibson's firing, which inspired a popular social media backlash. The crime drama still remained one of CBS' most dependable hits in more recent years, but the decision was made in 2018 to close things out with Season 15, which will get ten episodes to tie up all the various loose ends.
Loose ends such as figuring out what's going on with Matthew Grey Gubler's Reid and A.J. Cook's J.J., who are seemingly heading for some shared romantic bliss, assuming everything else works out accordingly. As well, the show's final Unsub is one that might affect the BAU squad in long-lasting ways after the final credits air, although I'd guess that Erica Messer would prefer to end things on more positive notes than negative ones.
Criminal Minds will return to CBS to wrap up its 15-season run at some point in the first months of 2020 as the midseason schedules start up. In the meantime, fans can catch former star Shemar Moore taking over that Wednesday-night time slot with Season 3 of S.W.A.T. Stay tuned for more information, and maybe even a trailer, as Criminal Minds gets closer to its final episodes.
Nick is a Cajun Country native, and is often asked why he doesn't sound like that's the case. His love for his wife and daughters is almost equaled by his love of gasp-for-breath laughter and gasp-for-breath horror. A lifetime spent in the vicinity of a television screen led to his current dream job, as well as his knowledge of too many TV themes and ad jingles.
Your Daily Blend of Entertainment News
Thank you for signing up to CinemaBlend. You will receive a verification email shortly.
There was a problem. Please refresh the page and try again.