8 Actors Who Could Actually Pull Off The Role Of Sauron In Amazon's Lord Of The Rings Prequel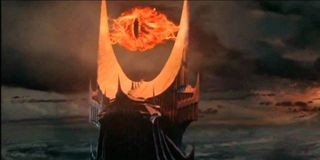 Amazon has a lot riding on the new adaptation of J.R.R. Tolkien's The Lord of The Rings. The reportedly billion-dollar retelling of the classic fantasy novels is the bajillion dollar company's biggest opportunity yet to put itself on the TV map in a major way. If Amazon can even match the excellence found in Peter Jackson's spellbinding trilogy, the company would be taking big strides toward being a truly top-tier content creator in today's competitive age. Yet, when it comes to making this classic book series into a television series, one big question arises: Which actor will play Sauron in this new version of LOTR?
You can't just cast any ole' actor to play the part of Sauron. In this younger — yet equally menacing — variation of the classic character, you need a performer who can be both commanding and sinister in just their voice, while also being compelling and intelligent whenever the force of evil takes on their human form. There are only a few working actors who could pull off the dexterities of such a challenging and weighted role. We're not calling the shots in Hollywood, but we're here to list potential candidates for this important part. After all, this casting call cannot be made lightly.
Everyone is chasing the dragon when it comes to riding off the success of the epic HBO fantasy series Game of Thrones. Netflix has The Witcher, starring Henry Cavill. HBO has His Dark Materials coming up. Amazon is working hard to make a name for itself in a competitive market, and this new show could do wonders to direct eyeballs to the service (no pun intended, I should note). But first, the show needs to pick an actor who can play the part of Sauron well. Here are some good options.
Javier Bardem
The Oscar-winning actor has the power to be captivatingly menacing, in an eerily second-nature fashion, while also having a seductive voice and charming features (whenever he allows himself to look handsome). This could help to carry the two very distinctly different sides of this dark character. The actor is often best known for his Oscar-winning work in No Country For Old Men, where the actor gave a powerfully chilling performance as Anton Chigurh. He's also shown a penchant for playing bad guys through Skyfall, resulting in one of the most memorable villains in the long-running Bond franchise.
The actor knows how to be dark and brooding, but he can also be seductive and persuasive. Take, for instance, his recent turn in mother!, where he played a variation of God known solely as Him. This part was at once ravishing and unnerving, romantic and menacing. The actor also has a silver tongue, and the bilingual actor has proven his chops in a variety of different roles. By playing Sauron, he would be given one of his biggest roles to date — even in a largely impressive career. This role would also provide Javier Bardem with a chance to show how versatile his talents can truly be.
Mads Mikkelsen
Once a gymnast and dancer, Mads Mikkelsen has built an impressive career for himself as an actor on screens both big and small, often playing roles that allow the actor to really relish his dark side in substantive and signature ways. He is also another unconventionally handsome actor who could be seen as seductive and menacing at any given turn. Allow with his smoothly calm voice (which is also capable of carrying chilling command), he would be great in the role of Sauron — especially if it gives the often-underrated actor yet another showcase for his talents in a project worthy of his silky captivation.
The 53-year-old Danish actor has proven himself in a number of projects, including the Pusher trilogy, Doctor Strange, The Hunt and Valhalla Rising. The two roles that would really showcase what he could bring to the tale in the role of Sauron are his title role in NBC series, Hannibal, and his work as the main antagonist in Casino Royale. These two captivatingly layered villain roles show how the actor can infuse his own signature personality into a role, while also being a chameleon and allowing himself to transform into any variety of dark and distinguished characters.
Michael Fassbender
Few actors are as devilishly handsome and genuinely menacing as German-Irish actor Michael Fassbender. The well-praised performer can play characters both inviting and dangerous — often at the same time — while carrying the weighted complexity that makes them feel wholly realized. He can be both engrossing and despicable in equal measures, and there are only a few actors who are this genuinely enrapturing when they act. He also has a thick, coolly captivating voice that could be used to great effect in a role as meaty, devious and ultimately central to these expansive stories as Sauron is.
There are several movies wherein Michael Fassbender has proven his chops for being captivating, conniving and chilling in equal measures. Take, for example, the X-Men movies, where the actor played Magneto. There's also Macbeth, Shame, Song To Song (where he literally played a charming devil), Haywire and several others. Most notably, though, the actor proved his villain capabilities in his Oscar-nominated supporting turn in 12 Years a Slave, and his engrossing work in both Prometheus and Alien: Covenant.
Viggo Mortensen
If we're going to do a second variation of The Lord Of The Rings, there is a golden opportunity to play with expectations and allow actors who played good guys the first time around to take on sinister characters. For my money, one of the best actors they could do this with is with Viggo Mortensen.
The actor can be handsomely threatening in the right ways, when given the opportunities to do so. The movies that come to mind when I think about this are A History of Violence and, more pressing, Eastern Promises, where the Oscar-nominated performance channeled the rage and deception he could play in chillingly calm ways. It is a great role that really showed what Mortensen could do when playing a baddie, and this role would give Lord of The Rings fans a chance to see what the well-known Danish actor could do in this franchise when he's not solely playing Aragorn, Son of Arathorn.
Cate Blanchett
Once again, we're given an opportunity to cast someone who played a good character in the original Lord of the Rings trilogy and give them a chance to unleash their bad sides — while also gender-swapping the character in a way that could make the opportunity to retell this story seem more intriguing to people who already think the original three movies are perfectly good as they are. More specifically, Cate Blanchett would make a wonderful Sauron.
The Australian actress has proven herself in a variety of noteworthy roles. But when it comes to indulging in the menacing side of a character, it was her work in Thor: Ragnarok that showed how she could play the bad lady with a nice mix of menace, campiness and sexiness. It was a great, unique chance to show how the normally dramatic actress could play a genre role again; this part would provide the actress with another great showcase — most notably for audiences who mainly know Cate Blanchett from her previous work playing Galadriel, Lady of Lothlórien, in Peter Jackson's trilogy.
Jake Gyllenhaal
This one might be a little out-of-the-box, but I'd love to see what Jake Gyllenhaal could do inside The Lord Of The Rings universe, particularly in such a meaty role as Sauron. The actor has proven himself versatile in a number of different roles, often allowing himself to play with or against his good looks to really channel the darkness of his characters. For instance, the most noteworthy example would be his very memorable turn in Nightcrawler.
The actor's bulging eyes and menacing demeanor was frightening captivating. Even in less menacing (but still enjoyable) villain turns in movies like -- spoiler? -- Spider-Man: Far From Home, Jake Gyllenhaal showcased great range in an intentionally alluring and magically deceptive character. Gyllenhaal is an actor who continues to impress time and time again; this big project could be another tremendous showcase for the actor.
Mark Strong
Admittedly, Mark Strong isn't an actor whose name is quite as instantly recognizable as a number of the award-winning performers listed thus far. There's a very good chance you've seen the actor's work, most recently in the villainous role in Shazam!, among other noteworthy parts on TV like Low Winter Sun in the past years.
The British actor is handsome in an unconventional way, while carrying a strong, commanding voice that instantly makes him seem threatening or menacing or, at the very least, the focus of your attention. The actor also has piercing eyes that would obviously make him crucial for this villainous part.
Bryan Cranston
Through a career filled with a multitude of stunning performances, Bryan Cranston has continued to impress audiences on the big screen, small screen and the stage. He is a veteran actor with a tremendous dramatic gravitas, and there are few actors who really channel his range and flair in such captivatingly theatrical ways. Often, too, the best roles from Cranston are the ones where he really gets to showcase the power of his methods.
If given the role of Sauron, Bryan Cranston could, once again, showcase that dramatic theatrical prowess that has defined some of his strongest roles. Most specifically, his transformative role as Walter White in Breaking Bad showed audiences how he could play both mild-mannered and vengeful in startlingly believable ways, and his performance went a long way towards keeping audiences capitivated through the shocking twists-and-turns of that hit Emmy-winning series. It would be a great opportunity, then, to give captive audiences another showcase of his theatrical talents through such a weighted and distinctive antagonistic figure as Sauron.
There are, of course, other actors worth considering for the role of Sauron. There's fellow Lord of the Rings alum Hugo Weaving. There's also Denzel Washington, Oscar Isaac, Tom Hardy, Samuel L. Jackson, David Tennent, Outlander's Tobias Menzies and Edward Norton, along with several other actors who are worthy of consideration. Not all of these are possible, of course, and who knows if they'll get an established talent or if they'll strive for someone completely new and fresh to the big stage? Whoever the Lord of the Rings series picks should hopefully be worthy of the legacy bestowed by Christopher Lee and Sala Baker.
Will is an entertainment writer based in Pittsburgh, PA. His writing can also be found in The Playlist, Cut Print Film, We Got This Covered, The Young Folks, Slate and other outlets. He also co-hosts the weekly film/TV podcast Cinemaholics with Jon Negroni and he likes to think he's a professional Garfield enthusiast.
Your Daily Blend of Entertainment News
Thank you for signing up to CinemaBlend. You will receive a verification email shortly.
There was a problem. Please refresh the page and try again.