Jimmy Kimmel Calls Hosting The Oscars A 'F---ing Nightmare'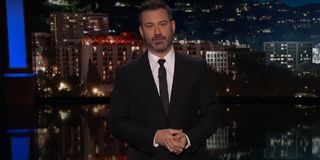 Easily one of the most popular late-night hosts, Jimmy Kimmel has been on the public's radar for years. With his contract with ABC now in its final year, it once seemed that his retirement was imminent. Luckily for his many fans, he decided not to pursue that possibility any further. His show is as beloved and as popular as ever, and even his son (who was diagnosed with a genetic heart disorder) feels his popularity.
Jimmy Kimmel's fame reached the point where he was asked to host the Oscars, which he ended up doing twice (the first ceremony is where the famous La La Land/Moonlight fiasco went down). Unfortunately, he hated doing it, and he didn't exactly mince words when saying so. There are definitely reasons for this, but I don't think anyone expected Kimmel to be so upset about his time hosting the Academy Awards.
Speaking at a TCA panel (which CinemaBlend's own Nick Venable attended), Kimmel voiced his thoughts on the Oscars and the public's opinion on how well or how poorly he did his job onstage, saying:
This is honestly a brave thing to say. Showing vulnerability in today's day and age is often seen as a weakness, but here I believe it's an incredible strength. It also goes to show you that even household names have insecurities. Good on you for being honest and real, Jimmy. We definitely need more of that in Hollywood (and in today's seriously twisted world).
Well, looks like we can rule out Jimmy Kimmel ever hosting the Oscars again. It's not as if it's too big of a loss for him, though. In addition to his hilarious, wildly popular late-night show (which churns out viral segments such as Mean Tweets and many, many more), Kimmel has enjoyed appearances on the Alyson Hannigan-led show Man of the House, cameos in Hellboy II: The Golden Army, Pitch Perfect 2 and Ted 2. Most recently, appeared as Batman in Teen Titans Go! To the Movies. He'll undoubtedly continue to enjoy a long, eventful, fruitful career in Hollywood, so the Oscars are peanuts compared to what he'll accomplish going forward. You'll rock it, Jimmy. We know it.
But what do you think? Do you miss Jimmy Kimmel as an Oscar host or do you think there are others who could do the job better? Let us know, and stay tuned for who will host next year's Academy Awards festivities.
Your Daily Blend of Entertainment News
Thank you for signing up to CinemaBlend. You will receive a verification email shortly.
There was a problem. Please refresh the page and try again.