A Handmaid's Tale Sequel Spinoff Is In The Works At Hulu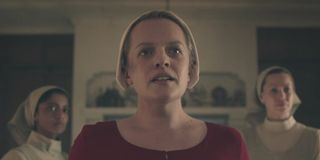 Hulu is far from done with the dystopian world of The Handmaid's Tale and is hard at work developing a sequel to the Emmy-nominated show. The original series, which is based on author Margaret Atwood book's of the same name, premiered back in 2017 and Hulu is now looking to expand upon the fictional world we've come to fear. Luckily, they have Atwood's sequel novel, The Testaments, to use as a blueprint in the making of their new show.
According to Deadline, MGM and Hulu are working alongside The Handmaid's Tale showrunner, Bruce Miller, to bring The Testaments to life. The sequel novel, which will be published 34 years after The Handmaid's Tale on September 10, takes place 15 years following the events of The Handmaid's Tale. The story follows the lives of three women, most notable among them being Aunt Lydia, one of the series' most cruel characters. This could mean that Ann Dowd could return in the sequel series, but nothing's been confirmed yet. It seems Margaret Atwood has made Hulu her home, as the streaming service is also adapting her 2015 novel, The Heart Goes Last.
The Handmaid's Tale is arguably Hulu's flagship show at the moment, much like Orange is the New Black and Grace and Frankie have been for Netflix. The series, which stars Elisabeth Moss, Samira Wiley, and Joseph Fiennes, among others, is popular and certainly Hulu's most acclaimed show among critics. So, of course the streaming network would want to expand on what they already have and give the show a sequel. I'm sure many fans out there would love to see what Gilead looks like 15 years from now — if Gilead even exists anymore, that is.
While Season 1 dabbled in the authoritarian nature of the fictional world, many fans were unhappy with the way Season 3 played out. While June had been more of a passive character in the first season, a window through which the audience was able to witness the horrifying storylines, Season 3 transitioned June into a full-fledged hero, but one with incredibly villainous tendencies. Regardless of the fan and critical reception of Season 3, Hulu has renewed the show and it'll be back for Season 4 next year.
Currently, The Testaments is in the very early stages of development, so there isn't all that much information about it quite yet. However, given that Hulu is talking with Bruce Miller, it wouldn't be surprising if he takes over showrunning duties for the sequel installment. After all, he knows the world really well by now and the success with Handmaid's might work its way over to Testaments.
Season 4 of The Handmaid's Tale won't be out until 2020, but check out our full schedule of new and returning TV shows premiering this fall.
Your Daily Blend of Entertainment News