Netflix's Orange Is The New Black Won't Be Its Longest-Running Series For Much Longer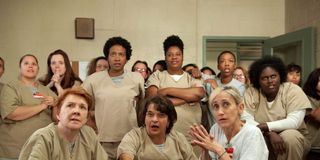 Move over, Orange is the New Black, there's a new show taking over the title of longest-running Netflix original series. After being renewed for a seventh and final season, Grace and Frankie will surpass Orange is the New Black, long considered the cream of the Netflix crop, in episodes very soon. That's no easy feat, considering Netflix's penchant for canceling its comedies (RIP, Netflix version of One Day At a Time). Grace and Frankie's history-making news is impressive and series stars Jane Fonda and Lily Tomlin were thrilled at the prospect of another season and the show's longevity.
Grace and Frankie's seventh season will include 16 episodes, bringing the series to a whopping 94 episodes in total. In comparison, Orange is the New Black ended earlier this year with a 91-episode count. While becoming the longest-running show on Netflix is a fantastic accomplishment, the sad news is that Season 7 of Grace and Frankie will also be its last on the streaming service, the upside being that at least the series' writers know it'll be the final season, giving them plenty of time to wrap up storylines and character arcs.
Though there's no word about when we can expect Season 7 to debut, the show wrapped filming Season 6 earlier this year and has set a premiere date for the sixth season for January of 2020. Between Season 6 and Season 7, there's plenty of time for other shows to beat out Grace and Frankie in episode numbers, but history has shown it will likely take a long time for any other Netflix series to catch up.
As for Grace and Frankie, the Emmy-nominated show premiered back in 2015 and has been a Netflix staple ever since. Jane Fonda and Lily Tomlin are the comedic duo no one knew they needed until Grace and Frankie graced us with its presence. The pair made a joint statement expressing their excitement to continue telling Grace and Frankie's stories, as well as their heartbreak over the final season.
As of right now, no other Netflix show comes close to getting to 94 episodes, with plenty ofNetflix series still only in their first or second seasons. The longevity of Grace and Frankie speaks volumes of the show. Audiences were drawn to the show's portrayal of life, the ups and downs of being a woman, and of growing older that felt incredibly authentic. Additionally, series co-creators Marta Kauffman, who co-created and produced Friends, and Howard J. Harris expressed how the announcement was "fitting" for Grace and Frankie.
Though it's not over quite yet, Grace and Frankie leaves behind a tremendous legacy and will no doubt be a tough act to follow. Can't wait until Season 6's premiere in January 2020 to get your comedy fix? Be sure to check out all of the comedies coming to TV this fall.
Your Daily Blend of Entertainment News
Your Daily Blend of Entertainment News
Thank you for signing up to CinemaBlend. You will receive a verification email shortly.
There was a problem. Please refresh the page and try again.